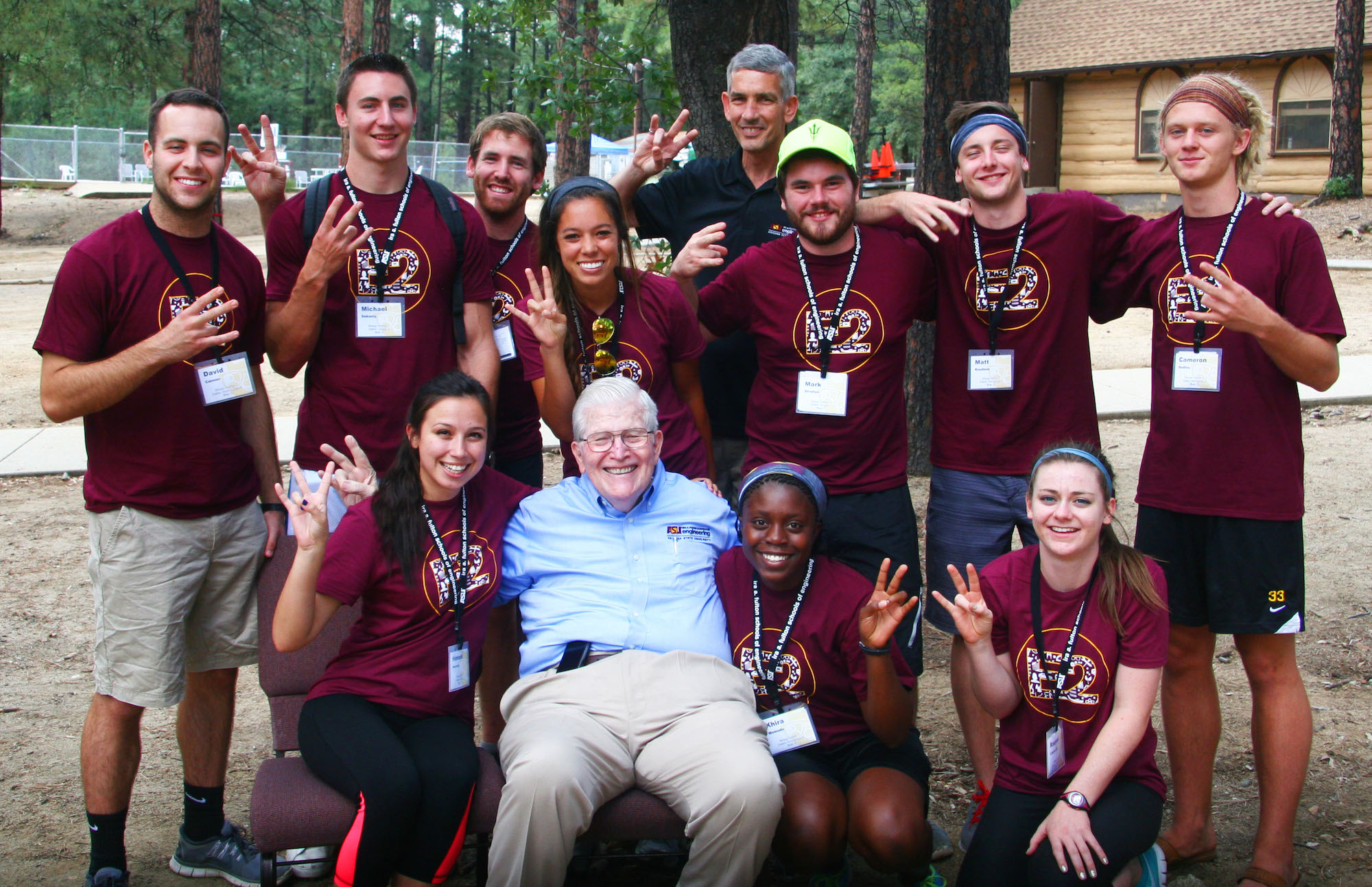 Four years ago, the Ira A. Fulton Schools of Engineering launched an innovative orientation for freshman engineering students—E2 Camp. Each year we raise the bar on this very important event for our incoming freshmen. Faculty, staff, alumni and current students all participate, giving their time and talent to ensure that our new engineers get off to a solid start.
E2 Camp is the first step in our "Engineers from Day One" philosophy. Students are introduced to the significant roles that engineers play in shaping the world, and have the opportunity to adjust to university life prior to the start of classes.
Your involvement in E2 is an exciting way to jump-start your success in the Ira A. Fulton Schools of Engineering. You will meet other students, faculty, and staff and learn skills that are important to your success as a Fulton student through a variety of fun and interactive activities. Upperclassmen, faculty, and staff serve as resources to students during E2.
The goals of E2 are:
To identify as a part of the Ira A. Fulton Schools of Engineering community.
To build a sense of collaboration and teamwork among students.
To provide opportunities for students to practice teamwork skills and introduce them to a culture of teamwork.
To cultivate leadership within current students.
The E2 camp is a pretty good time. The activities at the E2 Camp serves as a good reference for the next year. There's always someone to meet, and these are the faces you'll be seeing a lot for at least the next year. You can meet so many friends anda lot of other new people. This is a great way to form great friendships. You will definitely enjoy this camp.
E2 camp is for the freshmen engineering majors. This camp helps them to grow interest in their field and will tell you whether you have the passion to become an engineer or not. You should definitely go to the camp since it will be helpful to you in the coming years.
---
---
Related Articles