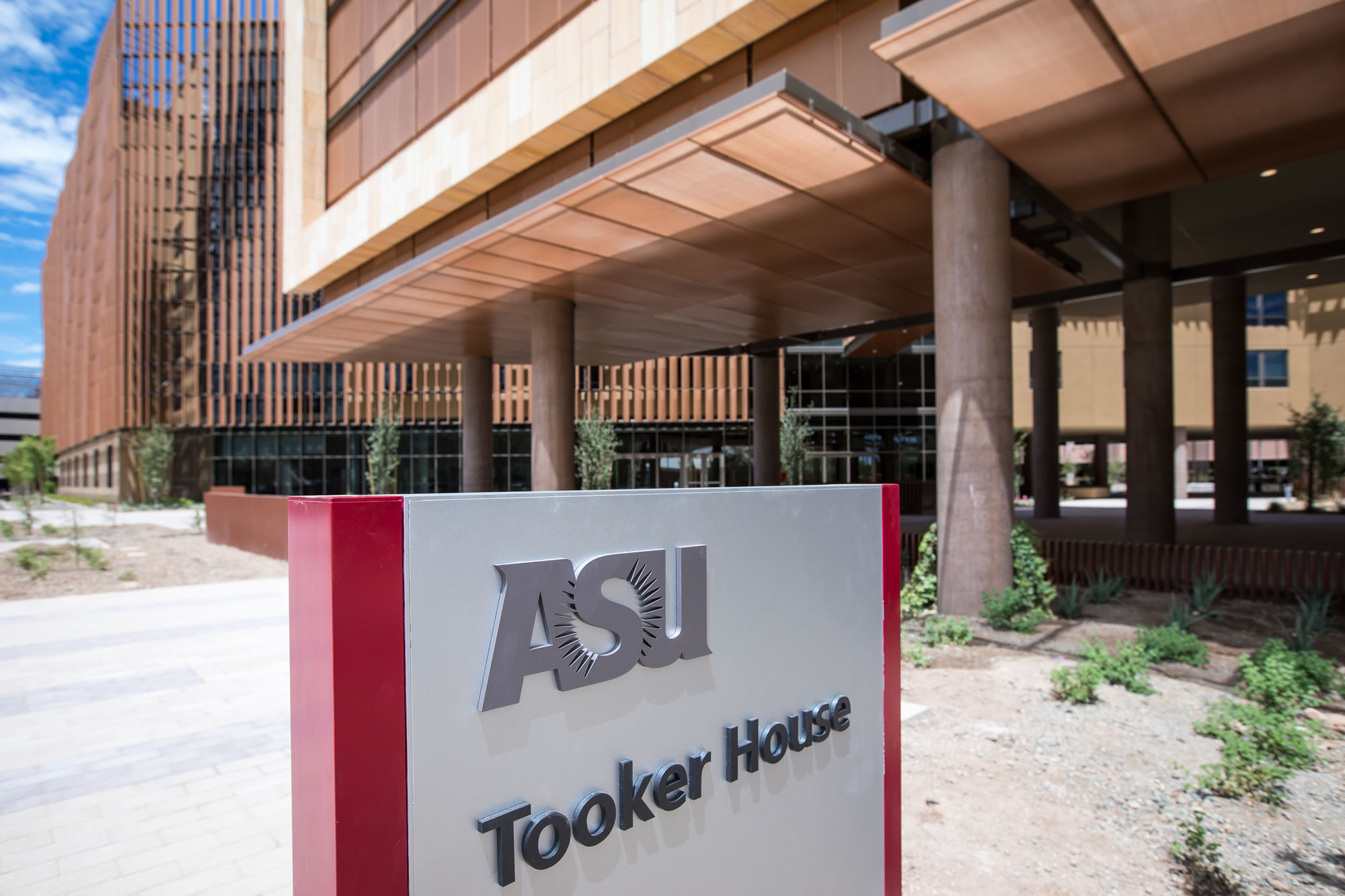 The Fulton Schools Residential Community at Tooker House is a seven-story, 1,600-person, co-ed living and learning community designed specifically for undergraduate students in ASU's Ira A. Fulton Schools of Engineering. Opened the last fall semester, Fulton Schools Residential Community at Tooker House will be home for the Ira A. Fulton Schools of Engineering Residential Community, Mary Lou Fulton Teachers College, and School for the Future of Innovation in Society. All first-year freshmen are expected to live on campus. Tooker House will be a co-ed facility that provides single and double occupancy accommodations with suite-style bathrooms.
Tooker house has amenities including 24-hour campus security and front desk services, dining hall, P.O.D. Market, fitness center, two-story lounges with community kitchens, laundry facilities, computer lab.
Fulton Schools Residential Community at Tooker House is also home to eSpace classrooms where students can enroll in FSE 100 Introduction to Engineering and other courses. In addition to on-site amenities, the nearby Palo Verde East Hub is home to Starbucks, The UPS Store, and the Sun Spot – a quiet tutoring and study space.
Here are the amenities provided by this newly made Tooker House :
Adjustable Twin XL beds (36×80)
Computer Lab
Desks & chairs
Dresser
Microfridge
Wi-Fi and high-speed internet
Lockable storage cabinet
Private or shared suite-style bathrooms
Study lounges and private study rooms
Laundry facilities
Fitness and recreation spaces
Outdoor gathering spaces
Gated community, secure card-controlled access
The "dorm built for engineers" features on-site digital classrooms, state-of-the-art makerspaces complete with 3D printers, and laser cutters and soldering tools needed for a broad range of engineering courses and projects. Tooker House is fully Wi-Fi accessible with enough bandwidth to accommodate four devices per resident.
Fun fact: Students at Arizona State University this year are taking part in a first-of-its-kind immersive voice technology program on a university campus, with support from the Amazon Alexa team. As part of the project, students moving into Tooker House will have a new Amazon Echo Dot and become part of the first voice-enabled, learning-enhanced residential community on a university campus.
Tooker House is the newest dorm hall opened at the prestigious Arizona State University. It is especially for the students of Ira a Fulton School of Engineering. It has all the facilities for an engineering student to succeed at ASU. This is one of the most innovative steps taken by ASU.
---
---
Related Articles