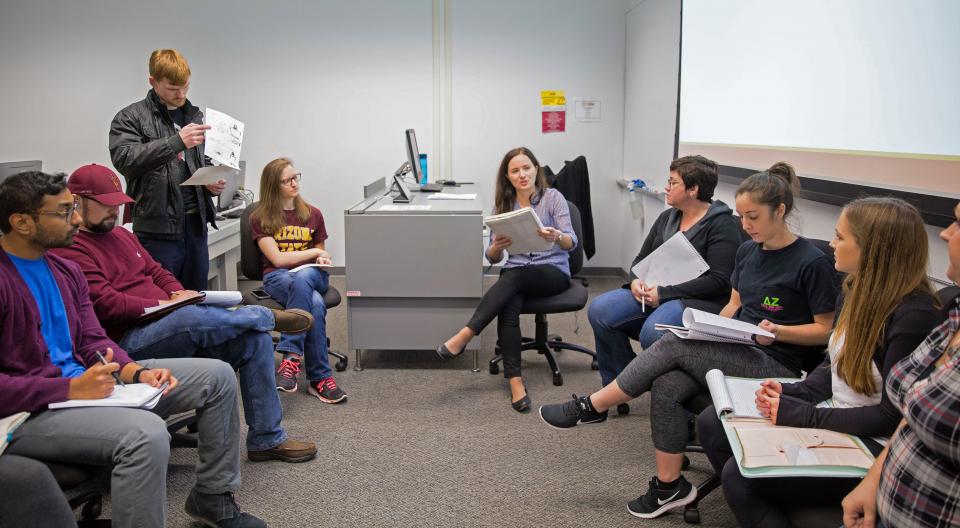 ENG 105 is an intensive, one-semester writing course that incorporates the work of two-semester sequence into one. The course emphasizes that research is not merely mechanical or abstract: it contributes to the goals of the entire course. In other words, rather than emphasizing the mere ability to find evidence to support a given argument, the course emphasizes the ability to judge the merit and appropriateness of that evidence, to weigh different pieces of evidence against one another and to engage in intellectual dialogue with the authorities represented by that evidence.
1) Ask for help from professors
Professors are very helpful, as you are probably aware by now. If you seek help from the professor themselves, they will definitely guide you in the best possible way. They can help you by giving appropriate advice, practice assignments, or simply solving your doubts about certain topics. If you seek help from them after the class, it can really help you out in the longrun.
2) Use the University writing resources
There are so many resources available for students at the university. For many students, the most welcoming spot on campus is the Writing Center (sometimes called a writing lab). It's a place where trained tutors offer individual assistance on all aspects of the composting process. Ask them for help or go to the library and read as many books as possible. These reading may help you a lot too.
3) Write your essays well
You'll be getting tons of essays in ENG 105 at Arizona State University. These essays are one of the most important part of this course and the marks you get from them are heavily considered in your final grade. If you want to do well, essays are the easiest to do so, as long as you  keep working hard!!!
4) Use the online resources wisely
The internet is a very useful tool which will help you a lot, but only if you use it wisely. Nowadays, online resources are very helpful. Although your textbooks should keep you pretty busy, at times you may find it helpful to supplement them with online resources. Make a few notes from the online resources that can help you revise during the final exams.
5) Don't delete past work
There are many professors at Arizona State University who will ask you to make a portfolio of all the work you've done in the semester. Make sure to save the work because you may need it in the last week of the semester. At that moment, you should not be wasting time re-writing everything once again. Try not to delete the past work.
ENG 1o5 is an advanced English course option,right after  ENG 101/102 or ENG 107, for all ASU students. Above, are few tips which can help you succeed ENG 105 at Arizona State University. This class requires great thinking and advanced essay writing. If you follow the tips above, you will find great success, as you continue to take higher level classes in English writing!
---
---
Related Articles