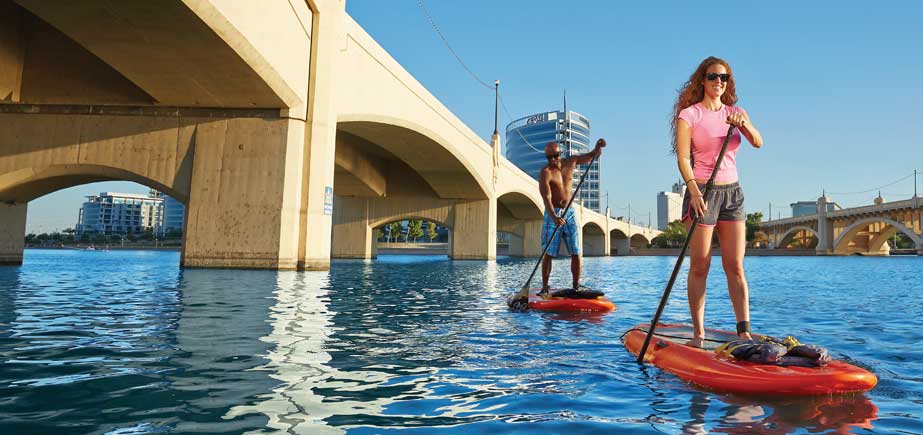 College life is great, but everyone knows it is also about budgeting and saving money! College students definitely want to have fun while they're young though, so here are some ways you can do that around ASU. Plan for lots of adventures and exploring while saving those dollars!
Go to Tempe Park Beach
This is so close to ASU but has the most beautiful views. You do not even have to drive or pay for gas to get there. You can either walk about 20 minutes or even take advantage of the free shuttles campus provides. It is a wonderful place to have lunch on the grass and enjoy the scenery. You can play sports with friends or plan a BBQ.
Visit Tempe Market Place During Holiday Season
Free shuttles once again will take you to this destination! It is such a fun outdoor mall area with plenty of places to go. During the holidays, you can get some prime seasonal entertainment as they have fake snow celebrations throughout the month of December. It usually holds fun free events for those who swing by during the day, or you can stop at Barnes & Noble to read a back for the afternoon.
Climb 'A' Mountain
This is a classic ASU/Tempe activity to partake in. If you ever attend ASU, this will definitely be on of the first things you do, and it will be a classic! It is great to do either with a group of friends or even alone if you need that nature break. It is great to do at sunrise or sunset, as the Arizona skies are always beautiful at this time. Just make sure to pack water!
Go to the Pool
Arizona is hot, we all get it. So, of course, there are pools all around ASU. The SDFC has many huge lanes where you can relax without spending a penny. It is a great place to get that much desired tan (without going to a tanning salon) or getting that morning cardio in. Take advantage of the free gym even if you do not like lifting weights!
AMC Movie Theater
This costs about $7 per movie, but that is a great deal compared to other theaters. On top of that, the quality is top notch. You are definitely getting the bang for you back! You will be treated with huge reclining leather seats. The theater rooms are not too large either, so you won't be stuck in the very back. It is a great place to relax after a long day without spending too much of that hard earned money.
Promotions at Restaurants
The food chains around campus know college students are always finding ways to save money here and there. So, they usually have promotions to attract customers and gain a following. This mean *drum roll* free food! Places like Taco Bell or Jimmy Johns will have free meal coupons or even walk around campus handing out free sandwiches. If you want some free food to take a break from studying, just look up the coupon catalogs or see if you can spot those sample bags (or smell them!).
Take Light Rail to Phoenix
The light rail connect many ASU students and others to popular tourist places within Phoenix. It picks up at the campus and only costs $4 for a day pass. You can take the light rail and pretty much travel anywhere for that day! There are awesome places like the Phoenix Art Museum, Phoenix Zoo, and cute aesthetic cafe shops to visit on a weekend.
Hiking
Arizona is known for it's amazing scenery. You might as well take advantage of Mother Nature and enjoy the sights! There are many places around Tempe that will provide a fun day time hike with friends. Just pack some snacks, put on those hiking boots, and enjoy a walk through Papago Park or Rio Salado!
Mountain Biking
Along with hiking, comes biking! This is for all those mountain bikers out there. If you need some more speed than hiking can provide, you need to check out the free mountain biking trails around Tempe. Similar to hiking, you get to enjoy the beauty of Arizona but with the advantage of being on wheels. Just make sure to go in the morning to avoid that heat!
PaddleBoard
Paddle boarding is the perfect way to wrap up a rough week and prepare for the weekend. Why not rent a paddle board and try it with some friends on the lake? You can rent either boats or paddle boards at the beach park and try it for the day. If you go with friends, you can all even split the cost and try it together to save money!
So, as you can see you do not always have to drain your wallet to have fun while you're young! There are so many cool things that are promised to be Instagram worthy if you just look around. Arizona has a lot to offer so make sure you try some of these things and make those memories you will cherish forever!
---
---
Related Articles