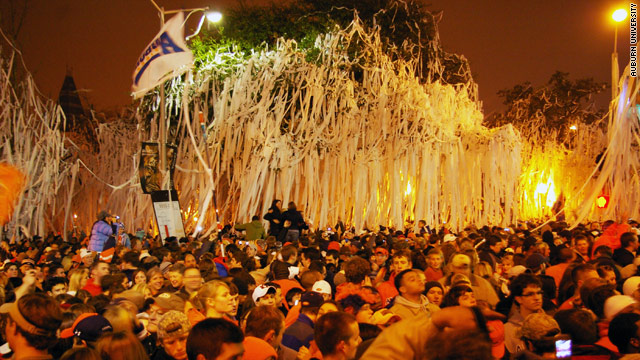 1. You say, "War Eagle," to literally everything.
From getting an A on your final exam, to walking home at 4 am on a walk of shame. You know, "War Eagle" will cover all the bases.
2. Everything is either orange or navy.
And if you don't look good in one, you'll look damn good in the other.
3. You get overly excited when a bird of prey flies ten feet over your head.
Let's face it. Even if Nova scratched your face, you'd be the happiest Auburn student there is.
4. You don't wear anything crimson, or anything with elephants on it.
And people give you weird looks if you do.
5. If you say, "Roll," it's only followed by, "Toomer's Corner."
Because we don't like Tides here on the Plains.
6. You need a cardiologist after every football game.
I love our team as much as the next person, but they sure do know how to keep me on my toes.
7. Even celebrities love us.
And he probably got that shirt for free on the Concourse.
8. You turn up on your way to class thanks to the Smooth n' Groove truck.
And if this guy hasn't put a smile on your face, I don't know what will.
9. "All I Do Is Win," will never be the same song.
"War Eagle" will forever be your favorite lyrics to yell when everybody's hands go up.
10. You've instagrammed Samford Hall at least once in the past month.
Because who wouldn't? It's too beautiful not to.
11. You do not go to the fourth floor of the library, because you know even unzipping your backpack will get you dirty looks.
It might as well be the 3rd Floor Corridor from Harry Potter. Off limits. Completely.
12. You watch the nighttime light shows from the JumboTron from any part of the city.
But be honest, you had no idea what was going on the first night it was being tested.
13. Aubie is your favorite person. Tiger. Same thing.
He's too perfect not to love.
14. Bodda Getta is more than just a cheer. It's your favorite thing to yell on game days.
And you get to yell, "Kick 'em in the butt!" Who wouldn't want to yell that at a game?
15. You know every word to the broadcast of the last play of the 2013 Iron Bowl.
And you still get chills and cry a little every time you hear it.
16. You know just how important one second can be.
And this was one of the best nights of your life.
17. You can't wait to have kids just so you can dress them in cute Auburn clothes.
Even if you don't want kids, you want to dress other people's kids in cute, miniature Auburn clothes.
18. Even Mother Nature loves Auburn, and She shows us every night.
I couldn't be more proud to go to such a beautiful, spirited school. I bleed orange and blue! War Eagle!
---
---
Related Articles