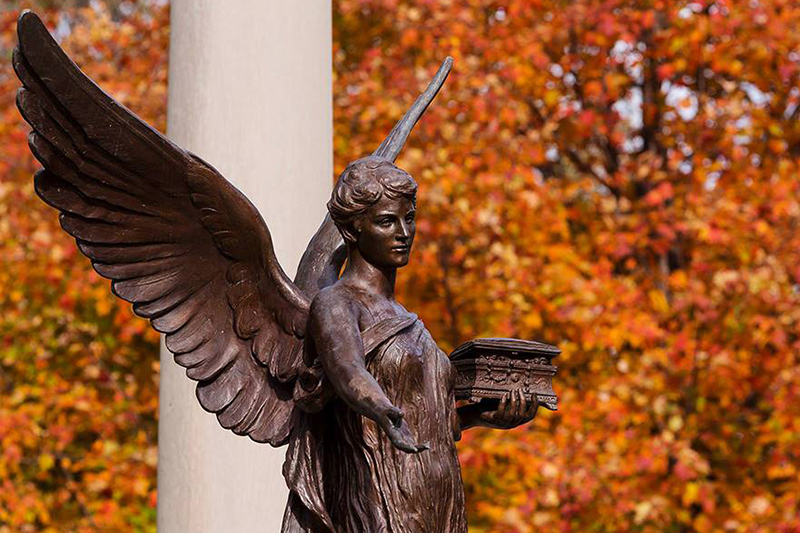 If you happen to drive through Muncie, or you are a new student on campus, there are a few places that make Ball State what it is. These places are the "must see" locations on campus that every student and visitor needs to experience!
Beneficence
The true essence of Ball State University is the statue and the idea of Beneficence. Benny can be seen on the main BSU logo that many people can recognize. This statue serves as a reminder to students of the generosity of the Ball family. The Ball family were the ones who donated the land and facilities to be a public university. A popular myth among the Ball State community is if you kiss your partner under Benny's wings at midnight, she must flap her wings or it is not meant to be. To attend Ball State, you must be able to find Beneficence in your own life as well as on campus.
Frog Baby
One of the more playful and whimsical sites on the campus is Frog Baby. Located directly next to Bracken Library, this statue is a little girl holding two frogs in her hands. She is encased in a fountain that has frogs spitting the water into the pool. In the past, students would rub Frog Baby's nose for good luck on final exams. Although she has been moved to a fountain, students still rub her nose and put a hat and scarf on her when it gets cold!
The Naked Lady
Although this may sound fairly strange, it has become common terminology among students to "meet at the naked lady". Located in Bracken Library is a sculpture made in 1930 out of bronze that depicts, as the name implies, a naked lady. This is common grounds on campus for students to meet for projects and other assignments.
The Whisper Wall
As one of the more hidden gems on campus, the Whisper Wall lays quietly behind Frog Baby. The most noteworthy feature of this half circle brick wall is the ability of one person to whisper on one side and another person could hear it on the other! Standing at about 4 foot tall, the structure just looks like another regular feature to campus. Without knowing it's hidden powers, you would never think it was anything special!
Christy Woods
Located in the Southwest area of campus sits Christy Woods where students and community members alike get to enjoy rich forests and flourishing greenhouses. You can take tours and hikes through the deciduous forest while learning about the various ecosystems in the area. As well as forest, the woods is also home to prairies and greenhouses owned by the university.
Whether you are a visitor or a student at Ball State University, all of these sites are worth your time visiting! From seeing Benny or rubbing Frog Baby's nose, there is something for everyone at BSU! So take some time out of your day to walk through campus and experience the legacy of Ball State!
---
---
Related Articles