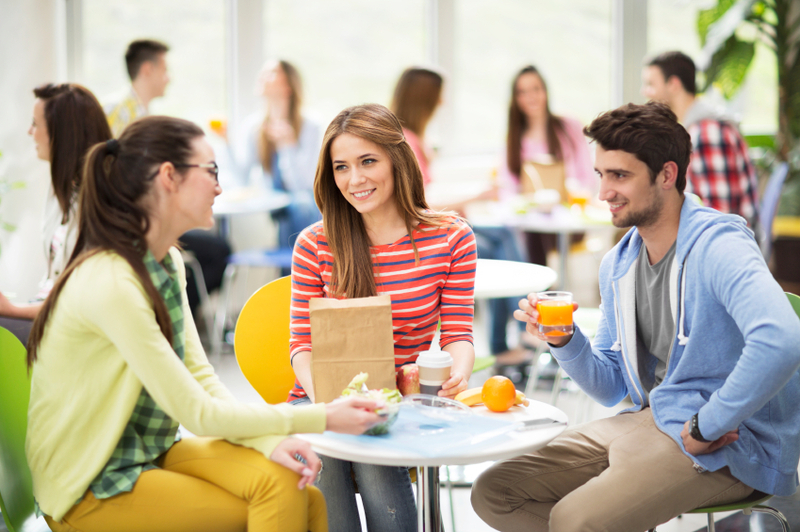 College kids need lots of fuel to keep them going. At Baylor, students are well-fed by the various options they have surrounding them on campus or around its perimeter. Below are some suggestions of where to eat on an average weekday at Baylor University.
1. Campus Dining Halls
To start with the obvious, the dining halls on campus are good options for students because they save money and often have a wide variety of food. There are four dining halls at Baylor: Penland, Memorial, East Village, and Brooks. East Village is basically universally acknowledged as one of the superior ones, however Memorial is also popular among the student body. Penland serves a large variety of food and is the largest dining hall on campus. Brooks is not popular because of the small selection and its somewhat inaccessibility on campus, but it is still a good option for Brooks residents and its breakfasts are always consistently good, even if the quality of the other meals is flaky.
2. Campus Retail Restaurants
Baylor has two buildings with retail food service in them: the SUB (Student Union Building) and the BSB (Baylor Science Building). Both are highly-populated places and offer appetizing meal choices for students that they can purchase within their meal plan with dining dollars. In the SUB, there is Einstein Brothers Bagels, Chickfila, Freshii's, Panda Express, and Moo-Yah Burgers. In the BSB, there is Starbuck's, Moe's Southwest Grill, and Which Which. There is also another Starbucks location on campus at the Moody Library.
3. The Grease Pit
Directly across the street from Baylor campus is a big strip of all the fast food a college kid could want. This heaven on earth is unofficially known as the grease pit. It has Wendy's, Taco Bell, McDonald's, In'N'Out Burgers, Whataburger, Taco Cabana, Sonic, McAlister's, Panera Bread, Fazoli's, Long John Silver's, and more. This is the perfect place for a late-night craving or when you are tired of dining halls but still want to stay close to campus. Every Baylor student loves the grease pit.
4. IHOP/Pizza Hut
There is a cute IHOP and Pizza Hut that basically sit on campus, they're not even across the street like the grease pit mentioned above. This is so convenient because it is literally so close for any student in the mood for some good pancakes or a classic pizza to walk outside their door and practically be there in 5 seconds without crossing any major roads at all.
5. Fuego and Torchy's Tacoes
Torchy's is in the area of the grease pit, however it deserves it's own point because A) the food is that good and B) Fuego is not and it needs to be on the same point as Fuego because they are so similar and people always deliberate between which one is better. It is hard to determine this because these taco places make the most incredible Tex-Mex food. Both serve high quality, unique tacoes with surprising flavor combinations unlike any you can order anywhere else, much less at any other fast food restaurant like Taco Bell.
Hopefully this article has provided some helpful guidance in the tough decision-making process of where to go to eat. These are all solid, convenient, relatively inexpensive options for students' everyday life. There is so much to choose from here that there is never a reason to go hungry at Baylor!
---
---
Related Articles