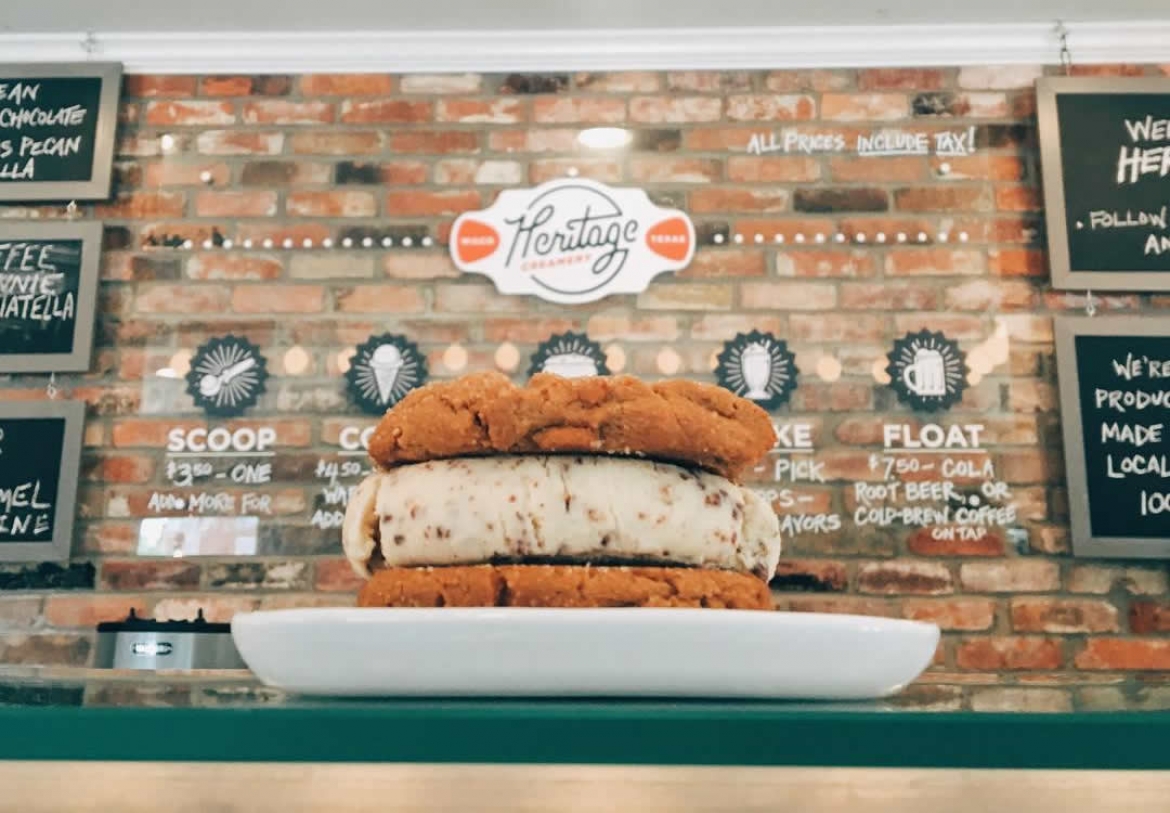 Sometimes in life you get the sweet tooth you absolutely must satisfy. When this hits in college, as it often will, you can settle for the mundane solution of turning to the vending machine. Or, you can discover the best places near you to really treat yourself. At Baylor, students have access to many special Waco places serving delicious desserts that are only a walk or short drive away from campus. Below is a list of some of the most treasured places among Waco residents and students, but there are many more to visit and try out besides these few referenced. This list is more to get you started with the highlights and point you in the direction of discovering more of what there is out there for you if you still are hungry!
1.Heritage Creamery
This one is by far the closest place to go that is "off-campus" because it is literally across the road and therefore basically on campus. People actually forget sometimes that Heritage (and its neighbor coffee shop Common Grounds) are actually independent of Baylor because they are so close by and their main consumer base is obviously students. So, this makes it a convenient option when the cravings kick-in. However, there is so much more to this ice cream shop than its location, that's just a side bonus. Heritage Creamery has a clean, down-to-earth, minimalist vibe that appeals to young people and serves mouth-watering ice cream flavors along with sandwiches, shakes, and floats. Everything is locally made in Waco and has a unique flavor. Brown Sugar Cinnamon, Brown Butter & Texas Pecan, and Sweet Cream Stracciatella are among Heritage's staple flavors, to name a few.
2.Steel City Pops
Steel City Pops is another hit among Baylor students that is just a short walk away from campus. It is located across the street in the Grease Pit (Check out: the best places to eat for more info). Steel City Pops is a southern popsicle shop that sells gourmet pops from all-natural and local ingredients. They have a multitude of flavors, so it will take you a long time and keep you coming back for more if you want to try them all. These include Strawberry Balsamic, Plum with Rosemary, Bosc Pear with Honey, Chocolate Mint, Buttermilk, and more.
3.Silos Baking Co.
Silos Baking Co. is the charming little white bakery at the Magnolia Markets owned by none other than Chip and Joanna Gaines. This quaint bakery's main item would be its gourmet cupcakes, but it also sells various other baked goods like pastries and breads. People stand in sometimes very long lines to get their box of cupcakes and sit outside on the patio and enjoy the Silos. This is also a roughly 10-15 minute venture by foot from campus or an incredibly short drive.
4.Lula Jane's Bakery
Lula Jane's is a cafe in Northern Waco, a little bit separated from the busier area of downtown, that sells coffee, sweets, and a few breakfast items all made from scratch. This is a very wholesome place. Besides its delicious menu, it also offers customers its charming indoor and porch seating and its herb, vegetable, and flower garden. They sell many different cakes, pies, scones, brownies, and cookies. They have the best chocolate chip cookies  ever. This place is a must-visit if you go to Baylor.
5.Shipley's Donuts
There are several Shipley's in the small town of Waco. They sell coffee, all the donuts you could ever want, and their speciality Kolaches, which are basically baked breakfast pastries usually filled with delicious cheese and some type of sausage or hot dog. The closest Shipley's to Baylor is less than a mile away.
6.Pie Peddlers
Pie Peddlers is heaven for anyone who appreciates good pie. They only serve pie and they have a menu full of all the kinds you can think of, like Key Lime, Chocolate, Strawberry Rhubarb, Apple, Coconut Caramel, Every Berry, Cherry, and more. Pie Peddlers is a brisk walk from campus in the direction of downtown.
7. Hey Sugar
Hey Sugar is the ultimate candy shop for sugar lovers. They have all the candy you can name and lots of quirky, novelty candies as well. With its colorful atmosphere and dazzling display of walls of candy, this is a store you don't want to miss. It is a 15-20 minute walk from campus because it is located in the midst of downtown or a short 5 minute drive.
As you can tell, the Baylor area has some really appealing dessert places practically adjacent to it that you will enjoy trying out and probably discover others you love along the way. Clearly, it is not hard to get your fix here and you will actually have more trouble trying to choose on one place to go to!
---
---
Related Articles