Back to Bentley University Blogs
10 Buildings You Need to Know at Bentley University
Bentley University is a private university is located in Waltham, Massachusetts, focused on business. The average undergrad enrollment is around 4,000 students. Here are 1o different buildings you need to know about at Bentley University.
1. Dana Athletic Center
The Dana Athletic Center is home to the basketball team's home court. It is also used for the volleyball team and has been renovated multiple times to keep up with its demands for state-of-the-art equipment. The center features a great workout area with machines and weights.
2. Bentley Library
The Bently Library is a library for students who need resources and technology to conduct their research projects and homework. The library features tons of physical books as well as the staff there to help find databases online as well. The library also has computers, printers, and scanners making homework easy to do.
3. Adamian Academic Center
The Adamian Academic Center holds the first of its kind for the Center of business ethics. Business ethics is an important field to go into as it shows students what are appropriate behaviors in the business world. The academic center is most notably known for its international office and the prime place go-to for questions about study abroad.
4. Morison Hall
Morison Hall is the place to go-to for hands-on marketing solutions and problems. The hall is a creative hub for businesses, nonprofits, and students to get their feet off the ground. As a student, you are able to work with a company/nonprofit in helping to create a solution to their toughest problems. You also get access to state of the art research resources to guide your journey.
5. LaCava Center
There are many administrative offices in this building. The LaCava Center holds the admissions offices for both graduate and undergraduate. This is the building to go into also for the alumni office, that allows students and alumni to partake in fun events around the year. There is also a cafe in the center that gives students a much-needed relaxation time.
6. Jennison Hall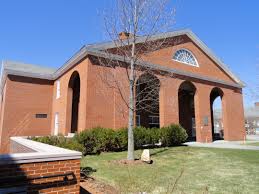 Jennison Hall houses newly renovated science and research labs. The hall is used for up-to-date technology to be used for finding and understanding new research for the betterment of society. The hall has plenty of space for teaching students how to use the equipment as well as offices for additional help.
7. Lindsay Hall
Lindsay Hall is home to the media lab. The media lab is where you will find the school's TV production. The school's TV show is always looking for students looking to get hands-on experience in video production as well as those looking to gain exposure on their resume. It also has offices and labs for students in accounting to get real-world experience with the type of technology and programs they use.
8. Multipurpose Arena
The multipurpose arena was built in 2018. The arena is used primarily as the space for the school's hockey team for home games. The arena is also used for concerts, career fairs, and any other events that require a large amount of used space.
9. Bentley Falcons Football Field
The football field is used for students to find entertainment on the weekends with their football team. The field and surrounding area has plenty of space for walking and talking with friends and family. It is a great way to cheaply have fun as well as show off your school colors.
10. Student Center
The student center is the busiest place to go to. It features plenty of tasty dining options as well as "the bubble," which is a collaborative space for meetings and optimal study time. The student center has over 100 different organizations that it helps to service.
Bentley University has a smaller amount of students that attend the school. The smaller size makes it easy to form close relationships with friends and acquaintances as well as gives optimal one-on-one time with teachers and staff. The school has plenty of buildings to fit your every need from career advice all the way to getting in a good workout.
---
Suggested Articles in Bentley University