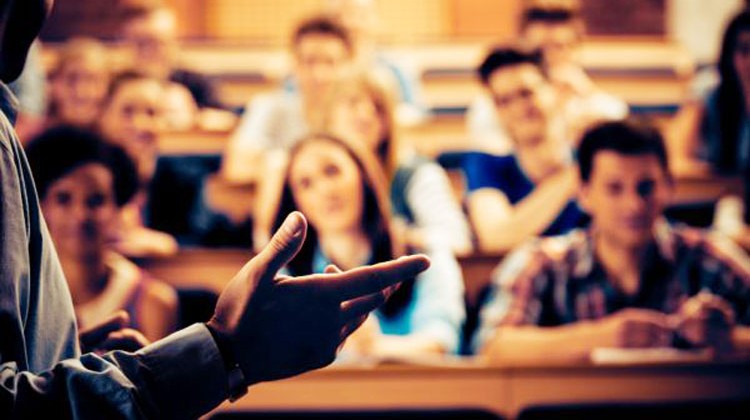 Write down, take a picture, or email yourself the professors on this list. Tattoo it to your arm if that helps. Just don't finish your degree without taking  a class with one of these Professors at Bentley University:
1. Aaron Nurick
What other class consists of one slide PowerPoints, discussing your Weekend plans, and making jokes about the Professor's age? Nurick offers the space for real world and philosophical contemplation. Students can achieve the Nurick-Trifecta if they take all three of his courses.
2. Joao Resende-Santos
Global studies with an energizing kick. Joao is passionate about teaching and will jump around the classrooms, sit on desks, and stand on the table when he can't contain his excitement. Take the day bomb, waste three hours watching him run around the room, and soar through the exams with the test prep he gives out.
3. William Read
Bentley's best and brightest get tested in the infamous Accounting Director's classes. If you can survive the blood, sweat, and tears of Intermediate Accounting with Bill, you are ready for a full-time accounting job. Ask him about stocks and you will be there a while.
4. Tyler Williams
Y'all ever had an attractive teacher with a southern drawl? Hop into Tyler's classroom for some aesthetically pleasing lectures and hear him talk about his dog. If you're a coffee addict this is the mentor for you.
5. Bridie Andrews
A British woman who is a professional Chinese healer, Bridie will be the strangest Professor you take. She will come into class in a kimono hyped up on English breakfast tea and proceed to discuss one article for the whole lecture.
6. Danielle Hartigan
Danielle is one of the sweetest and knowledgeable psychology Professors at Bentley. She posts all her PowerPoints, extends deadlines, and loves class discussion. You'll never see her behind the podium…. But that's probably because she's too short.
7. Annie Witte
Most interactive and user-friendly tax class at Bentley. Annie is a new Professor that doesn't know any better than to offer extra credits, make-up work, and office hours every day. You will pass your tax class with her.
8. Adrienne Nussbaum
On the crazy scale Adrienne and her hair are pretty high up. She only teaches one class annually, but it's worth the hours of awkward silence. Her material will stick with you because of how many times you made fun of her vernacular.
9. Michael Quinn
If you haven't taken a class with Mike, go back to college. Mike is the ultimate combination of professor, mentor, friend, and ally. Stop by his office anytime for exotic chocolate tasting and life advice.
Don't forget to keep in touch with these Professors. They will all write letters of recommendation and nominate you for awards if you ask them.
---
---
Related Articles