Back to Bentley University Blogs
Pros and Cons of 6 Different Class Periods at Bentley University
Bentley University offers a variety of class structures and times. From 8am classes to 6:30pm classes, students can pick a schedule that fits their availability. Each class period has pros and cons that students must take into consideration.
1. The 48/240 Split
A 48/240 split is a class that meets twice a week 48 hours apart and 240 hours apart. These are typically held as Monday/Wednesday or Tuesday/Thursday courses. Pro: Easily continue class discussions between the two classes after the 48 hour break. Professors try to lecture the first day and do in-class assignments the second. This breaks up the class and helps solidify the new material. Con: No time to complete the assigned readings or deliverables within the 48 hour window, causing elevated stress levels. Then again, trying to remember what the class was learning five days later is just as hard.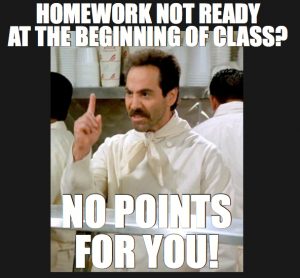 2. The 72/96 Split
The most common division of class periods with  biweekly lectures on a Monday/Thursday or Tuesday/Friday schedule. Pro: Enough time to visit office hours between classes and fully understand the class material. Meet with the Professor enough times and you can rake in the brownie points. Con: Monday or Friday classes. Is it even worth going to class on a Monday or Friday if you are just surfing the web in the back web? No, go back to bed.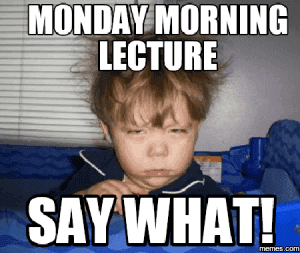 3. The Online Class
An alternate way to learn by watching recorded and live-streamed lectures from the comfort of your bed. Can be a biweekly or weekly lecture typically with the most mind-numbing Professor the school could find. Pro: You can wear pajamas to class. In fact, you don't have to move from bed as long as you have an Internet enabled device with you. You will always be comfortable in class. Con: Disconnected class that doesn't actually help you learn, especially when you can use a search engine for every assessment. This class assigns readings and makes you watch extended videos even more boring than your dinosaur professor.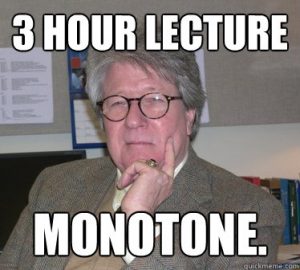 4. The Morning Bomb
8am to 11am weekly classes that start before anyone in the room is awake. Those that can concentrate for 3 hours in the morning are truly gifted. Pro: Get the class over with early in the day. Free up the afternoon and night to do whatever your heart desires. These are the most likely classes to start late. Con: Its 8am in the morning and even your Professor is holding onto his coffee for support. When the professor runs out of material they will endlessly ramble to run down the clock.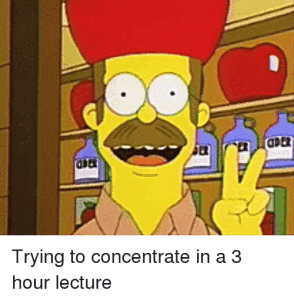 5. The Day Bomb
This is the class that cuts through lunch. From 11am to 2pm, all the students are stuck listening to all the antsy students shuffling and clicking their pens while they count down the minutes till grub time. Pro: Get the class over with once a week if it's a dry subject or irritating Professor. If you are lucky the class will be broken up into a lecture, discussion, and group work. Con: Eating right before class or right after is inhumane. No human should be denied a 12pm to 1pm lunch hour. Many day bombs don't have food or bathroom breaks so you'll go three hours straight.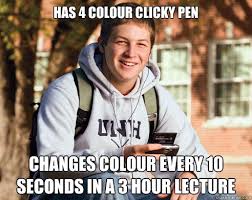 6. The Night Bomb
Weekly class that meets 6:30pm to 9:10pm on a weeknight. These are for the commuter or working students that are busy during the day. Pro: Fits into everyone's schedule: workers, athletes, staff, etc. Pushing off your class until night extends your day and so you can get more done. Sleeping in and naps are encouraged! Cons: Professors never give breaks or let you out early. Everyone is so tired and slow that they can never finish all their material in a timely manner. All your friends are hanging out without you, you know  this because they are posting all over Snap Chat and Instagram.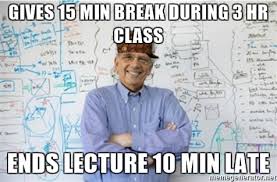 Each student can choose the class periods that best fit their schedules and learning types. When in doubt talk to the upperclassman and fellow peers to see how each class and Professors differ. Or come back to this article and re-educate yourself on the differences.
---
Suggested Articles in Bentley University