Back to Bentley University Blogs
5 Best Features of the Newly Renovated Jennison Hall at Bentley University
A year ago,
Bentley University
renovated its oldest classroom space on campus, Jennison Hall. The transformation included renovated classrooms, lab spaces with state-of-the-art technology, collaboration spaces for team-based activities, and offices for the Natural and Applied Sciences faculty and Academic Services. Now that the school has had time to get accustomed to the new layout and classrooms, there are some major improvements that deserve acknowledgement.
1. The New Lounges are Amazing
In the old building, there were no spaces to do homework or group work. The new layout has lounges on every floor next to the stairwells. The lounges are all color coded and have comfy chairs lining the walls. These are the perfect places to sip your coffee before class, watch some Netflix, or get a head start on your homework.  
2. Classrooms have Working Projectors
The worst part about the old building was the old technology. More often than not, professors would have problems getting the projector to turn on or their computer to connect to the overhead. With the new classrooms, all the technology is brand new with all the connections for HDMI, VGA, and Display Port. If all else fails, each projector has its own desktop computer that can be utilized.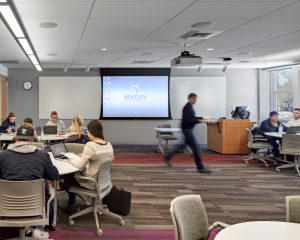 3. Hallway Seating
My favorite addition to Jennison Hall are the cube seats in the hallway. The special classrooms that have collaboration tables instead of desks all have these cubes outside the doorway. Whenever the Professor needs to clear the room for team presentations, these cubes are life savers for all the girls in suits and heels that want to sit down while they wait.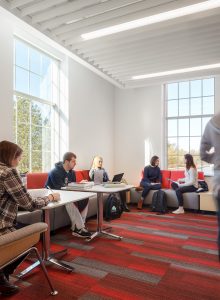 4.The New Science Labs are Beautiful
Natural and Applied Science is one of the most underrated departments at Bentley University. Every student needs to take a 4-credit science lab as part of their mandatory course load. Sometimes students are so preoccupied trying to take the easiest class to get the requirement over with that they fail to see how interesting the higher level science courses are. The few students that continue with the science curriculum truly appreciate the state-of-the-art labs that were just built.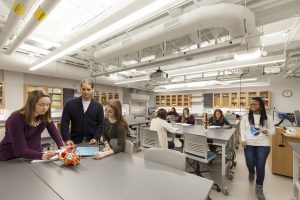 5. There's a PRINTER Area
There are only 10 minutes between classes. In the old building, students would have to run from Jennison Hall to the library, wait in line to print, and then run back to class.
Bentley University
decided to put a printing area into one of the new lounges and it is so incredibly convenient.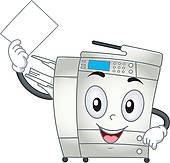 In all, the students and faculty are impressed with the smart new additions to Jennison Hall. They have improved the learning environment and given a new life to an old building.
---
Suggested Articles in Bentley University