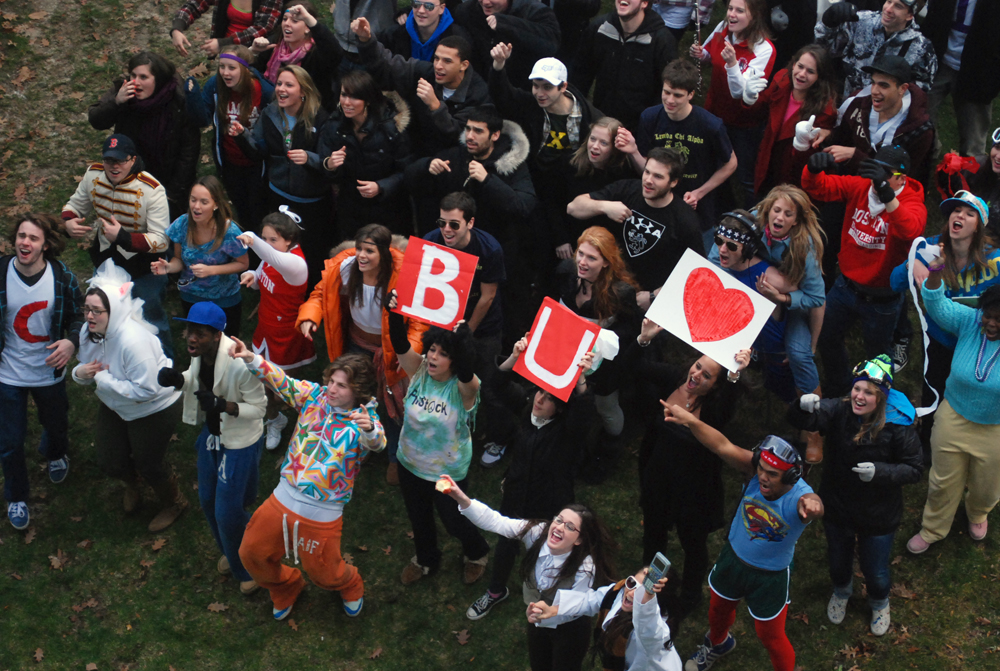 While navigating your way through the pressures of Boston University, it's important to take some classes that are just plain fun. Taking a class that is genuinely interesting not only helps your sanity, but it helps you to appreciate a different field of study or maybe a really great professor who can help you come into your own at BU. Here are 10 of the Coolest Classes at Boston University.
A writing class is usually a requirement for most of the different schools at BU, but this is definitely one to look out for, especially if you're on the creative side. Throughout the semester, you'll study various dramatic works and experiment with creative writing, and then towards the end of the semester you'll get to add your own creative voice to contemporary drama by writing a 10-minute play! The professor is really encouraging and works with you so that you do your best in the class. It'll push your creative juices but you'll have tons of fun!
Here's another writing class, the second semester that is typically required for most colleges. If you're looking for a fun WR150 class, look no further. You'll learn about a lot of the current ethical dilemmas and controversies currently in science, like artificial intelligence and genetic engineering. You only write three essays for this class, and then of course end with your portfolio. The first essay has a pretty clear prompt, the second essay has a somewhat vague prompt that allows you some freedom in your topic, and by the third prompt you can basically write about whatever you want, anything from robots to adoption.
This class is an amazing experience. It's a lot of reading, but it's all science fiction, so you'll find in the syllabus works like Frankenstein and Slaughterhouse Five. All of them are interesting and tend to have fascinating commentaries of the society of the author. There are only three papers to write during the semester, each only two pages and there are six different due dates for you to turn them in, and then there is a paper at the end of the semester that can either be a 10-page paper or your own, original, 4-7 page short story. The professor is very relaxed, but also simultaneously amazing at facilitating a constructive conversation. If you're looking for a humanities credit or are interested in looking into an English major/minor, this class is the one for you!
Discover the boundaries between magic, science, and religion from the early ages through the enlightenment. You'll get to talk about the relationship between the learned and popular thought and practice of the time, as well as explore underlying assumptions about God, Nature, and natural forces. It's quite a bit of reading, but it's so worth it for all of the fascinating information, and just the fact that you'll be talking about magic. You won't find magic very often at BU. Fun fact, this class can either count for your humanities or your social science credit, and if you're in COM it can also count as your science credit!
Are you a history buff? Whether you answered yes or no to that question, you'll have a blast in this class. You'll learn so much about the literature, art, philosophy, and culture of ancient Greece, and how it has impacted Western Civilization. It's fascinating material and, as the ancient Greeks have so heavily influenced our culture and history tends to repeat itself, it may even prove useful to you in whatever field you go into. Regardless, you'll have fun in this class and it's a great way to gain a humanities credit!
Here you will cover all of the basics of astronomy: the historical development of the field, the motion of the planets, how solar systems form, the evolution of the Sun, planets and Earth…you're really learning the secrets of the Cosmos here. It's fun, it's interesting, and it's probably one of the best ways to earn credit for a lab science! You won't be disappointed with this one.
Are there aliens out there? Let me know after you take this class. If we can find similar features of earth on other planets, surely that means there's other life forms out there…right? You'll talk all about the possibility of life out the universe and where they might be. This class is a great experience and has an incredible professor, so if you're curious about other lifeforms, definitely check out this class!
Have you ever wanted to be one of those computer hackers on TV who type a million miles a minute? This class will give you the basics on how to do that. You'll learn code, computer science applications, and even a new language – Python. This computer language looks amazing on a resumé and you get all the benefit of being the 'Hermione' of computers when your friends come for help.
Interested in setting up a website or just want to know how our beloved internet works? This is the class for you! It's your basic introduction to the architecture and protocols in the operation of the internet. You'll learn Python and SQL programming, which both are look awesome on a resumé and are really just interesting things to know. Step right up and discover the mysteries of the internet!
Lots of people haven't heard of these, and they're really important to be aware of. These are one or two credit courses in which you play a sport. Any sport. There are so many things offered, from ballroom dancing to ice skating to fencing to basketball. In most cases, there are also different courses for different mastery levels. So whether you're a beginning ballerina or an expert volleyball player, there should be something that catches your interest, so look out for fun and exciting PDPs that fit in your schedule!
---
---
Related Articles