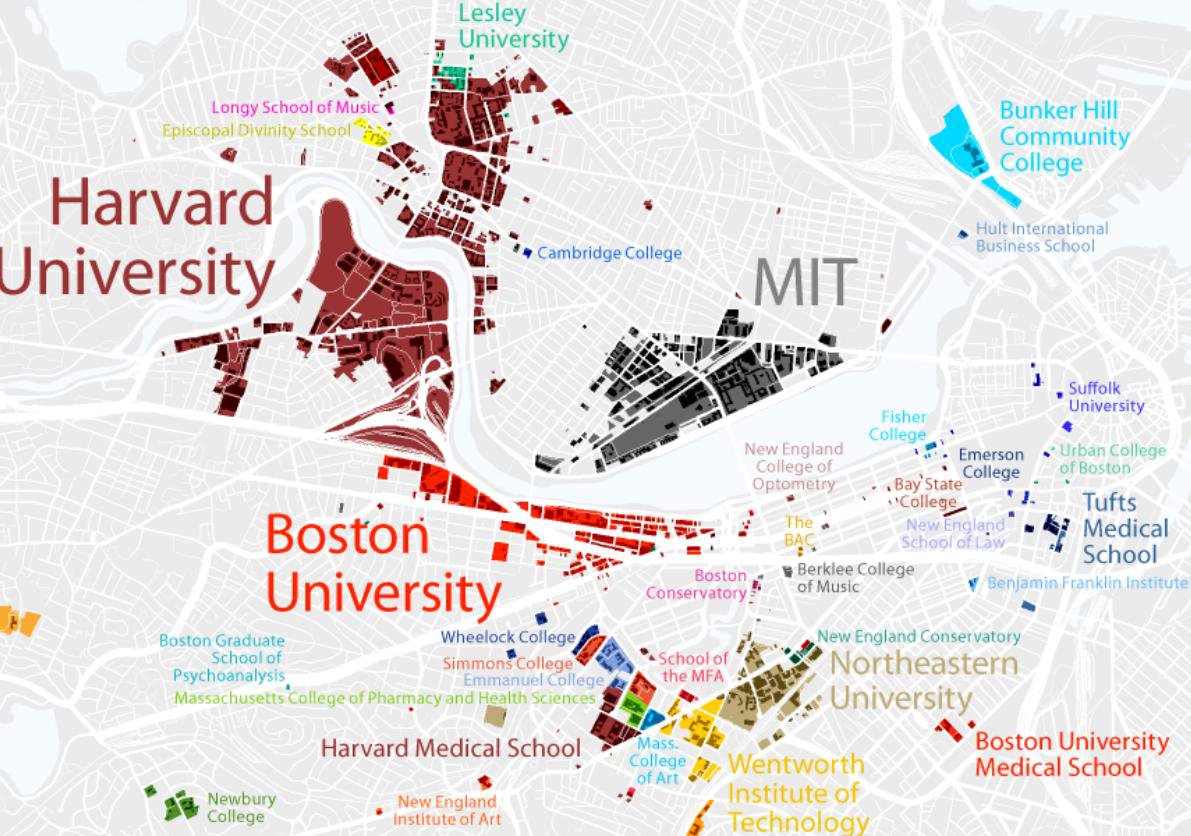 There's a ton of perks being a college student in Boston. No matter what school you go to or what major you're studying, every college kid wants to save money. Just because college is a time for realizing how much money is really worth, this doesn't mean you should miss out on great things around town or live off of ramen. Treat yourself with some of these amazing deals! Here are twenty discounts students in Boston didn't know about:
1. Museum of Fine Arts – free with most college IDs
The MFA is a great place for a cheap date, a rainy afternoon, or to get inspiration for your art classes.
2. BSO College Card – $25 student card gets you unlimited tickets to the BSO
So for a one-time purchase of the college card, you get access to as many BSO concerts as you want! Just get tickets the day of and you'll get to hear some amazing musicians play some classic pieces. Also, if $25 seems a lot for you to probably only go once over the course of the year, you can get $20 tickets for select concerts with the discount code 20UNDER40. It's just what it sounds like – you pay $20 because you're under the age of 40. Just make sure to bring your ID with you to prove that you're not 40, cause hey, looks can be deceiving.
3. Red Sox Tickets – $9 + service fee standing room tickets
Most colleges offer discounted tickets to see the Red Sox at Fenway Park! This is a must-do while in Boston, can't miss out!
4. Amazon Prime – free 2-day shipping for the first 6 months of membership
Amazon Prime is an essential, especially for textbooks. Why buy your textbooks early that you might not need? Pull the cheap college student trick of waiting until the first day of class to see if the textbook is really essential or not. Then get it before your next class no problem!
5. Amtrak – Save 15% on rides with Student Advantage card
Make visiting your family or friends at other colleges cheaper and easier! Plus who doesn't want to spend a weekend in NYC? A 4-hour train ride and 15% off and you're there.
6. Isabella Gardner Museum – $5 tickets with student ID
This museum is a must see. With occasional music performances, interesting galleries, and only steps away from a ton of universities, you'll definitely want to come here!
7. Skywalk Observatory – $13 tickets with student ID
The view from the top of the Pru is definitely worth the $13 fee. It's a perfect photo op and you'll have a profile picture for the rest of your college years, you standing above all of Boston, staring out over the Charles.
8. Spotify Premium – $4.99/month
I must stress that this is my absolute FAVORITE college discount. I use Spotify all the time – while studying, working out, on my way to class, on the T, at parties, etc. Who really wants to listen to ads constantly, or not be able to skip more than a few songs? I'm a college student and I want to be able to listen to whatever song I want, whenever I want, and for cheap.
9. AMC Loews Boston Common 19 – $7 movie tickets on Thursdays with student ID
Want to see the latest Channing Tatum film? How about Emma Stone? Is there a new Star Wars film coming out? Want to feed your inner child and see the new Pixar film? Do so right here for cheap on Thursday nights. Hey, you can afford to get a popcorn now. You might want to even splurge for a slushie too.
10. Kendall Square Cinema – $9 tickets with ID, Monday – Thursday
Go to MIT or Harvard or one of those Cambridge schools that aren't technically in Boston, but close enough that it counts? Save yourself the T ride and see a film closer to home at the Kendall Square Cinema.
11. Boston Duck Tours – $6 off adult admission with student ID
This is another must-do while living in Boston. Here's a fun little tip: sit up front because when you hit the water, they will ask who wants to drive the boat, and trust me – you're gonna want to push all the little kids out of the way and get behind the wheel. You get a cool sticker for doing it, and once again, a great photo ops worthy of a profile picture.
12. Ben & Jerry's / JP Licks – 10% off your purchase with student ID
Craving some ice cream after a stressful test? Get some money off at your local Ben & Jerry's, or if you want to try something more local (which you definitely should) hit up JP Licks for a cone.
13. Tasty Burger – $10 Starvin' Student deal (hamburger, fries, and a beer)
While you're in Boston, you must stop at Tasty Burger! And while you're there, why not get a good deal on some good food? A burger, fries, and a beer all for $10? Go there after a Red Sox game, or go for their Trivia Nights and bring all your friends for a great time!
14. The Institute of Contemporary Art – free admission for most college students
The ICA is definitely one to check out. Right on the water, it has a great showcase of interesting and modern contemporary art.
15. Lyric Stage Company/Huntington Theater Company – $10 tickets/$20 tickets
Both of these companies have a ton of plays and musicals throughout the year, starring some amazing actors and actresses. For just $10, I got to see My Fair Lady at the Lyric Stage, and for $20, I got to see the real life Ron Swanson, more commonly known as Nick Offerman, star in the Huntington Theater Company's performance of A Confederacy of Dunces. Totally worth it, and you don't want to miss out on some of these great shows!
16. Fire + Ice – $10.99 unlimited grill trip dinner on Mondays for students
Fire + Ice is a great place to sit down and have a satisfying, non-dining-hall meal. And hello, unlimited??? Starve yourself all day so you can make the most of your $10.99 Monday night. It's so worth it.
17. Banana Republic – 15% off with student ID
Make sure you look good on all of your interviews with discounts at this great store!
18. Alex & Ani – 10% off full-priced, in store jewelry
It's the latest fad, everyone has one. Don't you want to fit in, and not bust the bank? Alex & Ani has got your back.
19. H&M – 15% off with student ID
Look good and have your wallet feel good after shopping here.
20. Supercuts – 20% off with student ID
Sure, you can try to cut your own hair or have your roommate help, but we both know how that's going to end. Save yourself the embarrassment and just get it done by a professional.
Also, just one last little tid-bit from your local upperclassmen – sign up for as many reward programs as you can. It'll save you a lot. Get the Dunkin app, Starbucks app, Panera, Qdoba, Target app, Stop&Shop card, etc. You'll thank me later.
---
---