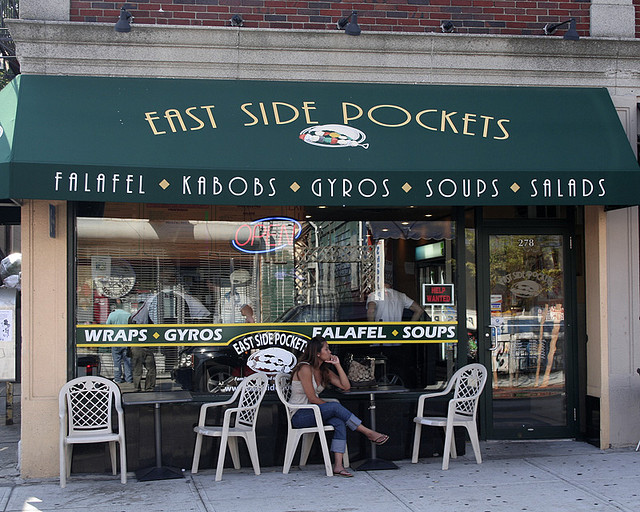 Providence is a diverse city that has so many hidden gems. When it comes to food, there are so many options around Brown that will keep both your wallet and stomach happy.
1. Antonio's Pizza ($)
*Vegetarian Friendly
Antonio's pizza is a local pizza store that sells pizza by the slice. But it's not just like any other pizza. Each slice has very generous toppings on it. They have vegetarian and meat options as well as very fun specials. Pizza with fresh ricotta and spinach, pizza with nachos and avocados, pizza with fresh tomato and basil or chicken chipotle. (~$4 per slice)
2. B. Good ($$)
*Vegetarian, Gluten Free, and Vegan Friendly
B Good is a new place that opened by Brown with the aim of making fast food more accessible. They have salads, sandwiches and burgers as well as many vegan replacements. The price is not the cheapest but if you are looking for healthy shakes, this is a good place to visit. (~10$ a meal)
3. East Side Pockets ($)
*Vegetarian and Vegan Friendly
East Side pockets has been around Thayer for decades. They have middle eastern options such as falafel sandwiches, chicken, meat, salads, fries and so many other platters. Sandwiches start at $5 for vegetarian options and meat sandwiches are around $7. The portions are usually very generous.
4. U Melt ($$)
*Vegetarian, Gluten Free and Vegan Friendly
U Melt is a hipster grilled cheese sandwich shop that is based in Providence. They have all kinds of grilled cheese sandwiches you can imagine, with different kinds of cheese and breads. If you are vegan, they have vegan cheese sandwiches for you as well! The place has a vibe that will bring you back to your childhood. (~$7 per sandwich)
5. Mike's Calzones ($)
*Vegetarian Friendly
Mike's Calzones has one of the best calzones and sandwiches around Brown. Their menu also includes a variety of mediterranean options such as shawarma (best I've had!) and feta, spinach-y calzones. Portions are generous and staff is very friendly. (~$8)
6. Kabob and Curry ($$)
*Vegetarian, Gluten Free and Vegan Friendly
This Indian place around Brown has a great selection of Indian and South asian dishes. There is a sit in or a take out option and the dishes are Gluten free, vegan, and vegetarian friendly as well. (~$12 meal)
7. Baja's
*Vegetarian, GF and Vegan Friendly
This Mexican eatery is doing so well on Thayer that they have two stores on the street. Service is fast and effective, and you can build your own burritos, tacos, quesadillas etc. This place is  a local gem where you can have a huge fat burrito for about $8.
When you attend Brown, you have so many options around you to fill your belly and get ready for your next class. These places are local businesses that are not chains, and that not only does good for your wallet, but also does good for the local economy! Go Rhode Island!
---
---
Related Articles