Back to Buffalo State College Blogs
Top 5 Places to Eat in Retail Dining at Buffalo State
There are many locations on Buffalo State College's campus to eat food. Many students attend the college with a meal plan, which is beneficial to have during the school year. The students that don't have a meal plan aren't missing out too much, because not only do they have access to the food as well, but it's also very affordable if they need to eat between classes. Here are a few locations to eat in retail dining at Buffalo State.
1. Sushi Do
This is a fairly new dining location to eat in retail at Buffalo State. They offer various types of sushi rolls and even nigiri sushi which is always a fun option. Sushi Do also has dumplings, gyoza and salads, bowls and sushi-burritos which are a favorite among students. You can purchase a rice bowl with either a fish or chicken teriyaki option, or even get seaweed salad. The food is very fresh and the chefs actually make the sushi rolls in front of you right after you order.

2. Chicken Spot
This location is a great place to order some wings or chicken tenders. You can also order sides of mashed potatoes, mac and cheese or curly fries and they're always warm and fresh, ready to go. Students can also purchase a chicken wrap, and every month there is a specialty wrap as well. After certain hours during the week days Chicken Spot will usually only sell chicken wings and fries, so if you're ever hungry late at night you can stop by and order some quick snacks.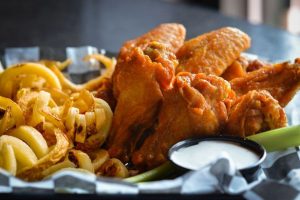 3. Train Grill
The Train Grill offers mainly burgers, hot dogs and Philly cheese steaks. Students can also get a side of fries or even fried pickles, which are always fun to snack on. Train Grill also has vegetarian options, and in the morning they serve breakfast sandwiches, hash browns and pancakes if you're ever around looking for some breakfast.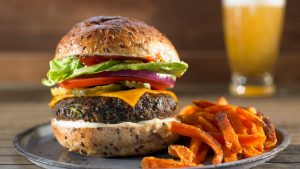 4. Chop'd
If you're ever looking for a more healthy option, Chop'd is definitely a place to order from. You can choose what kind of salad you want, starting with the type of lettuce, protein and toppings. Chop'd at Buffalo State also lets the students purchase a breadstick with their salad and drink for a low deal price, which is always a nice option. The breadsticks are fresh and all of the salad ingredients are as well. They also offer specialty salads that the chefs will make in front of you so you can tell them how much of a certain ingredient you would like.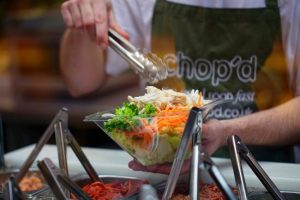 5. Salsaritas
Salsaritas is a favorite among many students at Buffalo State College. They can choose from a make-your-own burrito, bowl, quesadilla or salad, and there are a lot of options to choose from. Students can also buy chips and queso and guacamole for a little bit extra, but the size makes it worth it. There is also a special every day of the week for a discount meal, where students can purchase bowls or burritos for a lower price, and also includes a drink and side of chips.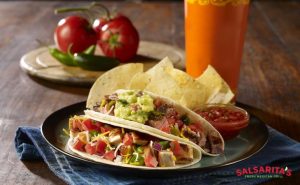 These are some favorite locations for students to buy food at in retail dining at Buffalo State. All of them are open during the week, and students are able to find good deals at all locations. It's very nice that Buffalo provides a variety of food so each student can satisfy their cravings!
---
Suggested Articles in Buffalo State College