Back to Butler University Blogs
5 Things They Don't Tell You On the Butler College Tour
Butler is the whole package. It boasts an amazing basketball team who plays inside of the historic Hinkle Fieldhouse, a brand new business college set to open in Fall of 2019, luxurious apartment style dorm rooms for upperclassmen, and a strong liberal arts education. It is natural for anyone visiting Butler to be wowed by the enthusiastic tour guide and adorable bulldog mascot. However, there are some things about this school that students learn the hard way.
1. When it rains... it pours
Located in scenic Indianapolis, Butler is partial to heavy and frequent rain. It's not just that this kind of weather makes you want to stay in bed, but it comes close to flooding the entire campus. Every corner of the sidewalk turns into a puddle of unknown depth, and your only options are to walk right through it or into the muddy grass on either side. In reality, the answer is investing in sturdy rain boots.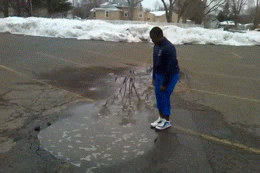 2. The food is nearly inedible
Ah, dining hall food. With Butler's required meal plan, students are funneled into Atherton Union and Residential College for each meal. Except Resco is only open for lunch four days a week - so options are limited. Not in the mood for a build - your - own - salad with still frozen corn? Don't worry, head downstairs to C - Club! Here you'll find a piece of pizza for 4 dollars and a chicken wrap (with occasional ice cubes thrown inside) for only 7. Not to mention the wood boarded walls and 90's themed furniture makes it feel like you've stepped back in time. And there you have it. Butler's dining options. The best part about the food - when the ice cream machine is broken down - is the unity amongst the students forcing themselves to eat together.
3. Greek life IS a large part of campus
According to Butler's website, between 30 - 38% percent of the student body is involved in greek life - but it can definitely feel more like 75%. With rush in the Spring, freshman are kept independent for at least a semester. Nearly all social events are somehow correlated or dominated by greek life, including fundraisers, parties, and homecoming activities. With seven sororities and five fraternities, there is certainly a mix of people in each house - and Butler prides itself on not being a stereotypical greek campus. But to estimate only 1/3 of students are involved is an understatement. If you're not an athlete and prefer to stay independent, it can be difficult to entertain yourself on the weekend if you aren't partial to school sponsored bingo nights.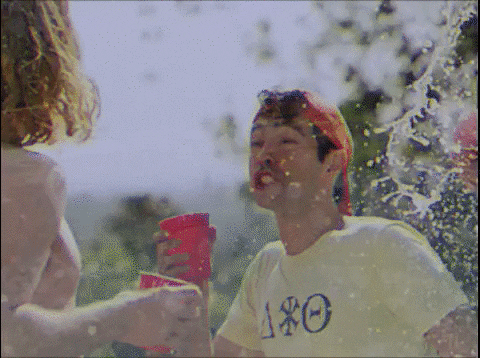 4. Work hard, but work harder to find a place to party
Butler is an amazing school, and at all hours of the day you will find Starbucks or the library packed full with dedicated students. But when the weekend rolls around, so does BUPD. It's been said on campus that the police will arrive faster if you throw a beer can in your yard than calling them for help. It is almost guaranteed that you'll be home by midnight with the cops shutting down anything resembling a social event. And don't be caught in groups larger than four walking through the streets - or your asking to be questioned and breathalyzed. Butler students work hard, but good luck trying to party harder!
5. Dorm life ROCKS.
There is nothing quite like communal bathrooms and twin XL beds. Starting in Fall of 2018, the "worst" living accommodations on Butler's campus will be found in Residential College. These suite style dorms are great in the winter time when you just have to go downstairs to get to the dining hall. But the frequent utility issues outweigh this luxury. The printer seems to conveniently break ten minutes before your final paper is due. And nothing wakes you up quite like a freezing cold shower after the temperature controls shut off randomly. Not to mention the rocks and sand that happen to fall out of the various faucets on the second floor - don't use the sink to fill up your water bottle kids. But if you don't mind the broken elevators, dryers that take $10 before finally drying your clothes, and glitchy fire alarms, then Resco will make a great first year home for the newest bulldogs.
Butler University is an amazing place to be, and despite these quirks any student you meet will defend their bulldog pride to the death. Just don't be fooled by the shiny brochure and glowing student testimonies, because there is more to this place than the fountains and the overwhelming school spirit. In summary, Butler is an imperfect home that creates a wonderful culture with life - long friends and memories - just with poorly fed students.
---
Suggested Articles in Butler University