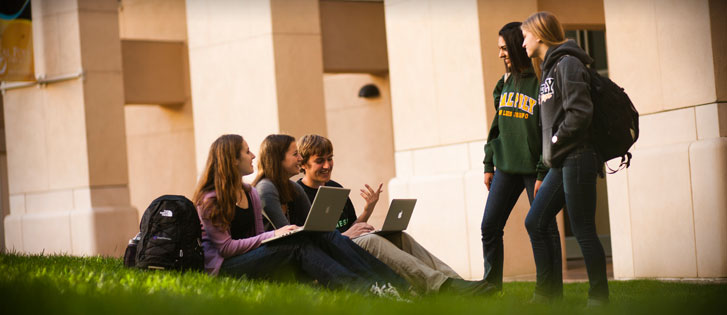 We've had it engrained in us from WOW week: 25-35 hours of week studying is essential to being a successful student. However, if we're honest with ourselves, sometimes just finding a good place to study can be harder to do than the actual studying. With Robert E. Kennedy Library being the only library on campus, it can get pretty old and pretty crowded, pretty quick. As a result, Cal Poly students have learned to be a little more creative about where we study and have found some pretty sweet study spots in the process. Here's a list of 10 study spots, both on and off campus that all Cal Poly students should take advantage of.
On Campus:
The University Union
The University Union has a ton of different spots that you can utilize to study. Tables across from Starbucks on the first level are great if you need to plug your laptop into an outlet while sipping on an iced coffee. Upstairs, there are more tables and seats that are perfect for study groups. As well, there are printers that can be used with the swipe of your Poly ID card that save you from the "I-can't-believe-I-forgot-to-print-that" panic right before class. If you're looking for a quieter place to study, there are also two quiet lounge areas that provide a calming view of campus and Bishop's Peak.
Warren J. Baker Center for Science and Mathematics
As a result of spending hours walking its halls, most science majors already know that "Baker" is the holy grail of study spots on campus. The third, fourth, and fifth floors are catered to student studying and provide couches, tables, whiteboards and bar-like seating. Outside, there are balconies with chairs and tables that will help you get your tan and study on. Take time to explore the hallways, the building is filled with hidden study spots that you'll find if you walk around.
Dexter Lawn
Take advantage of SLO's great weather and study outside. Located across from the business building and Subway, Dexter Lawn is a great place to study if you're tired of the stuffy indoors. Bring a towel to stretch out on or sit at one of the various concrete benches that are scattered about.
Leaning Pine Arboretum
A hidden gem of Cal Poly, most people are unaware of the beautiful gardens that provide a tranquil backdrop for studying. Although the Wifi may be spotty in this corner of campus, it's perfect if you need to catch up on some reading. Just wander by the Cal Poly Plant Shop to find this secluded space.
The Recreation Center
The Rec probably isn't the first place that comes to mind when you think of where to study. However, the tables and chairs located right by the entrance are usually empty and provide the perfect place for you to focus and get work done with a group of friends. Plus, when you need to put the books down, getting in a workout is a great way to reenergize and keep yourself stress free.
The Performing Arts Center
Most of the time the "PAC" is used for various musical performances, TED talks and other large events. However, during finals week you can take advantage of the Finals Study Lounge that ASI puts on every quarter. Free coffee, fruit and pastries are a great way to fuel your last-minute finals cram.
Off Campus:
7. Front Porch
Located steps away from the Cal Poly Health Center, Front Porch is a study staple for freshman who want to get off campus but don't have a car. Students can indulge in a cup of free coffee or tea everyday of the week. A free meal is also served every Wednesday. However, get there early because it tends to get crowded fairly quickly. Hours are 8AM-11PM Monday through Friday and 10AM-11PM on the weekends.
8. SloDoCo
You can't be a student at Cal Poly without going to SloDoCo at least once to study. Although SloDoCo is open 24 hours everyday, the prime time to hit this place up is later in the evening when you need to satisfy your stressed-out-sweet-tooth craving. Pro tip: definitely try the Froot Loops doughnut if you get the chance.
9. Downtown
Downtown is home to a ton of different places to study. Small parks like Cheng Park and Santa Rosa Park are great if you want to be outside. Coffee shops like Scout Coffee, Blackhorse and Steynberg are well-known student hangouts. Seating outside of the Natural Café overlooks the Mission and the creek. The San Luis Obispo Library is also a great place if you're looking for something more traditional but still want to get off-campus. With a little exploring, anyone can find the perfect study spot here.
10. Avila Beach
If you have a car, Avila Beach is only a short 15 minutes away from campus and is a great place to study when you need a little bit of paradise. Bring a towel and hit the books on the sand or sit at one of the coffee shops, like Kraken Coffee Co, and overlook the water.
---
---