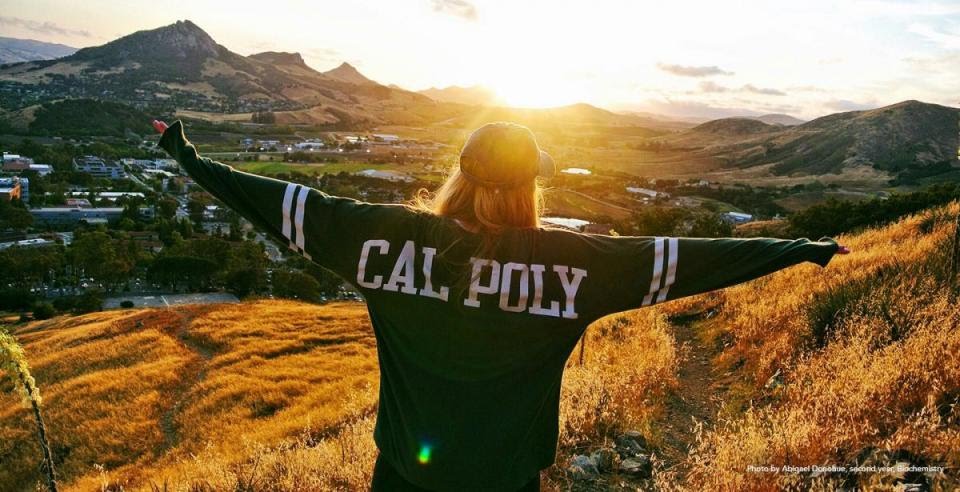 Choosing between colleges is always a hard decision, and with admissions season upon us, it is important to research and consider all of your options!  This article will outline why you should consider attending Cal Poly in San Luis Obispo and become a proud Mustang!
1. LEARN BY DOING!!!
Cal Poly's famous motto is "Learn by Doing," and many students choose Cal Poly mainly for this specific reason.  In classes, you will receive hands on experience, from labs to field trips to licking rocks if you're cursed into a geology class!  While even first years have the incredible ability to get hands-on experience in their major, the further you pursue your degree, the more incredible research you get to do!  This can include working with professors to code AI programs, assisting with the birth of baby animals on Cal Poly's campus ranches, or spending time near Santa Cruz working on Cal Poly's Swanton Pacific Ranch logging to promote healthy forests and decrease risk of forest fire.  While Cal Poly's academics are challenging, there is hardly a dull moment in major courses with all the hands-on experience students receive.  Cal Poly is almost a hybrid between a standard university and a trade school with the amount of experience students receive during their time there.  It's one thing to have textbook knowledge of a subject, but to have practical knowledge of a topic that you can apply directly to a job is invaluable for your future.
2. San Luis Obispo Itself!
San Luis Obispo is a beautiful city with a thriving downtown area full of beautiful boutiques, fascinating shops, and big-name stores such as Abercrombie, Apple, and Victoria's Secret.  Especially when college is in session, San Luis Obispo's downtown area is a gorgeous place to spend time, whether it's visiting the weekly massive farmer's market every Thursday evening or crowding coffee shops to get some last minute studying in before finals week.  And, San Luis Obispo is a great example of how a smaller town can implement urban forestry, with gorgeous trees lining the streets, some forming massive canopies above the road.  The town has a rich history in itself, hosting Mission San Luis Obispo de Tolosa right in the city's downtown!  Now, this may sound too good to be true, but San Luis Obispo is the United States' 5th happiest city of 2017, according to National Geographic.  The students who attend Cal Poly and the residents of the city are all happy to be there, and it really shows!
3. Opportunities to be Active!
Even if you don't go out of your way to be active, Cal Poly will find a way to make sure you are.  "Cal Poly negative freshman 15" and "Cal Poly calves" are very popular terms associated with how the hilly campus will get you in shape for walking, and keep you there (until you go home for break and have to train your muscles for campus all over again!).  However, if you do want to get out into nature and be active, there are so many opportunities, some even right next to campus!  Favorite student hikes from campus is to the Architecture Graveyard, where architecture majors display their amazing senior projects to be explored and abandoned to the grips of time, to the Serenity Swing, where you can swing on a hill about 500-1000 feet higher in elevation than campus, giving a beautiful view of the surrounding hillsides, or to the Cal Poly P, a massive concrete P on the side of a hill overlooking campus.  Or, if you want to take a drive from campus, you can hike Mt. Bishop (pictured above), or other various hiking trails around the area.  The beach is also only a 20 minute drive, and many Cal Poly students surf during the spring and fall, while others swim in the ocean or play Spikeball on the beach.  Cal Poly's location, surrounded by open rolling hills and coastline, allows for much exploration and adventure outside of class!
4. Smaller Class Sizes
Cal Poly may be a public college, however the college highly values smaller class sizes and individualized learning.  Not only will this allow you to get to know your professors throughout the course, through office hours and individual encounters in class, but you will get to know professors in your major department well throughout your time in college.  The largest classes are rarely over 200 students, and these are mainly freshman introductory major lecture courses.  This provides a safe and welcoming environment, and it allows students to form relationships with their classmates much easier.  Forming strong relationships with your professors can open doors to future internships or letters of recommendation, plus most professors are just generally pretty fascinating people to talk to with incredible experience in their fields!  Getting to know your professors and classmates on a deeper level is hugely invaluable, and attending Cal Poly will allow you to have these opportunities.
5. Student Community
Cal Poly's student community is incredible, and full of students who welcome others with open arms.  The college offers so many opportunities for students to have fun and get to know each other, including intramural sports, tons of clubs, Greek life, or attending the many social events held on campus, like line dancing, sports games, or socials in the dorms.  Most, if not all, of Cal Poly's students are happy and grateful to attend such a wonderful, vibrant school, and it is rare to come across an unfriendly face on campus.  Mustang school spirit can be found far and wide, from students wearing Cal Poly gear regularly to classes or to the rec to work out, to the amazing turnout for the blue-green rivalry, Cal Poly's highly popular men's soccer game against our rival, UCSB, which sold out three days this year after tickets went on sale.  Cal Poly students greatly contribute to San Luis Obispo's ranking as one of the happiest cities in America, and despite being in an academically challenging environment, students love every second of their time at Cal Poly.  During freshman Week of Welcome (WOW-orientation week), upperclassmen moving in across campus or making trips to campus to work out or shop at the huge student store can be found excitedly cheering "Wowies!!!" to welcome new students to the incredible environment that they will spend their undergraduate careers at.
In summary, Cal Poly SLO is an incredible school for more than five reasons, however, these are some of Cal Poly's best aspects.  Cal Poly also has a beautiful campus, rigorous academics, and high rates of freshman return.  But, most importantly, Cal Poly is the kind of school that lets itself be what you make out of it.  It is possible to having a thriving social life in college, be part of many clubs, be an active member of student leadership, or just focus on your academics.  Along with the many reasons listed, Cal Poly is beautiful in the freedom it grants its students, and it should be a highly considered school on all applicant's lists.
---
---
Related Articles