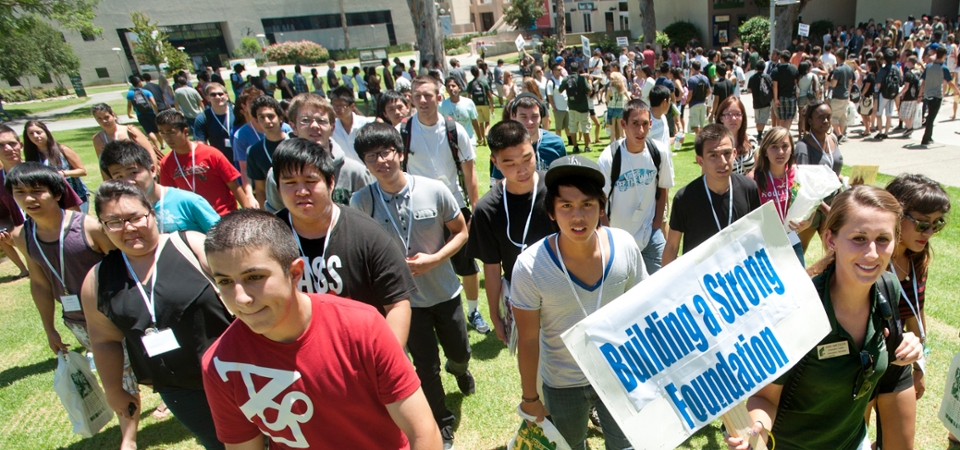 Transitioning from high school to the freshman year of college can often have a learning curve. Living on your own, managing classes, and getting to know new people may be overwhelming at first, but do it right and freshman year can be fun and exciting! Here are 10 Tips to help you through freshman year.
1. Get into a routine that works for you
One of the biggest changes from high school to college is that you get to organize and choose how to spend your time. Whether that's figuring out when to take your classes or finding the time to spend with friends, the sooner you can settle into a routine, the better. Designate certain times for studying (they aren't kidding about that 20-35 rule!) so that way you'll be able to chill with friends without stressing about a project that's due in the next few days. Hate taking classes in the morning? Schedule afternoon or evening classes! Find what works best for you!
2. Make sure to get off campus
When living on-campus, its easy to forget what the world looks like outside of the Cal Poly campus. You're living in one of the happiest cities in the United States (and that's according to Oprah so it has to be true), so get off-campus and explore SLO County! Take a trip up to Morro Bay or down to Avila beach. It feels like a mini-vacation! No car, no problem. The SLO County bus system drops off in Morro Bay and Avila. If you're not feeling public transportation, check out the Poly Ride Share App to see if you can catch a ride with any other students heading off-campus.
3. Go to Office Hours
I cannot emphasize this enough, GO TO YOUR PROFESSORS OFFICE HOURS. In classes with over a hundred students, having a teacher put a face to your name can be really beneficial. Going to office hours lets professors know that you're really serious about the class and also gives you an opportunity to understand your professor's expectations. This is a place where you can ask questions about homework or clarifications about previous lectures. And who knows, maybe you might get a letter of recommendation from them in the future!
4. Stay on top of registration
Cal Poly uses a system called PolyPlanner to ensure that you are keeping track of which classes you need to take in the coming quarters. You'll plan your classes two quarters ahead using this tool. It has two benefits: it helps you stay organized, and administration knows how many sections of each class to open up. BUT BEWARE: If you don't become PolyPlanner compliant, you will be put in the last rotation of enrollment, and no one wants that.
5. Don't be Afraid of the Health-Center
Taking care of your health can be extremely difficult freshman year. Nasty colds go through the dorms like the plague and you can find yourself becoming a constant sneezy mess. The Health Center usually offers free flu shots during flu season and also carries a variety of non-prescription medications. Just as important as taking care of your physical health is taking care of your emotional health. Cal Poly Counseling services is located in the Health Center and offers many free- resources for students. Whatever you're struggling with, never be afraid to ask someone for help. Taking advantage of on-campus counseling is more common than you think and is nothing you should ever feel hesitant about.
6. Make an effort to know your neighbors
It's easy to simply shut your door and hang out in your room after class. Try keeping your door open and getting to know the other people in your dorm building. You'll be running into them all year. Really want to watch The Bachelor or Sherlock? Invite your neighbors to head down to the Community Center and watch with you! It's a great way to bond with the other people in your hall!
7. Keep in contact with people from back home (in moderation)
It's incredibly important to form connections with new people your first year of college. But at the same time, every once in a while, talking to people from back home can be important as well. Whether it's parents or close friends, checking up with people you were close to can help keep you grounded when everything else is changing.
8. Find your Niche
There are plenty of opportunities to get involved on campus! Club Expo is held multiple times throughout the year and is a great way to find people who have the same interests as you do. There are also certain activities such as salsa dancing and line dancing that meet every weekend. Keep your eyes open for different activities to do around campus.
9. Stay Active
There's no required PE class for you to take, which makes it pretty easy to forgo any unnecessary physical activity. However, exercising has many health benefits and definitely is something to keep up your freshman year. Take advantage of the Rec Center- many free classes are offered such as kickboxing, yoga, and Zumba! Not a fan of the gym? Take a hike up Poly Canyon or Madonna!
10. Meet with your Advisors
Meeting with advisors your freshman year is something you should definitely do! If traveling abroad is something you're interested in doing, they can help figure out what time would be best for that to happen. They can also help connect you to other people in your major which is especially helpful freshman year.
Incoming Cal Poly SLO students can now enter to win a summer 2017 trip to anywhere in the world! Enter Now.
---
---
Related Articles