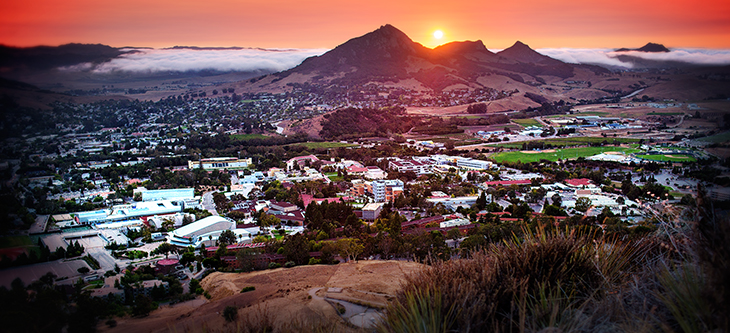 1. "So last night at SLO-Do-Co…"
Oh Slo-Do-Co. It's the place where late nights filled with great decisions have ended. Their drool-worthy donuts always seem to be the perfect midnight snack for those busy nights… studying of course 😉
2. "Finding parking was such a struggle this morning."
With all the construction going on at Cal Poly, parking can honestly be a wreck. Unless a miracle happens, its more than likely that we'll be parking all the way on the other side of campus.
3. "What is that water falling from the sky?"
What even is rain? Being #blessed with sunny, beautiful weather 90% of the year makes most of us look up at the sky, confused, at even the slightest drizzle.
4. "I swear I waited in line at Starbucks for an hour."
The two Starbucks on-campus can barely keep up with the line of caffeine and sleep-deprived college students. Waiting in line every morning seems like a pain, but once that vanilla latte is in our hands, we know it was totally worth it.
5. "THERE'S PUPPIES AT THE LIBRARY!"
It's finals week, and in the midst of staring blankly at notes, trying to study, this is what breaks us out of our dazes. Ten minutes later, we've walked down to the library and thrown ourselves into the crowd of fuzzy, adorable creatures. The stress just melts away.
6. "#studiolife"
Even if we aren't architecture majors, we know one, or at least have walked by one who has said this phrase. It's no secret that architecture is incredibly hard and those all-nighters spent doing last-minute projects prove it. This hashtag has been earned.
7. "I'm never eating at Metro again."
All-you-can-eat for $5 sounds like a great idea when we're freshman. But two hours and a giant stomachache later, you would think that we would learn our lesson (surprise, we don't).
8. "I posted the best picture on Instagram!"
Perfect weather and beautiful scenery makes for the best Instagram-worthy picture. We might scoff every time we see another serenity-swing picture, but if we're being honest, we'll definitely be posting one next time we hike up there.
9. "WOWIES!!!!!!!!!!!!!!!!"
WOW Week- the week that keeps on giving long after we're freshman. As a freshman on campus, this was shouted at us at least once a week as people drove by. Getting older just means that we continue the tradition of yelling this at the unsuspecting people that we're (almost) sure are freshman.
10. "Let's study at the beach!"
Because it's right there.
---
---
Related Articles