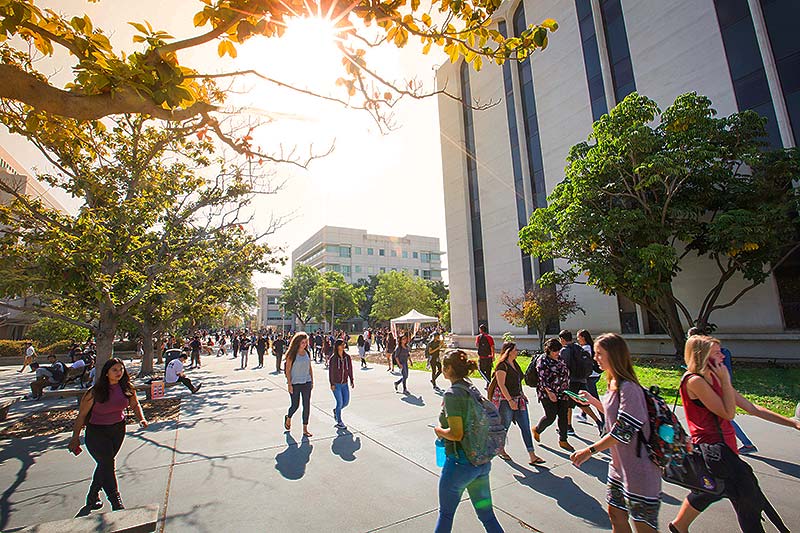 There are many classes at CSUF that are useful for everyday life and help you to gain experience and skills you never thought possible through a typical course. University 100 is a great course to take because of its opportunity to get involved in activities on campus and to meet students. It is useful for students who are undeclared, are in need of life skills, and want to meet great people and get help. Thanks to Dave Plouffe and Dana Vasquez, the lessons within the course were some of the most welcoming and amazing experiences in college so far.
1. Learning about resources on campus
Throughout the semester, there are many presentations by faculty members on campus that take time out of their busy schedules to talk to the students about the different resources that are available to all students at Cal State Fullerton. For example, faculty members and students have come in to talk about student conduct, sexual education, nursing, English, and more. These presentations are very useful and helpful for students who are unsure of what to pursue in their future and it helps them feel less alone. These resources help students who have questions about college.
2. Learning how to budget
In college, many students find it hard to budget, especially being close to malls and different restaurants at CSUF. Some students tend to spend a lot of money once they are in college and regret it in the end. Supplies and necessities in college can be pricey, but University 100 teaches the student to budget and save money. Dave Plouffe uses budgeting sheets to fill out and to help students figure out what they need to spend money on and how much money he or she has left to save. It is very helpful because it saves time and effort of stressing about money.
3. Planning out classes for next semester!
If you are a student who is stressed and worried about what courses to pick and take for next semester, University 100 is a great class that helps first year students pick their classes for second semester. Since there are hundreds of courses to choose from at Cal State Fullerton, the catalog can seem overwhelming and disastrous, but there is no need to worry. University 100 helps you decide which classes are best to take for second semester and tie into general education.
4. Learning life lessons and applying them to college
Throughout the semester, there are many discussions and group activities that teach students lessons about college and the outside world. There are also lessons that involve good study habits, how to properly write essays, how to complete a presentation, and managing time to complete homework. These lessons can apply to the outside world as well when receiving a job and working with others in the future. The lessons are so in-depth and the teachers are very open and honest, as well as accepting of all of the students and their commentary. It is a great course to learn your purpose for being in college and for setting goals for the future.
5. Meet new people and have fun!
Throughout the semester, there are many activities and group work that is very fun and entertaining. The interactions with the professors and students is very helpful and comforting because of how caring and open students are. For first year students who are feeling alone or do not have any friends, the course is a great way to meet new people and make friends. As a class, there are field trips around campus and hang outs to get to know each other. If you take the course, the students and professors within the class become your college family.
Whether you are a first year student looking to meet new people and be involved on campus or want to learn about how to plan out your future, University 100 is the perfect course. It helps students transition into college and feel welcome within the community. It also helps answer any questions students have involving college and life in general. Thanks to Dave Plouffe and Dana Vasquez, it is a great course to take for first year students attending CSUF.
---
---
Related Articles