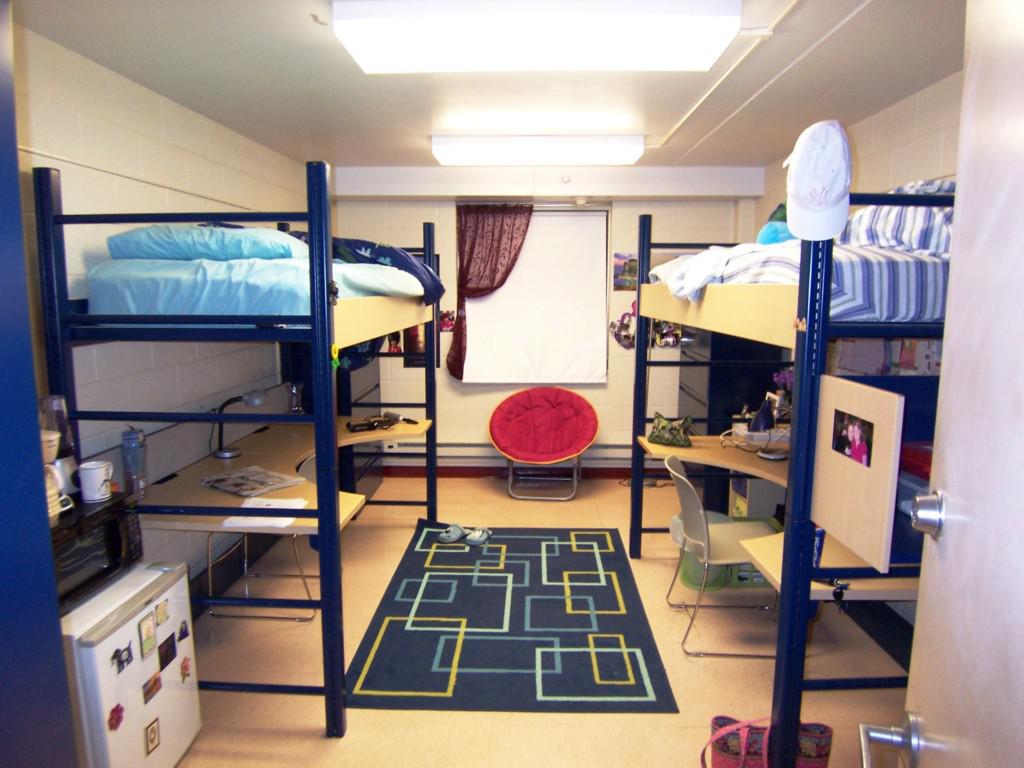 Living in a resident hall or apartment at Cal State Fullerton can be scary and difficult because of the adjustment to a smaller and more confined space. However, students should try to make a fun and positive experience while living on campus to better their year. The resident halls on campus are mostly for first year students and contain Resident Advisors on each floor, who help the students adjust to a new home. It is important to always make the best out of any situation. There are many opportunities within the resident halls to have fun and make friends.
Tip #1: Check out dorm before moving in
On the Cal State Fullerton website and on Youtube, there are videos of tours and pictures of the resident halls and apartments on campus. The resident halls on campus consist of Pine, Juniper, Holly, Fig, and Elm. Students can either live in double or trips dorm rooms, depending on what is available to first year students. Looking at pictures and videos beforehand is a great idea because students are able to figure out how much space he or she has for clothes, school supplies, and decor.
Tip #2 Stock up on snacks
Although the Gastronome at Cal State Fullerton has great food, sometimes it can get tiring. Stocking up on snacks helps students fill cravings so that he or she does not have to go the gastronome and get tired of the food. Some students may not want to walk down to the cafeteria and get food as well and might want to stay in bed. Having snacks already in the room saves time and energy.
Tip #3 Create a theme for your room
In order to make a dorm room feel more like home, try decorating it in your favorite colors or favorite places. By doing so, students will feel more comfortable and it helps with adjusting to a new living space. Although it is a great idea to decorate, try to not put too much decor in your room to the point where it feels crowded. It may end up being a hassle when moving out at the end of the year.
Tip #4 Organization
When moving in and living in a dorm room, it is helpful to always stay organized so that life does not feel chaotic. Purchasing bins to store clothes, school supplies, and toiletries is great for staying organized and clean. Although Cal State Fullerton provides four drawers in the resident's rooms, they are smaller than they look. It is in your best interest to purchase more bins and baskets to organize. Even if you may not use it at the beginning of the year, most likely you will fill it with supplies later on.
Tip #5 Wardrobe
Many students go into college unaware of what kind of clothes to bring and how much they should bring. At Cal State Fullerton, the weather is always hot or warm, so there is not much use for heavy clothing, except for a few months throughout the year. Some students tend to bring too many clothes because they are afraid of not having enough, but it is okay to grow your wardrobe little by little to find out how many clothes you actually need or want in your room.
Tip #6 Roommates
If you end up having a roommate, which is the case for most first year students living in the resident halls, make sure and always be respectful of each others space. Every college students living with a roommate wants the perfect scenario where the roommates are best friends. However, that is not always the case for most roommates. It is okay to not be best friends with your roommate, as long as you two or three are able to live together for the whole year without problems. It is very important to always communicate to your roommate or roommates because it makes them feel important in the decision making of their own living space.
Tip #7 Bring a fan
At Cal State Fullerton, the resident hall dorm rooms tend to get very humid, especially with a lot of people in the room. Even if the window is open, sometimes the room will remain hot and humid. It would be best to bring a fan, tiny or big, when living in the dorm rooms because it can help with the circulation of air flow throughout the room. Fullerton tends to have warm weather throughout the year, so it is helpful to have a fan to cool down the room.
Tip #8 Mini fridge/freezer/microwave
If college students are able to afford a mini fridge and microwave through the college, it is a great investment. Students are not able to bring mini fridges and microwaves from home, only from the school, because of the power and sensitivity of the alarms within the room. The school offers a deal that includes a fridge, freezer, and microwave all in one. This can be very useful if students want to bring their own food home and make food within their room.
Tip #9 Have a whiteboard calendar
Most college students like to plan their schedule out or write notes to themselves in order to set goals and feel less stressed and in chaos. Having a whiteboard to hang in the dorm room or a calendar can help students plan out their monthly schedule and help them to feel structure and organization in their lives. It is a great way to stay on track of goals and things to do in and out of school.
Tip #10 Invest in a rolling hamper
At Cal State Fullerton, the laundry room is located right next to Pine and Juniper. Students are seen all over campus carrying their laundry baskets or dragging them on the ground, trying to get to the laundry room as fast as they can. A great investment would be buying a laundry basket that rolls. It saves energy and effort into carrying a bag back and forth from the dorms to the laundry room. Having a roller hamper is very helpful and comes in various sizes that fits many pieces of clothing and slides right into the closet.
Living in a resident hall or apartment on campus can be a great way to get to know the campus and meet new people. It is also a chance to be more independent while being in college. When living in a dorm room, it may be difficult adjusting to a new home at first, but eventually students find their place. By interacting with students in the resident halls and making your room feel like home, you will be more comfortable during the year and will be happy. Although living in a dorm may seem awkward or odd, it can help students transition into the life and independency of college.
---
---
Related Articles