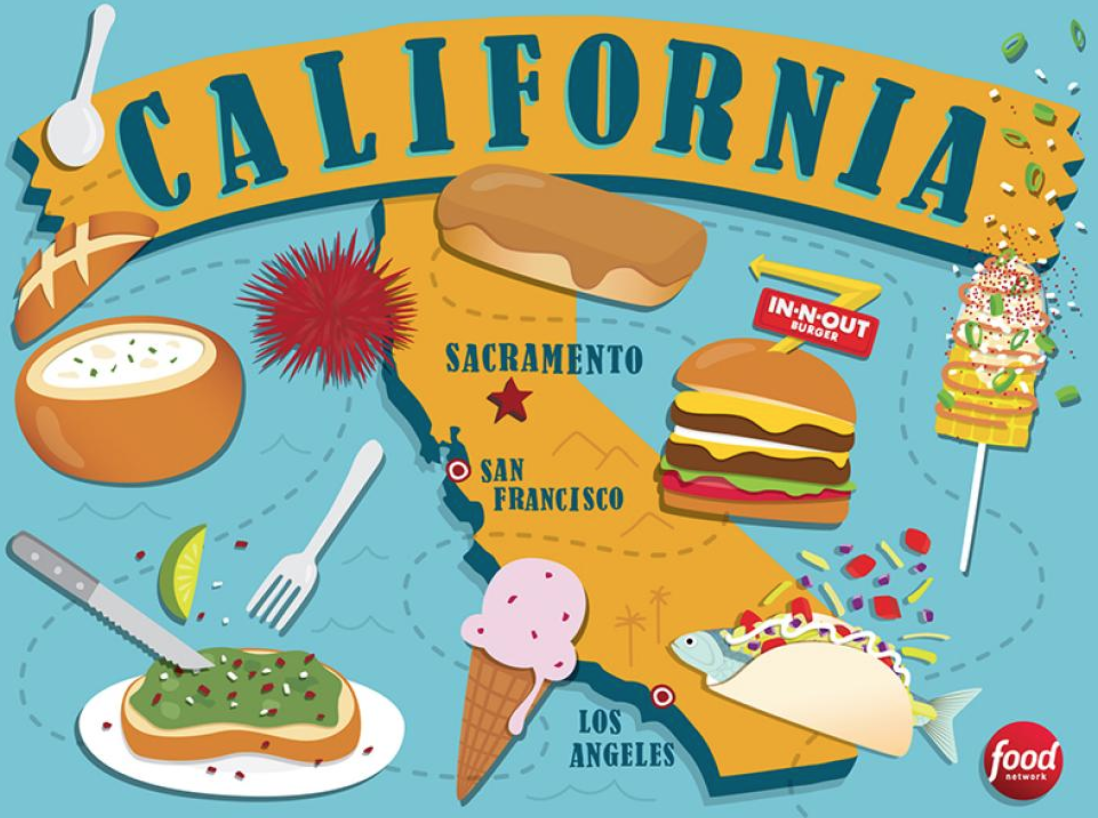 Eating sure is one of the essential things in everyone's everyday life. For students at CSUF, you don't have to worry about not having enough choices of what to eat because there are plenty of good food places around CSUF!
Molca Salsa
Molca Salsa is local Mexican restaurant. It has a great variety of delicious Mexican cuisines. The price is quite cheap and the portion is really big! One of my favorite dish at Molca Salsa is their "Super Fries". They make a great combination of fries, meat, cheese, and guacamole. The juicy meat and melting cheese make the Super Fries have more dimensions to its texture. Guacamole helps to keep a balance and add a fresh flavor to it. Also, don't forget to try their red and green salsa! It is super tasty.
ADD: 115 Imperial Hwy, Fullerton, CA  92835
Hours: Mon-Sun 24 Hours
Price Range: $1.50-$8.15
Food Choices: Tacos, Burritos, Enchiladas, Tortas, Tostadas, Quesadillas…
Afters Ice Cream
Afters Ice Cream provides a diversity of cool ice cream flavors. You can either choose to put your ice cream on a cone, in a cup, or in a milky bun. You also get to choose your toppings, too! They have cookie crisps, cereals, chocolate chips, and more! A really good way of eating Afters Ice Cream is to get a glazed and warm milky bun and a fruity ice cream with cookie crisps. That makes an amazing balance and a mixture of great flavors and textures!
ADD: 337 N State College Blvd, Fullerton, CA 92831
Hours: Mon-Sun 12:00-00:00
Price Range: $4-$10
Ice Cream Flavors: Strawberry Cookie Crunch, Jasmine Milk Tea, Acai Blueberry, Triple C, Cookie Monster, French Toast Churro, Vietnamese Coffee, Mint Monster, Banana Walnut, Milk And Cereal, Almond Cookie…
Panda Express
If you like American-style Chinese food, Panda Express is the right place for you to go. You can get a balanced meal which includes proteins, vegetables, and starches here. The flavor of the food at Panda Express is a little bit sweet, it makes easy for people of various age to enjoy this type of Chinese cuisine. Moreover, you can choose the size of your meal and relish several dishes at once!
ADD: 150 E Orangethorpe Ave, Fullerton, CA 92832
Hours: Mon-Thu 10:00-22:00 / Fri-Sat 10:00-22:30 / Sun 10:30-22:00
Price Range: $1.90-$13.45
Dishes: Chow Mein, Orange Chicken, Fried Rice, Crispy Shrimp, Spring Rolls, Broccoli Beef, Mixed Veggies, Kung Pao Chicken, Chicken Egg Roll…
The Hat
The Hat is the traditional American fast-food restaurant. It is famous for its pastrami and sandwiches. They serve huge and high calories food which is just right for the college students after a tiring day. The meaty food can definitely satisfy your hungry stomach. You will surely be amazed by their huge amount of meat.
ADD: 1210 E Imperial Hwy, Brea, CA 92821
Hours: Mon-Sun 10:00-01:00
Price Range: $2.99-$9.69
Food Choices: Burgers, Cold Sandwiches, Chili Dog, Steak Sandwich, Hot Dog, Chili Fries, Chili Tamale, Pastrami Dip…
Kopan Ramen
In a cold windy day, soup noodles is always a good choice to keep you warm from the inside to the outside. At Kopan Ramen, you get to create your own  ramen, from the meat to the toppings, from the spicy level to the size of your ramen. The noodles at Kopan Ramen is smooth, the soup is thick and rich in flavors, and the chashu is so soft, it feels like it's melting in your mouth when you eat it. Serving with green onion on the top, it brings a fresh feeling to the warm noodle soup.
ADD: 141 E Commonwealth Ave, Fullerton, CA 92832
Hours: Sun-Thu 11:30-23:00 / Fri-Sat 11:30-01:00
Price Range: $5-$15
Dishes: Ramen, Takoyaki, Shrimp Tempura, Garlic Edamame, Chasu Fried Rice, Gyoza, Fried Baby Octopus, Macaron Ice Cream, Potato Croquette…
Tokyo Kitchen
Tokyo Kitchen is a high-class Japanese restaurant. Once you ordered, you can watch the chef (shefu) making the sushi at the bar. The dishes at Tokyo Kitchen are extremely exquisite. You can see it on the plating, and it shows on the price. Tokyo Kitchen is a really traditional Japanese place. If you want to taste the flavors of Japan, this is where you should come.
ADD: 1325 E Chapman Ave, Fullerton, CA 92831
Hours: Tue-Thu 12:10-14:45 ; 17:30-21:30 / Fri 12:10-14:45 ; 17:30-22:00 / Sat 12:30-15:00 ; 17:30-22:00 / Sun 12:30-15:00 ; 17:30-21:30
Price Range: $3.50-$12.95
Food Choices: Grilled Collars, Fried Soft Shell Shrimp, Crispy Spicy Tuna, Yellowtail Jalapeno, Black Cod Green Bean Puree, Garlic Butter Clam…
Wingstop
Wingstop is the chicken wings restaurant right across the street of CSUF. It serves several flavors of sauces. You can either choose classic wings, boneless wings, or crispy tenders to put on. The chickens seasoning with Lemon Pepper are quite tender and has a lighter flavor. On the other hand, if you like something chewier and has a richer flavor, you might want to try their Hickory Smoked BBQ.
ADD: 2736 Nutwood Ave Ste 105, Fullerton, CA 92831
Hours: Mon-Sun 10:30-00:00
Price Range: $1.19-$9.99
Food Choices: Batter-Fried Wings, Boneless Bites, Classic Wings, Tenders, Chicken Fillet, Fried Chicken Sandwich, Drumsticks, Cheese Fries…
Ono Hawaiian BBQ
College students definitely need to absorb different nutrition and keep their bodies healthy. Ono Hawaiian BBQ provides BBQ Plates with proteins, veggies, and starches. Even the Mini Meal at Ono Hawaiian BBQ includes rice, macaroni salad, veggies, and meat. It is a great choice for students to get enough nutrition they need and stay healthy.
ADD: 1919 West Malvern Ave, Fullerton, CA 92833
Hours: Sun-Thu 11:00-21:00 / Fri-Sat 11:00-21:30
Price Range: $2.99-$10.99
Food Choices: Musubi, Noodle Soups, Beef Plates, Pork Plates, Chicken Plates, Seafood Plates, Salads, Combos, Crab Rangoon, Crispy Shrimp…
 Denny's
If you're hanging out late or wanting a late night meal, Denny's is a nice choice for you. Denny's serves a diversity of classic American dishes. Eating at Denny's is a little bit like eating in your own kitchen at home. The dishes are not complicated or super high-class, however, it gives you a feeling of home. And just like home, Denny's is a place for you to go 24/7.
ADD: 2920 E Nutwood Ave, Fullerton, CA 92831
Hours: Mon-Sun 24Hours
Price Range: $1.69-$14.69
Dishes: Pancakes, Omelettes, Sandwiches, Burgers, Breakfast Sandwich, Country-Fried Steak, Salmon Skillet, Zesty Nachos, Quesadilla, Slams…
In-N-Out Burger
In-N-Out Burger is one of the most popular fast food restaurant. The food is tasty, and the price is fair. Now, it also became an icon in California. The burgers at In-N-Out Burger are not huge but don't worry, you can add extra onions, lettuce, pickles, and others for free. One of the tasty dishes that is not on the menu is the "Animal Fries". It is fresh potato fries with crispy bacon, melting cheese, onions, and their special sauce. You can also get protein-style burgers which replace the buns with lettuce.  Their ice cream-like milkshake is also one of my favorites!
ADD: 1180 S Harbor Blvd, Fullerton, CA 92832
Hours: Mon-Sun 10:30-01:00
Price Range: $1.65-$3.60
Food Choices: Double-Double, Cheese Burger, French Fries, Hamburger, Shakes, Animal Fries…
There are definitely much more food places for you to explore around CSUF. Having some amazing food really can make you have more motivation to keep moving on throughout a day! On the other hand, If you have a hard time choosing what to eat next time, try the restaurants above!
---
---
Related Articles