Back to Cedarville University Blogs
Top 10 Coolest Clubs at Cedarville
If you are looking for a way to get involved at your university, joining a club is a great option. Clubs are a good way for students to meet peers who share similar interests.  Cedarville University has over 100 student clubs to choose from.  See below for a list of 10 interesting clubs at
Cedarville University
.
1.  Ayo Dance Company

At 99 members, this is one of the most popular student organizations on campus.  The Ayo Dance Company aims to glorify God with their artistic movement and also to develop dance ability of the club members.
2.  DTR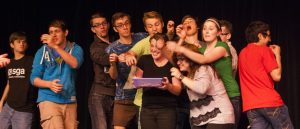 If you are interested in stand-up comedy, then this is the club for you.  DTR aims to bring humor to their audience through clean comedy.  The club has an upcoming Thanksgiving show.
3.  Inklings Creative Writing

This club is designed for writers of all levels.  Students meet to share work and brainstorm ideas about their writing.  The goal of the club is to create a judgement free environment where students feel comfortable to share their writing with their peers.
4.  K9s at the Ville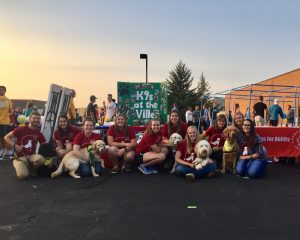 This club allows students to be a part of training service dogs.  Students get a chance to help out the organization "4 Paws for Ability" in various ways including playing with the dogs, holding fundraisers, and helping train and socialize the dogs.  With 66 members, this is one of the more popular clubs on campus.
5.  Love Your Melon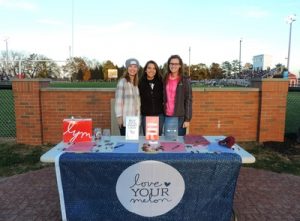 This club makes and sells knit hats.  50% of proceeds go to childhood cancer research and purchasing a hat for a child with cancer.  Club members get to go to the hospital and to homes to visit with children struggling with cancer.
6.  The Society of Engineers Aiding Missions (SEAM)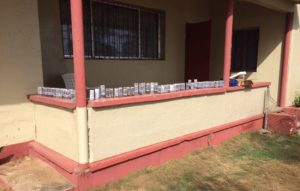 This club provides the perfect intersection of engineering and service work. Club members aim to educate, equip, and engage engineers around the world through corresponding missionaries.  SEAM has also built solar powered LED lights for pastors in Liberia.
7.  The Studio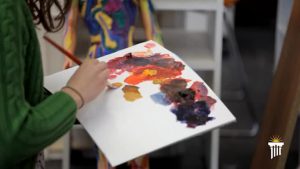 This club is designed for students interested in different art forms.  The club  brings students together for art/design studies, to provide networking opportunities among art students, and to mentor new students.
8.  Yearbook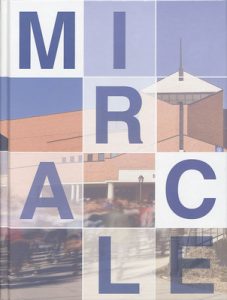 Interested in being a part of a team that works to preserve campus memories each year?  Then yearbook club is the organization for you!  Each year this organization publishes "The Miracle" which is the name for the annual yearbook.  The organization has digital equipment that allows them to produce the yearbook.
9.  CU Enactus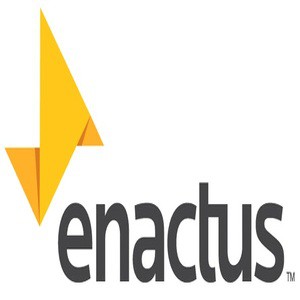 This club is designed for the student with an entrepreneurial mindset.  Club members strive to develop their leadership skills, practice teamwork, and develop communication skills through the principles of free enterprise.
10.  Filmgate Media Organization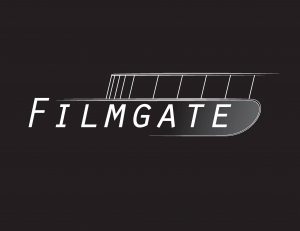 If you are interested in making movies, then this is the club for you!  The organization provides a platform for students to work on their productions. The club also networks with clients to provide students with a realistic media industry experience.
Top Events During the School Year at Cedarville University
1.  Homecoming and Parents Weekend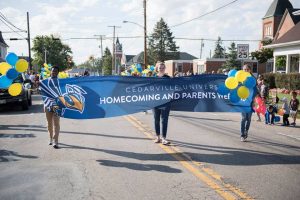 This year almost 2,000 alumni, parents, and friends of Cedarville came to celebrate.  The weekend included more than 40 events such as class reunions, athletic events, a homecoming parade, an alumni lunch, and a worship finale.  This year the event occurred in early October and will be on October 4th and 5th in 2019.
2.  Athletic Events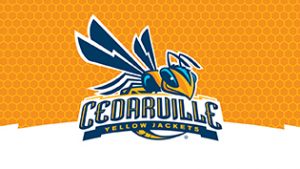 Come cheer on the Cedarville Yellow Jackets at various sporting events throughout the year.  Cedarville has six sports teams including women's volleyball, women's cross country, women's soccer, men's soccer, men's golf, and men's cross country.  Build you school spirit by attending a game or competition.
3.  Fall Bible Conference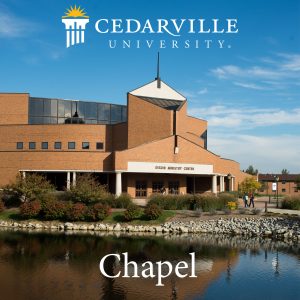 This is one of the highlight events of the year at Cedarville University.  This year the event occurred between August 20th and August 23rd.  The event includes morning and evening chapel sessions.
4.  Kickoff Party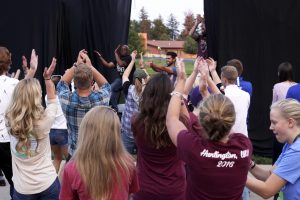 This fun event is a great way to get students excited about the new school year.  The party includes live music, fun activities, prize giveaways, and a movie by the lake.  This year the event occurred on August 24th.
5.  Campus Christmas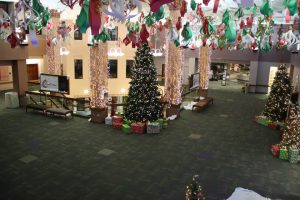 This holiday tradition at Cedarville is a great event to get students in the Christmas spirit.  The event includes music, Christmas movies, games, pictures with Santa, a Christmas breakfast, and a chance to hangout with the University President and other Cedarville students.  This year the event will be on December 8th.
---
Suggested Articles in Cedarville University