Back to Cedarville University Blogs
Top 10 Library Resources at the Cedarville University
Now that you've found your goal in life, it's about time you start walking its path. The road to success might be difficult, but with ample preparation, you'll definitely overcome any challenges that you may face. At Cedarville University, you can definitely graduate with ease by maximizing the use of its library services. Here are the Top 10 Library Resources at
Cedarville University
.
1. Curriculum Materials Center
Are you a student that loves to do community work such as teaching the children and the youth? Then Cedarville University will provide you with exclusive educational resources to help you improve with your endeavors!

2. Course Reserves
The librarians at the Centennial Library will reserve A/V materials, papers or books at the Service Desk which students can copy or check out anytime. They can even check them online as they're also converted into eBooks, eJournals, etc.

3. Group Study Rooms
Studying is made easier with peers. At the Centennial Library, students can make reservations of one of its Group Study Rooms. This enables students to grow not just individually but also as a team.

4. Borrow/Renew/Request
All residents at Cedarville University have the privilege to borrow any review materials at the Centennial Library. They can also renew this contract as well as request for additional documents.

5. Disability Assistance
The Centennial Library provides reasonable accommodations for users with disabilities in order to promote their involvement in library activities.

6. Computer/Printers/Scanners
The Cedarville University provides sophisticated computers and laptops to students which are all entirely free for use. Students can also go to the library for prints and copies of their research materials.

7. Research Center
Do you need help with a specific topic? Then the librarians at the Centennial Library are more than happy to help you! You can chat with a librarian during library hours or even better, schedule a research appointment!

8. MediaPLEX
The MediaPLEX is a project support hub where students can go to for copying, printing, laminating, binding and any craft services. The MediaPLEX is located at the lower level of the library where it also offers collaborative workspaces for students and has digital media equipment and computers at their disposal.

9. Materials from Other Libraries
If you can't find what you're looking for at the library, you can request any specific item(s) using the OhioLink (academic libraries), SearchOhio(public libraries) as well as Interlibrary Loan(ILL), a network of libraries throughout the world.

10. RefWorks
RefWorks is simply a Web-based bibliography and database manager which helps students organize their research and cite their papers more effectively.

Top 5 Libraries at Cedarville University
1. Centennial Library
The Centennial Library was constructed in 1987, during which was the centennial year of the Cedarville University. The library houses all the documents, journals, newspapers and research materials of the college. Aside from providing educational materials for students, the library also provides scholarships for meritorious students.

2. Greene County Public Library
The Green County's Public Library has ranked in the top ten in the U.S libraries for its size and population served (100,000 – 250,000). It has numerous branches which are located in Xenia, Beavercreek, Cedarville, Fairborn, Jamestown, Bellbrook, and Yellow Springs.

3. Cedarville Community Library
The Cedarville Community Library is a branch of the Greene County Public Library and was opened to the public in October 1961. In 2001, after a major fundraising drive led by Jan Bosma, the Cedarville College Associate Director of Library Services, a new library building was opened to the general public.

4. Yellow Springs Community Library
The Yellow Springs Community Library is a branch of the Greene County Public Library and was established in 1899. In 1965, the establishment was further developed and erected a new building which is now called the John F. Kennedy Library. The Yellow Springs Community Library is actively supported by the Yellow Springs Library Association via monthly community meetings.

5. Jamestown Community Library
The Jamestown Community Library opened on October 16, 1928, in the nearby high school of Greene County. In 1937, the library was moved to a room in Town Hall where it has continuously grown to this date. One of its major supporters was John S. Thomas, who donated most of his personal books to the library. Since then, the library has grown significantly and to accommodate more documents and materials, a new building was built in 1998.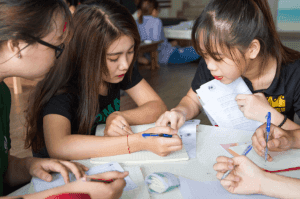 ---
Suggested Articles in Cedarville University