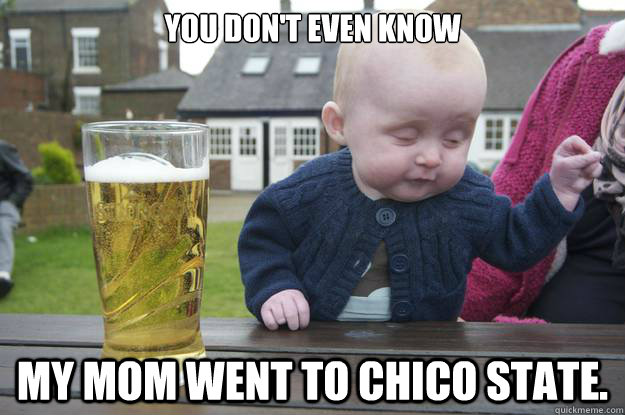 Chico state is known by most as a NorCal party school. The students that go there are just like any other, they are afraid of finals, hate quiet hours, and love just kicking back. However, here are a few things that set them apart.
1. Everyone has a Klean Kanteen or a Hydroflask
Hydroflasks are fairly popular everywhere, but in Chico everyone has either a Hydro or a Klean Kanteen. Klean Kanteens were started right here in Chico! A graphics design student was even the one who created their logo. Whichever water bottle you have, it is bound to also be covered in stickers. Mostly from your local Dutch Bros.
2.Birkenstocks EVERYWHERE
So many people have Birkenstocks. Or Tivas or Chacos. Any form of 'Jesus Shoe' is very popular here. Students love hiking in them, whether that's just following the creek that runs through campus, or trekking up to Bidwell Park, all of these shoes are perfect for a weekend getaway.
3.You Love the Jiffy Burger from "The Bear"
Madison Bear Garden is one of the most popular restaurants in the city. This restaurant/bar/dance club is the one place anyone who has ever even visited Chico has been to at one point or another. Once you have been there a few times, someone will recommend that you try the Jiffy Burger, an amazing creation that puts peanut butter on a burger.
4."Chico Water" Haunts You
Chico Water also known as Burnetts is a very cheap vodka that most if not all students have had their run in with. At a certain point you test your limits and well… end up paying for it the next day. Don't worry, it is essentially a rite of passage as a Chico State student. We do not support underage drinking, if you do drink please be sure to drink responsibly.
5.Dutch Bros. Is Life
Dutch Bros is one of the most popular places to get a coffee drink, frost, or a rebel if you need that energy. Everyone has their favorite drink, if you don't have one yet just order a 'surprise' and the staff will hook you up. Even if you aren't really into any of the drinks on the huge selection of made-to-order drinks, the free stickers at the beginning of every month are to die for. 
These were the 5 signs that you go to Chico State, there are probably a few more, but these are the most popular. If you go here, or just want to, be sure to comment with your own opinions.
Hope it helps! Happy Studies!
~Addi B.
---
---
Related Articles