Back to Clark University Blogs
10 of the Coolest Clubs at Clark University
If you are looking for a way to get involved at your university, joining a club is a great option. Clubs are a good way for students to meet peers who share similar interests.  
Clark University
has over 130 student clubs to choose from.  See below for a list of 10 interesting clubs at Clark University.
1.  All Kinds of Girls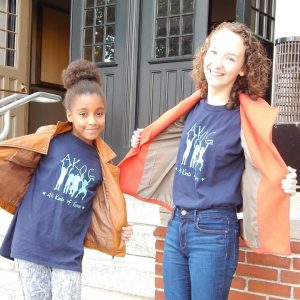 This club is aimed at supporting girls ages 9-15.  The club is run by undergraduate women at Clark University and provides a safe place for these young girls to be creative and cultivate their self-esteem.  Every Saturday the girls participate in different events and activities such as Self-Esteem and Inner Beauty Day and Conflict Resolution Day.  At the end of the year, the girls write and perform skits.
2.  Clark Best Buddies
Best Buddies is an international organization that pairs student volunteers with individuals in local communities who have intellectual and developmental disabilities.  The idea is for friendships to form through activities.
3.  Clark Maker Club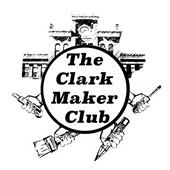 This clubs aims to connect students who are interested in making.  This could be anyone including artists, engineers, scientists or entrepreneurs.  As a club, members share ideas and resources to help each other develop prototypes and solve problems.  The club also has a goal to connect all the available creative spaces on campus.
4.  Clark University Sailing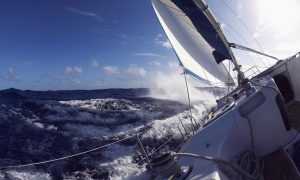 New England is the perfect place to go sailing!  The sailing club provides students with classes, boats, and a lake in an effort to help students improve their sailing skills and to enjoy the sport.  The club also hosts lessons for sailors of all levels.
5.  Clark Yoga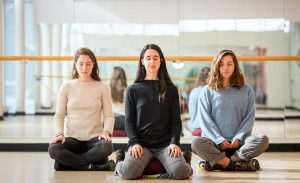 If you are looking for a way to exercise and relieve stress without paying a lot of money, look no further! Clark yoga provides students with free 60 minute yoga classes almost every day of the week.  Come meet other students who are also interested in yoga and practice different styles including vinyasa, Kundalini, and Yin.
6.  CU Quidditch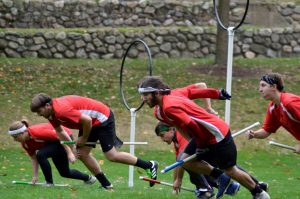 If you thought Quidditch was just a made up sport in Harry Potter, then you were wrong!  Come join the campus Quidditch team to learn the rules and compete against other schools.  The team practices twice a week and attends tournaments throughout New England.
7.  Clarkies Against Cancer/Relay for Life
This club supports the American Cancer Society.  The group aims to raise awareness about cancer and fundraise for the American Cancer Society.  This club is also responsible for putting on Clark's Relay for Life.
8.  New England Excursions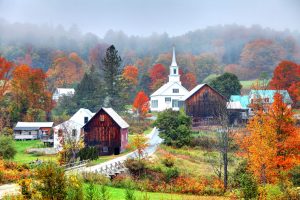 During your time at Clark University, make sure you spend time taking advantage of all the beauty and culture New England has to offer.  This club is hosting eight different New England trips this year.  The trips are affordable to students and a good way to see the region with a group of people.
9.  Outing Club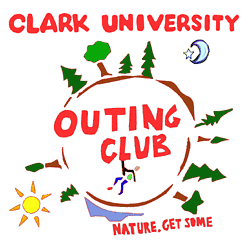 This club is perfect for adventurous students.  The club goes on outings almost every weekend.  These adventures include hiking, camping, backpacking, snowshoeing, cross-country or alpine skiing, snow tubing, canoeing, kayaking, whitewater rafting, zip lining, trail riding, navigating ropes courses, stargazing, picking apples and pumpkins, and wading into the sea.  The club also promotes outdoor education and gives members opportunities to share skills and network.
10.  Youth Outreach Worcester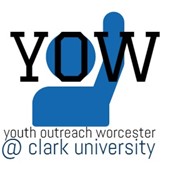 This group is perfect for students looking to get involved with the local youth.  The organization encourages acceptance tolerance, and non-violence of middle and high school-aged kids in Worcester.  Youth Outreach teaches workshops during middle and high school health classes where issues such as bullying, stereotyping, discrimination, prejudice, and violence are discussed.
Top Events During the School Year at Clark University
1.  Sporting Events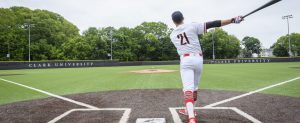 Come cheer on the Clark Cougars at various sporting events throughout the school year.  With 7 men's teams and 10 women's teams, there is always a sport or a competition to attend.  Clark University is a Division III school in the New England Women's and Men's Athletic Conference.
2.  Study Abroad 101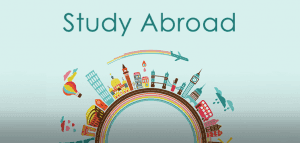 This event is the perfect place to learn about the study abroad programs Clark University has to offer.  Students who have studied abroad before and program representatives will be at the event to answer questions.  This year the event occurred on October 17th.
3.  Haunted Jonas Clark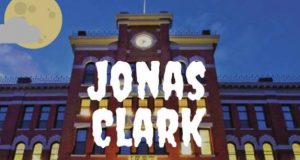 This is the perfect event to get you into the Halloween spirit.  This annual haunted house will be on October 18th from 8:00 PM to 10:00 PM at Jonas Clark Hall.
4.  Pajama Party Ballroom Social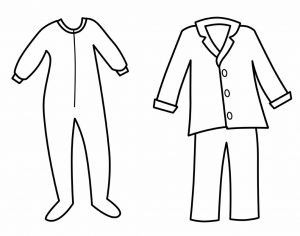 You can leave the house in your pajamas for this event!  Come to this social for a night of pajamas, fuzzy blankets, cookies, and social dancing.  The student with the comfiest looking pajamas will win a prize.  This event will occur on Saturday December 1st.
5.  Clark Concert Band Winter Concert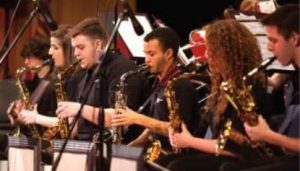 Come support the Clark University Concert Band at their annual fall semester concert.  This year the event will be on Thursday, December 6th at 7:30 PM at Tilton Hall.  If you love listening to music, then this is the perfect event for you.
---
Suggested Articles in Clark University