Back to Clark University Blogs
10 Different Buildings at Clark University
Clark University is a private research university in Worcester, Massachusetts.  The school has an enrollment size of around 2,200 students, with an acceptance rate of 55%. Here are 10 different buildings at Clark University.
1. Math/ Physics Building
Those majoring in political science, math, and physics attend this building for their courses. This building holds various classrooms as well as offices. The offices are great to use as they are optimal for private meetings as well as asking questions with the professors.
2. Gates House
The gates house holds the physical plant and the sustainability house. The sustainability house is used for research and ways for making the school more green. The sustainability house is used for events that are a teaching tool for students to practice recycling.
3. Shaich Family Alumni and Student Engagement Center
The alumni and student engagement center is used for students to be able to communicate with alumni and the school to get donations. The building has staff that collaborates on various ideas for engagement. A few different ideas would be to have a fundraising dinner or a homecoming bash.
4. Goddard Library
Goddard Library is the library that students go-to for research and project uses. The library has an IT help desk if you have questions using any computer equipment in the lab or have questions about your own laptop. There is also a place to visit with friends over food and drinks in the Jazzman's Cafe.
5. Kneller Athletic Center
The Kneller Athletic Center is where students go to if they are looking to get into shape and be active. The center holds a gym for being able to lift weights as well as use machines. The center also has courts perfect for getting in a game of basketball as well as an indoor swimming pool.
6. Little Center
The Little center is the main area that students go to for theatrical performances. The center is has a sculpture studio, as well as two theaters inside that, are used by the media and art departments. The center features student talent and showcases its students in mesmerizing performances.
7. Granger Field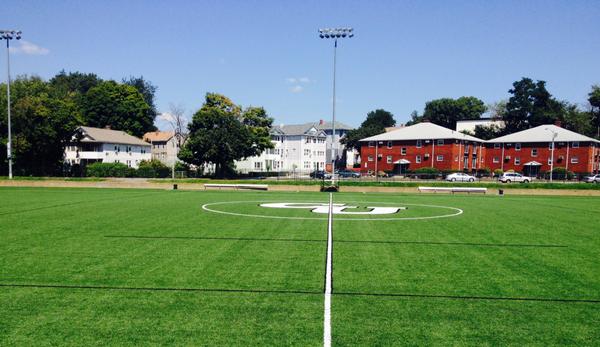 Granger Field is a field that is used for the Dolan field house which supports the baseball team and the tennis courts. This field is a popular hotspot for students to show off their school spirit by wearing school colors. It is a great way to do an athletic sport while getting fresh air too.
8. John and Kay Bassett Admissions Center
The admissions center is where you will find a majority of the administrative offices on campus. The admissions center is where prospective students will go to if they are looking for a guided tour of the campus. The admissions center is also where you go for questions about the status of your applications.
9. Higgins University Center
The Higgins University center is used for many different purposes. You will find almost everything under the sun. There is a cafe, a bistro, a copy and print center, an info help desk, and so much more. The center is mainly used by students as a place to relax and get a bite to eat with friends.
10. Corner House
Corner House supports the American sign language office as well as the dean and offices for international student programming. If you are looking as possibly studying abroad this is the place to go to. If you have questions about being an international student such as fellow students to meet then this is also where you will want to ask.
Clark University has a smaller size school that makes it optimal for being able to meet students and get help one on one with the teachers. The size makes it not overwhelming being in class. The campus is spread out and you are able to go to plenty of different buildings that service everything from eating food to catching an interesting theater performance.
---
Suggested Articles in Clark University