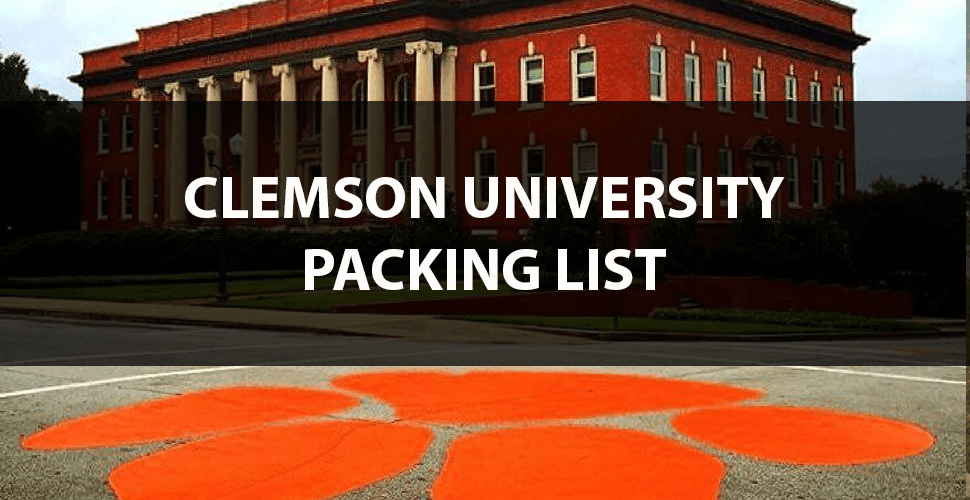 We at OneClass know how stressful it is for Clemson freshman during move-in day, especially when you have no idea what you should or shouln't bring to Clemson University or how big or small your dorms are. What do you need to bring and how much stuff can I fit in the room? Luckily, we at OneClass know exactly what you need and we have created a checklist just for you!
Feel free to bookmark a copy of the Clemson University packing list by pressing CTRL + D.
Room Basics to Bring to Clemson University
 Bedside table
 Shoe rack
 Closet Organizer
 Sheets, blanket, comforter & mattress pad – (XL Twin)
 Pillows
 Towels/washcloths
 Desk lamp
 Waste basket
 Full length mirror
 Bean bag chair
 Underbed storage (if you won't be lofting your bed)
 In season clothing
 Robe
 Shower shoes & slippers
 Toiletries
 Hangers
 First aid kit
 Fan
 Plants
 Posters or wall decor
 Shower tote
Eating In Items to Bring to Clemson University
 Snacks
 Mini fridge (under 3 cubic feet)
 Bullet blender (Great for smoothies) (Ask First)
 Hot pot or coffee maker (Ask First)
 Pitcher with water filter
 Utensils
 Mugs, plates and bowls
 Can opener, pizza cutter
 Paper plates/foil/plastic baggies
 Pantry basics (PB, popcorn, soup, oatmeal packets)
Tech & Entertainment to Bring to Clemson University
 Printer
 Tablet
 Cell phone charger
 HDMI Cable
 Extension cords
 Coaxial cable
 Power strip
 Cable organizer
 MP3 Player
 Speakers or docking station
 Headphones/earbuds
 TV
Academic Basics to Bring to Clemson University
 Pen, Pencils, Eraser, ruler, highlighter
 Notebook
 Stapler, Staple remover
 Desk supplies (Index cards, highlighters, sticky notes)
 Desk supplies (Index cards, sticky notes)
 Laptop/Desktop computer
 Flash drives
 Bulletin board/Dry erase board
 Book light
Cleaning Up & Organizing Items to Bring to Clemson University
 Iron
 Bleach
 Drying Rack
 Dish detergent
 Sponge and dishcloth
 Disinfecting wipes
 Paper towels
 Tissues
 Febreze
 Hand-held vacuum
 Laundry supplies (bag, detergent, fabric softener)
 Instant stain remover
 3M Wall hooks
 Double closet rod
Campus Gear for Clemson University
 Rain coat & umbrella
 Bike/bike lock
 Backpack
 Swimsuit
 Walking shoes
 Water bottle
 Travel mug
 Sunscreen
Don't Forget to bring these to Clemson University
 Important paperwork (health insurance card, driver's license)
 Financial Aid Documents
 Student ID
 Bank Documents
 Car registration and insurance information
 Debit and Credit Cards
 Emergency contact numbers
 Batteries
 House key for home!
What not to bring to Clemson University
No candles, incense, fireworks or weapons
Hot Water Heaters
No halogen lamps
Microwaves
No multi-bulb light fixtures or "octopus lamps"
No pets except fish
No masking or cellophane tape, nails, and other products that damage paint or wall surfaces
No two-pronged extension cords – only three prong cords are allowed
No hotplates or any electrical appliance with open or exposed heating element
No wireless routers or devices that might interfere with our network
No toasters or toaster ovens
No air conditioners
No waterbeds
No self built lofts of any kind
No alcohol, drugs or drug paraphernalia
Feel free to bookmark a copy of the Clemson University packing list by pressing CTRL + D.
---
---
Related Articles