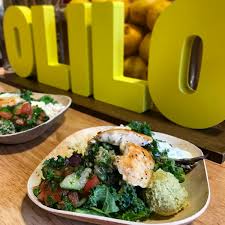 College students are constantly complaining and worrying about the food that's available to them both on and off-campus. While looking at schools, prospective students tend to ask a bunch of questions about what life is like at that school, and those questions often include inquiries into the food on campus. So, here's a list of the best places to eat while on CofC's campus.
1. Stern Center
Stern Center is home to College of Charleston's food court. At Stern Center, there are many different types of food, including Mediterranean, Mexican, and American. More specifically, there's Olilo, which serves salmon, falafel, and greens bowls while Boar's Head serves sandwiches made to order, soups, and salads. In addition, there's sushi, milkshakes, and snacks! This is where students go if they want restaurant quality food!
2. Marty's Place
Marty's Place serves made-to-order vegan and vegetarian dishes in a kitchen that follows Kosher dietary laws. So, all of the food is healthy, fresh, and delicious! This is one of the newer dining facilities on campus, and that can be seen throughout the decor, set-up, and organization of this on-campus restaurant.
3. Chick-fil-et
A college student's go-to foods: fried chicken, french fries, and milkshakes! As the cure all of hunger, stress, and everything in between, Chick-fil-et is a favorite on the CofC campus. Located in the center of campus, there's almost always a line out the door at this Chick-fil-et Express. And, this is the perfect meeting place for students and friends!
4. Cafeterias (City Bistro and Liberty)
In addition to the more restaurant-type options available at CofC, there are two cafeterias on campus. City Bistro is on one end of campus, and it's connected to Berry Residence Hall. Liberty is on the other side of campus, and it is twice the size of City Bistro. As a result, there are more options at Liberty, and one of the favorites is the made-to-order Vegan Sauté!
Because College of Charleston is a medium-sized school, there are not as many dining options as there might be at a large school. However, the dining options that are available are diverse and delicious! There is something for everyone to eat and enjoy at CofC, whether it's restaurant-type food, fast-food, or something from one of the two cafeterias!
---
---
Related Articles