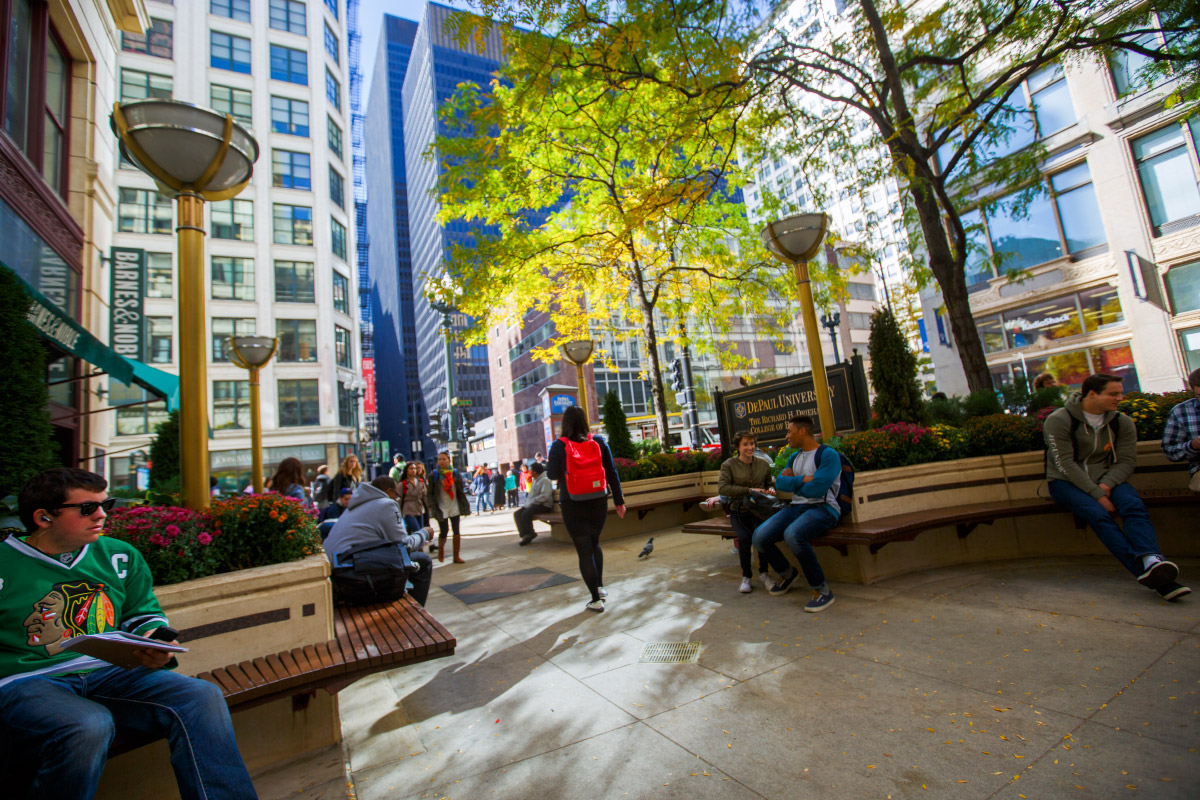 1. The Student body is not diverse
With a student body of 33,000; we are the largest Catholic school in the nation. But we have multiple clubs for different religions, and accommodate many different types of religious services in our interfaith chapel. Not to mention the many different clubs we have for students of color, students of different sexual orientation, etc. In these challenging political times, DePaul has always embraced diversity and encouraged growth.
2. There's nothing to do
Chicago is a big city. You will never be bored living here. That is, if you can even get through the many things to do on campus, including the many (FREE) events put on by DAB (DePaul Activities Board). There's always something to do here in Lincoln Park.
3. The campus is SO ugly
The buildings are all very new and up to date, which provide a great, comfy atmosphere to study or hang out with friends.
4. The classes are just TOO hard
The classes at DePaul are fast-paced because they go for 10 weeks. Some classes will only meet once a week for 3 hours while some will meet twice a week for 1.5 hours. The curriculum itself is not hard at all, but your professors will always make a point to challenge you in any way that they can. Besides, If your classes are too easy, then you're doing something wrong.
5. Nothing EVER happens
DePaul is usually very lively with protests, so the campus climate is always interesting. We recently had a lot of backlash last year for a speaker that was hosted named Milo Yiannopoulos. We love to keep things lively here at DePaul, and political discussion is often a hot topic here.
6. Lincoln Park is SO dangerous
Ranking 57th in Chicago's most dangerous neighborhoods, Lincoln Park is one of the safest places in Chicago. If you live there, you pay for it in the rent. Lincoln Park is a very rich area, so many will target the residents for their money. But crime is still very rare in Lincoln Park.
7. The city is just SO ugly
With beautiful buildings that have had plenty of work put into the architecture, the city is just an eyesore. The pictures of the skyline make my eyes hurt. Ugh, who just wants to look up and see buildings? And they're full of history? No thanks!
8. The red line is GROSS!
Okay, the CTA isn't exactly the cleanest place ever. Sometimes the cars smell like pee and the stains on the seats aren't exactly beautiful. Sometimes people will ask you for money, but it's pretty much just like the city. Street smarts are important if you're gonna live in Chicago. If you ever want to keep your bank account above 0, don't give those guys money every time they ask.
9. Navigating the CTA is hard! You'll get lost!
It's not like the lines are color-coded! Just make sure you know how to use google maps to get anywhere, and always ask how close a place is to the nearest CTA. It's a little difficult at first; but once you know it, it sticks.
10. The professors are just the worst
With little to no experience, the professors have no idea what they're doing. DePaul only hires trained professionals in their field to give students the knowledge to work in their field. This is why DePaul students are at a huge advantage, because the professors teaching the curriculum are trained professionals.
---
---
Related Articles