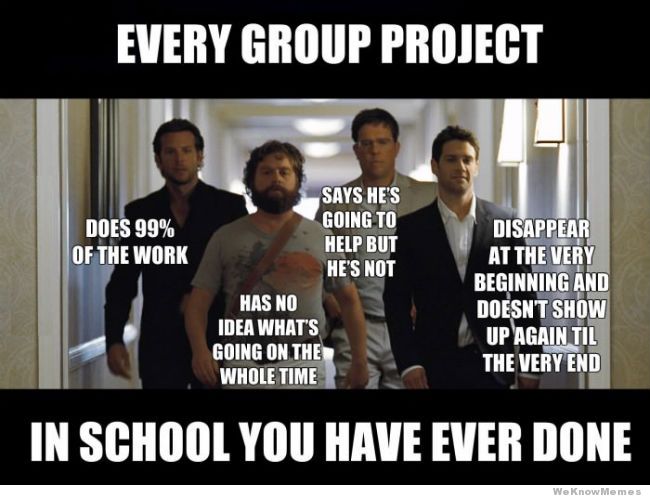 When most people hear the phrase "group project" there is usually a noticeable cringe around the entire classroom. That cringe gets even bigger whenever the professor says that groups are preassigned and you can't pick who you are working with. While group projects can be frustrating and test every ounce of patience you have, they can also teach you some valuable life lessons. Here are some tips for how to make the best out of your group project experiences at East Carolina University.
1. Encourage communication
Having over two people working on an assignment can get a bit chaotic, so it is important to set up a way for everyone to communicate. GroupMe is an effective app that allows you to all converse with one another, or a large group text would suffice. Either way, every group member needs to have access to your chosen method of communication so that they can be informed.
2. Set up regular meeting times
As soon as the group and project is assigned, go ahead and plan out times that work for all of you to meet. Even if you don't meet every single week or day to work on the assignment, it is important to set that time aside. Put these times in your planner, and in your group message so that everyone can stay on task. If you can't attend a meeting, be sure to get filled in on what you missed and do your part.
3. Hold each other accountable
Usually if a project is large enough to involve multiple people, there are lots of components to be completed. During your group meetings, it is more effective to split up the work load rather than doing everything together. With that being said, be sure to hold everyone accountable for his/her part. Use a google document so that everyone's changes can be tracked and you can see who did what and when it was completed.
4. Be honest on peer reviews
At the completion of a group project, it is really common for professors at East Carolina University to assign a peer evaluation. This is where you rate your peers and yourself based on performance and effort with the project. Be honest…do not rate your peers too high or too low, and do not rate yourself too high or too low. These ratings will impact the grade of you and your group members.
Although group projects can be very stressful, they are reflective of your future in the workforce. It will be rare that you will choose your co-workers and your assignments within your job. On occasion, we all will have to work with people who differ from us, so it is important to learn how to do so in college. Try and keep a positive attitude with group projects, and always remember you can talk to the professor if things get out of hand. Best of luck!
---
---
Related Articles