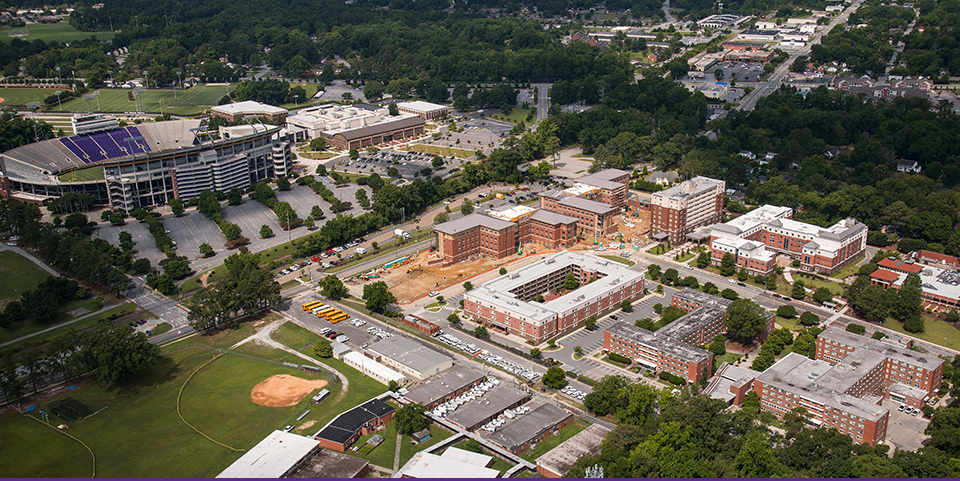 Once you have chosen to attend East Carolina University, there are many important decisions to make in regards to your time on campus. What meal plan do you want, what neighborhood of campus to you want to live on, who will be your roommate? However, the most important decision to make prior to beginning college at ECU is what residence hall you want to live in. ECU has many choices of where to live, and here are some of the best options:
Gateway East
The newest and biggest residence hall on Campus at East Carolina University houses many living learning communities and the Honors College. This residence hall is very upscale with vaulted ceilings and tile floors. Some rooms have suite options, where you can have a shower, toilet, and sink in your room. The dorms are spacious and have large closets, and the lobby has elevators and study space.
Gateway West
The sister building to Gateway East, Gateway West houses additional living learning communities and has the same layout. The buildings are connected by a covered breezeway, and both have study lounges and upscale laundry facilities. At the bottom of the building, there is a Neighborhood Service Office where students can get their mail and have access to free printing.
White Hall
A newly renovated residence hall on West Campus, White Hall is located in the heart of ECU. With a view of the gym, dining hall, and student center, this dorm is the perfect central location. White contains hall style bathrooms that have full sinks and nice showers. There are laundry facilities, study lounges, and a printing lab.
College Hill Suites
If you are an upperclassmen wanting to still live on campus, College Hill Suites is the perfect option for you. Right next to Todd Dining Hall, the suites are spacious and unique. Each suite has 2 full bathrooms, a living room, kitchen area with a fridge and microwave, and 2 bedrooms. The suites also have hall style kitchens if you prefer to cook some meals on your own.
Scott Hall
Located right across from the athletic facility, Scott Hall is the perfect dorm for club or varsity athletes. Scott is also convenient for freshman who do not want a communal bathroom, because it is suite style with four residents to one bathroom. The rooms are very spacious and have many options for rearranging furniture. Scott is also near the smaller gym located in the College Hill neighborhood.
East Carolina University has many options for Residence Halls for their students. Based on your needs and wants, research the different dorms on campus and pick what is best for you. ECU allows you to pick your residence hall, and even what floor you are on and room you are in. You can also take virtual tours of residence halls online, and schedule an actual tour during Open House!
---
---
Related Articles