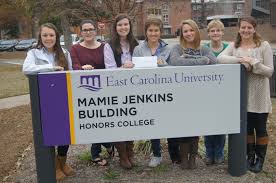 The Honors College at East Carolina University is highly prestigious, and it is extremely difficult to get in. In fact, it is pretty difficult to be able to apply to it. You have to have a minimum GPA and minimum test score, but if you meet the requirements then it is well worth your time to apply!
1. Financial Aid
The Honors College accepts 200 new students each year. Scholarships are renewable for a maximum of eight semesters, and you could get up to as much as a total of $62,000 in scholarships. That is almost all of your school paid for. Even if you do not get that much, every accepted member to the Honors College is guaranteed a scholarship.

2. Early Registration
One of the amazing perks to the Honors College is that all Honors College students get to register before the rest of the students at the university. That means that you will be able to get whatever class you want, and you do not have to worry about classes filling up. This is so nice when you plan out your schedule.
3. You Live in Gateway
East Carolina University built Gateway East and West in 2015, and Honors College students live there. They are the best dorms on campus, and after living there you would not want to live in any other dorm. The availability to the dorms are only present to the different LLC's, and being a member of the Honors College guarantees you a spot in the Gateway dorm.
4. You Are Part of an LLC
Being a part of a Living Learning Community is one of the best ways to make friends, especially if you are a first year student. Because there are 200 students in your Honors College class, you will be able to find someone to be your friend. You will have classes and live near people from the Honors College, so being a part of the Honors College LLC is amazing.
5. It Looks Good
Being a part of any Honors College looks amazing, so ECU's definitely looks good. Not only that, but it will be stated on your diploma that you were a member of the Honors College. Any future employer would be happy to see that.
There is absolutely no reason that you should not at least try to apply to the Honors College at ECU. There are so many benefits to the program, and your college journey would be completely altered positively. If you get the chance, make sure you apply to ECU's Honors College!
---
---
Related Articles