Back to East Carolina University Blogs
5 Spring Plunge into Purple Events at ECU
East Carolina University does a great job of involving their students and making sure there is plenty of entertainment on campus. Plunge into Purple is a series sponsored by the University with a mission to "welcome students into the excitement and traditions of ECU through education, socialization, and involvement." Here are some of the most popular Plunge events that you must attend!
Polar Bear Plunge
What better way to plunge into campus life than by jumping into a pool filled with ice in January? This event is put on in the beginning of the spring semester and is a great way for students to mingle and step out of their comfort zone. The Polar Bear Plunge provides snacks, t-shirts, and towels to students who participate! It is commonly said that every student needs to take the Plunge at least once during their time at ECU!
MLK Day of Service
All ECU classes are cancelled on Martin Luther King Jr. day…and what better way to celebrate than by getting out in the community and serving others? Students can sign up to participate and can pick a location to go volunteer for a full day or a half day. Locations vary from the animal shelter to a local soup kitchen. This is a great opportunity to give back and make some new friends! Many majors and graduate schools often require service hours so this is also a great way to get ahead.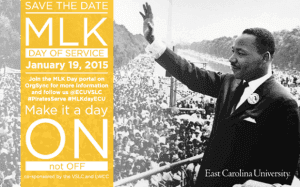 Pirate Read Author
Every year, freshman are assigned a book to read prior to coming to campus. These books are usually discussed in English and seminar courses. In the spring, the author of the book will come speak at the University. The books chosen usually relate to issues going on in the world, and the author will discuss his writing and facilitate a discussion amongst students. This event is highly recommended for freshman who read the novel. This year, author of Evicted Matthew Desmond will be presenting.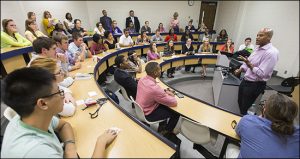 Winter Welcome Back
This event happens every winter on the first day classes begin. It is held in the student center and allows students to enjoy free movies, bowling, snacks, and a rock climbing wall. There are also cool craft vendors who come where students can make street signs and other novelties for free. This event is only for ECU students and participants must bring a valid ECU One Card.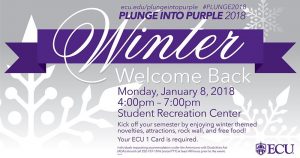 SAB Winter Concert
This event is relatively new to Plunge into Purple. ECU always holds a concert in the fall during homecoming week, but the Student Activities Board has now added a concert to the Spring Semester. Tickets will either be free or reasonably priced, so students should definitely attend if concerts are something that they enjoy. The concert will be held in Wright Auditorium so there will be plenty of seating for students.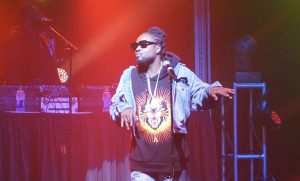 Overall, East Carolina University offers tons of events to encourage students to become involved in campus life. The Plunge into Purple calendar is located on the University website, and events are added very frequently. These events are a great way to take a break from studying and make some new friends, so it is a great idea to attend! There are also diverse events during the Fall semester so be sure to mark your calendars!
---
Suggested Articles in East Carolina University