Back to Elon University Blogs
7 Buildings you Need to Know at Elon University
Elon
is known as one of the most beautiful campuses in the country. Part of this beauty comes in the way that the buildings have a historic yet modern feel in their brick stature. New buildings seem to be added at a rapid pace, and yet never seem out of place. Depending on where you live around campus you will interact with these buildings more or less, but you'll definitely spend some time in each. Here are the 7 buildings you need to know at
Elon University
.
1. The Mosely Center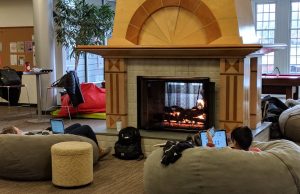 Mosely is the heart of campus. You'll see people walking in and out throughout the day whether they're going to the mail room, heading to Lakeside Dining Hall, or the Student Professional Development Center. The Mosely Center is where you'll go for food and packages, but also if you want to study on some bean bag chairs, play some ping-pong, or attending a professional event. Make sure you know where The Mosely Center is and how to get around it because at some point you'll be walking in circles in Elon's biggest building on campus.
2. Alamance Building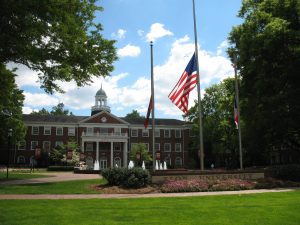 Often referred to as the English building, Alamance functions as a centerpiece of a pavilion as well as a reference point to most academic buildings. Alamance has religious, philosophical, ethnic studies, and a lot of miscellaneous courses that do not fall directly into a 'school' (Business, Poly Sci, Comm, etc.). You'll also see yourself going to Alamance to visit the registrar's office or meet with many of Elon's upper management and facilitators.
3. Ernest A. Koury, Sr. Business Center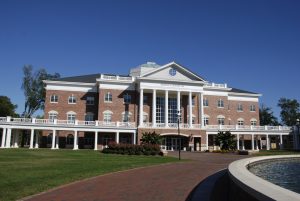 The Koury Business Center is usually referred to as KOBC, and hosts the most courses per day for any building on campus. You can be sure that you'll have your fair share of courses here as all 3 levels are filled with classrooms and lecture rooms. Keep in mind that an Elon lecture room can have no more than 33 students per the Elon rules, allowing for many classes to occur at once. Like Alamance, KOBC serves as a landmark often referenced as it is the midpoint from Danieley & Einstein's to main campus.
4. Koury Center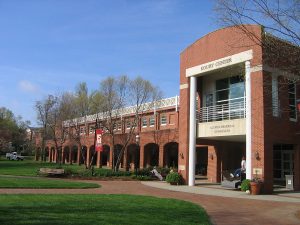 Following the Koury Business Center, we have the Koury Center. Instead of being mad at the confusing names, we should appreciate that the Koury family provided us with such beautiful facilities. That being said, this can get confusing, and make sure to clarify if someone is referring to the 'business' center or not. The Koury Center is where the main Gym (work out) is, accompanied by 4 racquetball courts, a squash court, ping-pong tables, and a basketball court. The basketball stadium is also a part of the Koury center, but this has recently been moved to the massive Scharr center, so we don't yet know what this will be turned in to (likely an auditorium).
5. Clohan Hall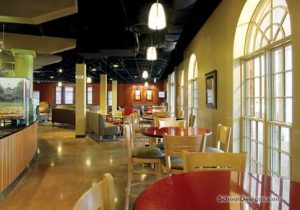 This building is one of the most important on the list for non-first and second years as Clohan Hall is actually old Colonnades. This building incorporates Elon's second largest dining hall (this may change as the old McKewen dining hall has been redone) with a Greenworld (upgraded salad bar), and Boars Head as well. Often referred to as DNades (Downstairs Colonnades) there is a small market place where you can buy anything from yogurt and cheese, to chips and nuts, to toilet paper and deodorant. You'll certainly find yourself checking out Clohan Hall no matter where you live on campus.
6. Belk Library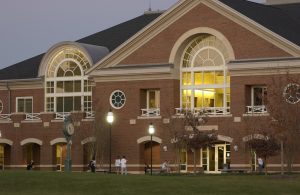 This is the only library on Elon's campus, but it's a damn big one. You're going to be spending a lot of time in here, and whether that'll be a couple hours every night, or all-nighters the week of finals, there's no doubt that you'll see everything Belk has to offer. There is a classroom within Belk that is often used for research teaching purposes, but the rest of the library is filled with private study rooms, cozy chairs, and tables for whatever works best for you. The higher you go, the quieter it gets, be sure to check out all of Belk as there are some hidden corners and rooms you might not know exist.
7. Dwight C. Schar Hall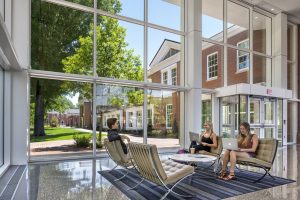 Connected to the old Comm building, the new Schar Hall is the most modern looking building on Elon's campus. With a brick fill, matching the rest of Elon's buildings, the front exhibits a 'Grand Atrium' which truly is stunning, and the first thing you see entering Elon's campus. Redone in 2017, there is a Turner Theatre, Studio, and a good amount of classrooms as well. Political science and Communication classes will be the courses taught in this building, but you will find yourself wandering through this building on a cold day or attending an event and or movie. These buildings have their nicknames, and have their stories. Hopefully you can make your own as you travel through your college experience. BE SURE to use the incredible facilities and amenities you receive as an Elon student. You only go to college once, take advantage of your time!
Interesting facts about Elon University
1. Elon is a Registered Botanical Garden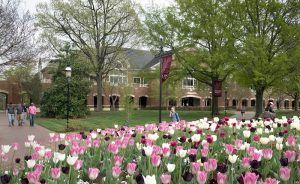 Many people actually choose to go to Elon after simply visiting the campus once due to its beauty. There are 2 main fountains supplemented by 4-5 smaller ones throughout campus. Across the 575 Acres of Elon's campus, you are always surrounded by trees and greenery as either flowers are blooming or the yearly snowstorm is whitewashing the paths. Elon truly is one of the most beautiful campus' in the country.
2. 75% of Elon students are from out of State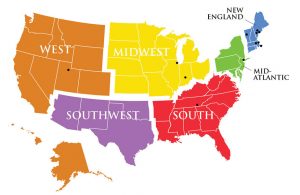 Elon has become an ever more diverse school over time, specifically as it relates to students hometowns/home countries. Elon's out of state population is 75% ranging from 49 states and 58 countries! These are tremendous numbers as Elon's total population is 6,045. Be sure you like northern culture, because while the workers may be slow like the South, the students generally are from the NorthEast.
3. 33 Student Cap per Class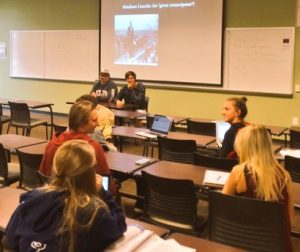 This is one of Elon's unique features that truly benefits the students towards their education and grasping of concepts. No matter how basic the course, or what percentage of first-year students are taking it, there can be no more than 33 students per class. This encourages student-teacher relationships, and you can be sure by the end of the semester that every teacher will know your name (for better or for worse).
4. 81% Four-Year Graduation Rate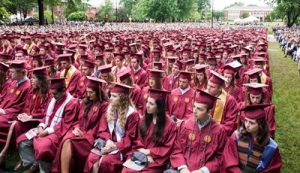 This percentage isn't that high, but compared to the average of 60% in the U.S., Elon isn't doing too bad. 81% also ranks amongst the top 10% of U.S. private universities in the country. You can look at this number in a good or bad way, but you got a 4 in 5 shot of graduating if your just playing a numbers game!
5. Elon is #1 in Study Abroad for 14 years straight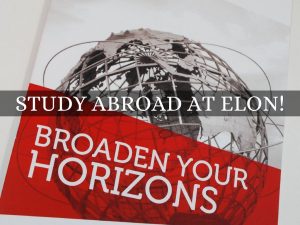 Don't believe this stat? Well, 79% of Elon students study abroad before they graduate, and the university is pushing for this number to go up to 100. Sports teams have recently transitioned to studying abroad (generally in their Junior year) instead of stipends, and new programs are being opened up every year. There are many scholarship opportunities as well, so be sure to apply if you think you couldn't afford such an expense!
6. 42% of Undergraduate Students are part of a Greek Organization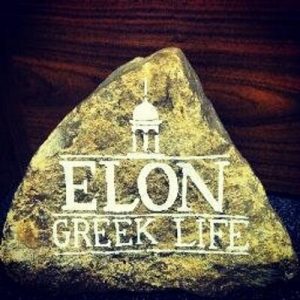 Elon is a very Greek-based school. This isn't to say you can't have a great time without being affiliated, but rather there are communities formed within Greek life that tend to be exclusive. 42% is a higher number than it may sound, as state schools such as UGA tend to hover around 22%. People take Greek life seriously, and you may find yourself forming relationships and or breaking them based on affiliation, so be weary of the GREEKS.
7. Elon is Ranked the 6th Most Attractive School in the Country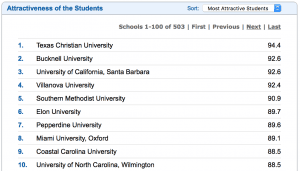 With an 89.7 rating, Elon is ranked the 6th most attractive school in the country according to
myplan.com
. While this does account for both girls and guys, it is referring to the females as they are known across their country for their barbie stature. An Elon 6 is an 8 out in the real world, and with a 60-40 girls to guy ratio, guys better be trying to find a wife.
---
Suggested Articles in Elon University