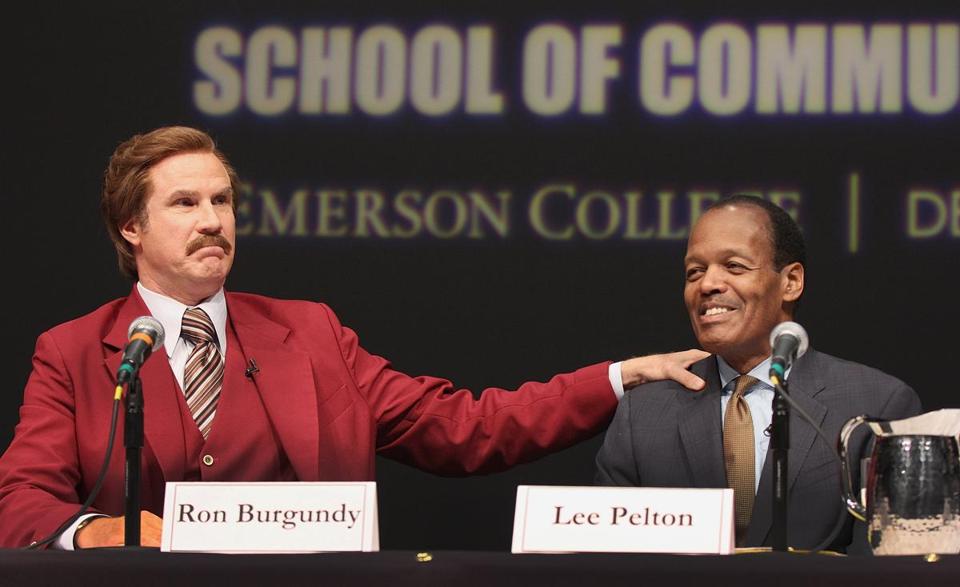 1. There is NO school spirit
Source: http://www.emerson.edu/student-life/orientation/fall-orientation
Emerson is completely absent of enthusiasm. Take freshman orientation for example. The Orientation Leaders (OL's) wear purple tutus, chant your name, and dance around as they move you into your new room. You can tell they'd rather be anywhere else. Energy Level: 0 The most athletic excitement you'll see is either for the football team — which doesn't exist — or the quidditch team.
2. There is NOTHING to do near campus
Source: http://www.bostonherald.com/
Because is the most boring city ever. You're surrounded by great restaurants, great music venues and festivals, and great hidden shopping gems. Not the mention the thousands of other students going to school right next to you to meet and hang out with. Spend Saturday bar hopping, then head over to one of the many pastry shops for a delicious cannoli. Sunday, spend your hangover-day sitting in Boston common sipping some street car lemonade and eating a salted pretzel.
3. A semester in a CASTLE? No thank you!
Source: http://www.studyabroad101.com/programs/emerson-college-kasteel-well-the-netherlands
Emerson has many study abroad opportunities, including spending a semester in Kasteel Well, a castle in the Netherlands. EW. Who would want to spend an entire semester traveling around Europe, learning art history, and sleeping in a ugly brick house? If you don't believe me, just check out this current students review of her experience.
4. FAKE majors
Source: http://www.emerson.edu/news-events/emerson-college-today/comedy-major-launches-emerson#.VcW5MhNViko
Don't plan on going to Emerson if you want to major in something normal. The college prides itself in designer education/majors. Students can major in "Directing Narrative Fiction" or double minor in "Modern Dance" and "Publishing." Starting in 2016, students can even major in Comedy! What is this madness!?!?!
5. There's NOTHING to eat
Source: http://www.emerson.edu/student-life/housing-dining/dining-services
If you live in the main dorm on campus — the Little Building — then the dining hall is a few floors down. As you can see in the picture above, the dining hall has slim pickings. On days where school food doesn't work, Emerson also has connections with local vendors so students can pay in EBucks or get discounts. INCLUDING a grilled cheese truck run by Emerson Alum James DiSabatino '09. Students show their Emerson IDs and get free grilled cheese.
6. The views are TERRIBLE
Source: http://www.emerson.edu/about-emerson/visit-emerson/about-boston
This is your view during class. No point looking out the window at this… Boston Common is directly across from Emerson College, with the rest of the city spanning behind it. It's the perfect place to sit in the sun and take in your surroundings.
7. The facilities are OLD and UGLY
Source http://www.emerson.edu/about-emerson/campuses-facilities/boston
Emerson has up-to-date professional technology in the communications department, and gets new equipment every 2 years. The theatre…you can see how terrible of shape it's in, above. The college even opened up a school in Los Angeles which students can now attend — a entirely new building, classrooms, and resources.
8. They are part of the MAFIA!
Source http://www.emerson.edu/ela/video-emerson-mafia
You may have to go to Emerson College, for their alumni are the selfproclaimed "Emerson Mafia." If you insult them, they might come after you or your thumbs. Stay on their good side however, and the connection provides internships and job opportunities across the country and globe.
9. There are NO cool alumni
http://www.emerson.edu/news-events/emerson-college-today/mcgorry-08-acts-two-hit-tv-shows#.VchLIhNViko
Some of the alumni that you've probably never heard of are; Talk-show host Jay Leno '73, "Extra" co-host Maria Menounos '00, "OITNB" and "How to Get Away with Murder" actor Matt McGorry '08, and TV producers Kevin Bright '76 (Friends) and Max Mutchnick '87 (Will and Grace). This year, 21 Emersonians were nominated for Emmy Awards. NBD.
10. THIS happened.
https://c.o0bg.com/rf/image_960w/Boston/2011-2020/2013/12/04/BostonGlobe.com/Lifestyle/Images/maeda_05NamesRon_g7.jpg
Yes, Ron Burgundy — not to be confused with Will Farrell — spoke at Emerson College. And yes, Ron Burgundy put his hand on the college's president Lee Pelton. Just another typical, boring day at Emerson College.
After all this information, if you're still considering going to this place, check out their website: emerson.edu
You might also like: Watch what real students have to say about OneClass Textbooks
---
---
Related Articles