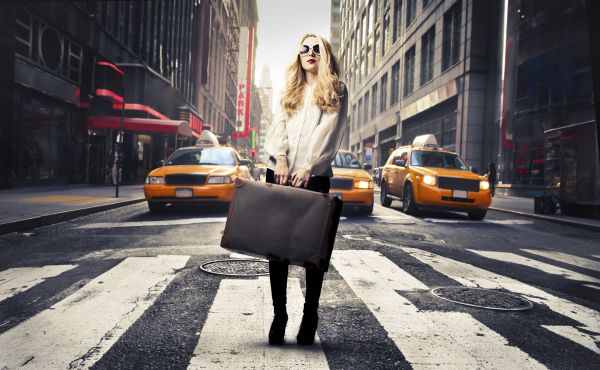 As some of you may know, the Fashion Institute of Technology is not just any ordinary university. It's filled with creative minds, minds that want to build up the fashion world and leave their mark., minds that want to develop new styles that have never been developed before. And with the location that the school has as well, every single student is striving in a competition with one another to get that good job or internship. Here are a few points that give the Fashion Institute the uniqueness that some universities don't have:
1. Academics
The Fashion School's strong focus on fashion, design, arts, and advertising distinguish it from most other SUNY schools in the system. While other colleges focus on the differences of their majors in both sciences and liberal arts, The Fashion School's degree programs, including Toy Design, Business in the Fashion Industry, Computer Animation and Interactive, help students more specifically explore the type of work they will encounter post-graduation. And every program is based on a foundation in the liberal arts.
2. Diversity
There is a very large diverse amount of students attending the Fashion School, which makes this school so great and unique. A large amount of diversity is a good thing because it gives the students the opportunity to express themselves and find a community with other people who believe in or like the same things. The fashion school achieves a large diversity rate because of their acceptance to many multi-cultural faculty, staff, and students as well. Even though its made up primarily of females, the diverse amount of ethnicities and such make up for the lack of males.
3. Location
The location of this school doesn't really get much better than how it is. The great thing about being located in New York City is that once you walk out of your dorm building, you find yourself in the middle of all the action. The school is located at 7th Avenue on 27th Street which is just a few city streets away from Madison Square Garden/Penn Station, and also just a short walk from Time Square. There are so many things for the students to do such as maybe attend a museum/art gallery that's right around the corner, which is also free to the public. This is great because students can receive some extra motivation/inspiration to be more creative with their designs.

4. Tuition and Programs
As of somewhat recently, Ex-President of the U.S set up different programs and changed the tuition for all SUNY colleges. The FIT is one of them, the tuition decreased while the programs increased. The tuition, being one of the largest changes, wound up cutting the price to go to a SUNY school in half for people who live in New York State.  This right here helps all students who want to pursue their fashion and design dreams (or even business) while not drowning in debt and loans and receiving one of the best programs in the entire state.
5. Connections
The FIT has a huge amount of connections out there, as it is one of the top fashion schools in the entire world. It has connections with companies such as L'Oreal, as even some of the professors had once worked for them as well, which is a great company to do business with. These connections are awesome because as you may know, connections can travel a long way in life. These connections that the school has with other companies could put you right infront of someone who works for a major company, then you might find yourself interning for that company and potentially working there as well. The connections are endless and your opportunities to strives and succeed are as well.
The Fashion Institute of Technology is a top fashion/business school in the entire country which makes this school stand out to employers a lot, which will really help all students in the long run. All of these subjects listed above is what diversifies the FIT with every other school in the country. Not only is this school one of the best choices you can make as a fashion/business student, but in the long run it can really pay off with a great job at an awesome company. Keep your mind open and give FIT a shot if your an incoming college student, you won't regret it!
---
---
Related Articles