Back to OneClass Featured Blogs
College Dorm Shopping and Packing: Your Ultimate Checklist
Packing for college, shopping for your dorm and setting up your new life as a freshman can be one of the most exciting phases of your life. While you might be excited to shop till you drop, it's not a good idea to go overboard. Every year, hundreds of students realize that they wasted too much time and money into buying things which they won't be able to use. Also, your dorm room has limited space and hoarding too many things isn't the smartest way to optimize space. Building a college dorm shopping list can be time-consuming and confusing. Therefore, it's probably the right time to start planning well and planning in advance for what all you need to set up your
new life in college.
[caption id="attachment_106536" align="alignnone" width="659"]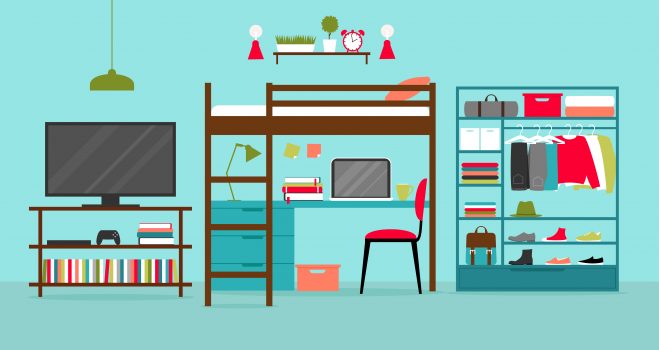 College Dorm Room[/caption]
Save yourself long hours of research and confusion around what to buy, carry or not carry and get to know from students who have gone through the same experience!
How to use this list
> The sheet provides a different tab for each category of items you might need. Go through each category, check the recommended quantity and decide your own quantity. > You can customize each category based on your required quantity and whether you would like to buy it or not. > There's a budget calculator that automatically records your inputs so you can see s ballpark figure of how much you might have to spend > Please note that this list is exhaustive. You won't be requiring all the items. Also, the prices listed are the lowest prices available on Amazon.com. You could buy them for cheaper or more expensive at different stores > At the end of this article, you can download the link to the customizable sheet. 
Click on Download > Open the Sheet > Go to "File" on top-left corner > Make a Copy > Save it to your Google Drive
> Boom! It's ready for your personal use. Before you jump to your college dorm shopping checklist, here is the list of things to keep in mind that'll help you make judicious buying decisions.
10 Things To Keep In Mind Before Starting Your Shopping
[caption id="attachment_106533" align="alignnone" width="524"]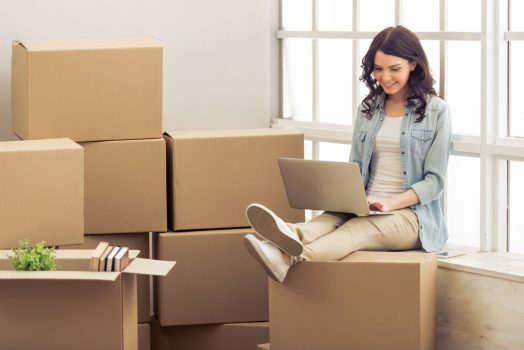 Packing for college[/caption] 1)
Look out for second-hand stuff a lot of graduating students hand down
2) While you may not want to use used-clothing or linens; furniture, cutlery, and appliances are perfectly good to reused
3) Stay away from hoarding and cluttering - remember you're here for 4 years, not 40. More stuff just adds clutter to limited dorm space available
4) Buy in bulk instead of impromptu refilling household stuff
5) Craigslist and Kijiji(Canada), Bunz groups are great places to buy stuff that you don't really need to be fresh and new
6) Check out the holiday season sales months. If you are moving from a warmer place to a colder (way colder) place, you'll need to stock up on winter essentials that most people from warmer climates don't have in their wardrobes. And winter clothes can be expensive. Labor Day, Canada Day, Thanksgiving, etc are good weeks to grab great deals on those expensive down feather fill parkas and snow boots
7) Plan your shopping according to your geography. For example, if you're moving from China to North American schools, it might be a good idea to get your gadgets from back home. If you're moving from South Asia to Canada, it won't make sense at all to get winter wear from back home but a good idea to get great cotton dresses for summer
8) Make your room minimalist yet personal. The dorm will be your abode for the next few years, it'll be where you make a lot of memories. It should reflect your personality
9) Focus on utility and well-being over other things. Stock up on food and keep your room clean to maintain a healthy study environment
10) Try and pick up everything you need before you move in and refrain from buying ad-hoc objects for your room. This will not just save you a lot of money but also a lot of time and energy that goes into unnecessary shopping
Must-haves For International Students
[caption id="attachment_106090" align="alignnone" width="525"]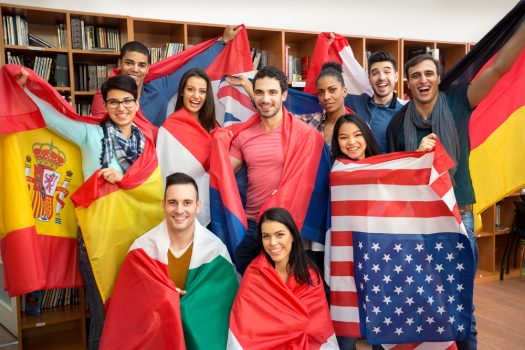 International Students[/caption]
1) Documents are more valuable than gold. If you are moving to a new country for the first time, guard your documents with your life. 
This includes passport, student card, driving license, health card or any other national identity card
2) Diversify your money: 
This applies to everyone but more so if you don't have local guardians or family to reach out to in case of emergency - keep some cash at different places in your room, keep money in your bank that can be withdrawn anytime and one credit card at least
3) In your wallet/bag, always carry a piece of paper with the names and phone numbers of people who can be reached at any time. Also have their numbers enlisted on your mobile on speed dial
4) If you are on any medication, ensure that you get relevant medical certificates and records that can be used in the country of your college. Even though you carry your medicine, make sure you have the prescriptions along with you
6) Register with the international student body in your school and keep your contact records updated
7) When you're new in a country, be careful when you start going out initially for late night parties. Take time to soak in information first - which are the safe areas, what to do in case you get stuck somewhere, etc.
8) Carry some foods from your home for times when you'll crave for them when you are thousands of miles away
9) Carry a traditional attire for those ethnic, cultural events. You'll probably have joined some cultural groups or attend events with your friends
10) Keep a list of contacts you can reach out to at any time. This includes:
> Local police
> Ambulance/hospitals
> Embassy of your home country
> Your student mentor/ School contact
Budget
Let's talk money!
It's a long shopping list while you prepare to move into your dorm room. Being informed and smart about how you spend is important. This list is a handy way of budgeting right at the start. Once you have a set budget, you'll be more conscious to stick to it rather than just starting off shopping and realizing you are spending way more than you expected to.
[caption id="attachment_106629" align="alignnone" width="480"]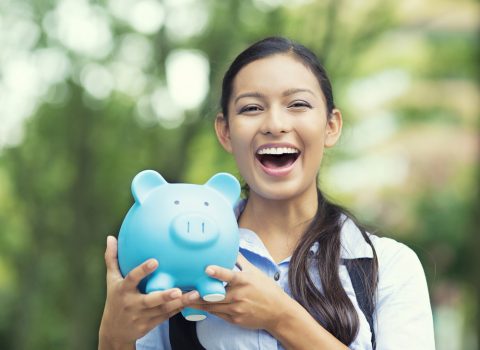 Financial Planning For Students[/caption]
Here are few tips to start budgeting well before you start shopping:
1)

Freeze your list:

When you download the shopping list, it'll give possibly the widest range of products you can buy. You can use this sheet to sort products by your priority and note down the budget on the same Google sheet.
2)

Estimate:

Make a projection of how much each segment of products will cost you:
> Furniture & Furnishings - This should cost you a major chunk of your budget. You probably wouldn't want to buy the lowest grade quality since these things are expected to last you four years. Set aside about 2/3rd of your total shopping budget, approx. $500 USD or equivalent if you are moving to North American universities.
> Electronics & Electricals - This section will also cost you quite a big chunk of your budget. These are essentials that you can't do without. However, it's a smart idea to look for deals and second-hand stuff here. For example, you can get your hands on power banks, flash drives, speakers, etc from students who are moving out or on online marketplaces, you could save quite a bit of money
> Kitchen essentials - This is another segment that you should hold off buying until you get to the dorm. A lot of dorms have common kitchenette spaces that either come with few installed appliances or have enough products left back by former students.
> General housekeeping - Make that one long shopping trip to the mall and stock up as much as possible here. Cleaning supplies, snacks, groceries, etc - make it a part of your college years ritual to buy these things at a go, once a month.
3) 

Keep track of your expenses:

Good habits go a long way. Use an app to log in your daily expenses every day. Just by seeing your logs, you'll be so much more aware of your spending habits and conscious of overspending
4)

Save for fun:

It a no-brainer but allocate money to your "fun fund" right at the start of each month and try to stick to it. Students unknowingly overspend on fun and then scrap to buy essentials by the end of the month. First things first - don't overspend on partying and then survive on $1 instant noodles. It's not good for your body, it's not good for your soul.
5)

Be smart:

 We don't need to tell you this. But students can avail enormous amounts of discounts on everything - from books, food, travel, medical etc. just by using their student cards. Keep looking, keep asking always. If you can save a cent, it'll add up to a dollar someday!
Last but not least, check with your schools before bringing any of the following items: 
> Electrical appliances
> Pets
> Any other college-specific regulations
Get your free copy of the checklist below. Happy Shopping!

---
Suggested Articles in OneClass Featured