Back to OneClass Featured Blogs
Most Popular Majors at Each University of California Campus
According to the
Princeton Review
, the #1 major in the country is computer science. However, tech degrees aren't common at all schools in the country. Do you wonder what degrees are popular at each of the University of California campuses? This guide breaks down the top majors at each of the 10 UC schools. Find out how each campus compares.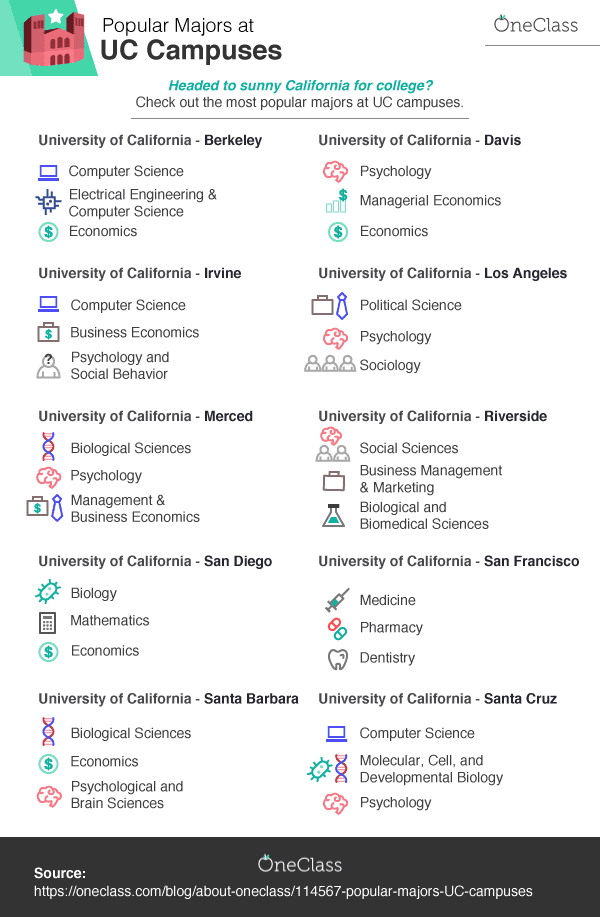 Share this Image on Your Site!
University of California - Berkeley
UC Berkeley
is a large school with more than 42,000 students. The science and technology programs have produced significant discoveries over the years, including the atomic bomb, CRISPR, the flu vaccine, GIMP, the polygraph, and others.
Top 5 Majors at UC Berkeley
1. Computer Science 2. Electrical Engineering & Computer Science 3. Economics 4. Political Science 5. Business Administration Even though
choosing which classes to take at Berkeley
is a tough decision, there are more than 12,000 shared documents on OneClass to help you study more efficiently and get better grades.
University of California - Davis
Located in Sacramento Valley,
UC Davis
ranks as the third largest student body within the UC system. This large university began as an agricultural college, but today, its most popular programs are in business, science, and psychology.
Top 5 Majors at UC Davis
1. Psychology 2. Managerial Economics 3. Economics 4. Neurobiology, Physiology, and Behavior 5. Biological Sciences In addition to these popular majors, there are nearly 100 other undergraduate programs, including one on winemaking. However, winemaking isn't the
easiest class at UC Davis
.
University of California - Irvine
An Orange County school,
UC Irvine
has 13 schools of study that cover a broad range of science, business, engineering, health, and the arts. The most popular major, however, is
Computer Science
, where more than 2,000 undergrads take classes in computer architecture, software, networking, data, and AI.
Top 5 Majors at UC Irvine
1. Computer Science 2. Business Economics 3. Psychology and Social Behavior 4. Mathematics 5. Criminology Law and Society Are you thinking of attending UC Irvine? Check out these
essential UC Irvine websites
to help you survive, discover which
easy courses
can help your GPA, and learn
15 common sayings
that you'll hear around campus.
University of California - Los Angeles
UCLA
is a highly competitive public university, with only 16 percent of 2017 applicants being admitted. It was also ranked as #1 on Forbes' list of
Best Value Colleges 2018
. The school's
most popular majors
span across science, business, and social science.
Top 5 Majors at UCLA
1. Political Science 2. Psychology 3. Sociology 4. Economics 5. Biology With more than 125 undergraduate majors offered, OneClass can help you keep your grades up by using the
16,000+ pages of class notes and study guides
that have been shared by fellow UCLA classmates. On the other hand, if you need more help with your social life than with your academics, be prepared to meet these
eight types of UCLA students
.
University of California - Merced
UC Merced
is the newest addition to the UC system. It's a relatively small school with nearly 8,000 students and 23 undergraduate majors. The school is rapidly improving its reputation, jumping 29 spots in this year's overall ranking in U.S. News and World Report
Top 5 Majors at UC Merced
1. Biological Sciences 2. Psychology 3. Management & Business Economics 4. Mechanical Engineering 5. Computer Science & Engineering These
popular majors
cover a range of science, business, technology, and social science topics. Even though you'll face some challenging classes while attending UC Merced, there are plenty of
easy classes
to help boost your GPA.
University of California - Riverside
At
UC Riverside
, more than 80 majors span the school's five colleges. Areas of study include engineering, business, agriculture, public policy, and humanities.
Top 5 Majors at UC Riverside
1. Social Sciences 2. Business Management & Marketing 3. Biological and Biomedical Sciences 4. Psychology 5. Engineering No matter what you major in, you'll likely take a wide variety of classes, including
top-rated classes
,
easy classes
,
classes with great professors
, and
classes that you'd rather skip
. No matter what your course schedule,
OneClass
is a helpful way for students to share class material. Uploading class notes can earn you cash rewards, and downloading material can save you valuable study time.
University of California - San Diego
The coastal school of
UC San Diego
has produced notable graduates such as Billy Beane of the Oakland Athletics; Mike Judge, the creator of King of the Hill; and Bill Atkinson, who helped create the first Apple Macintosh computer. Notably, many of these famous alums studied something quite different from their eventual career. For example, Mike Judge studied physics, and Billy Beane studied economics.
Top 5 Majors at UC San Diego
1. Biology 2. Mathematics 3. Economics 4. Computer Science & Engineering 5. Chemistry Based on these
popular majors at UCSD
, we see that top degree choices are in STEM areas including math, science, and technology. Even if you're finding your college classes challenging, you can boost your GPA by signing up for one of the
10 easiest classes on campus
or by using the 10,000+ pages of
online notes and study guides
that UCSD students have shared.
University of California - San Francisco
At UC San Francisco, more than 3,000 graduate students are studying to get degrees in the health sciences field. According to U.S. News and World Report, UC San Francisco ranked as #2 for the best primary care medical school, #2 as the best global university for immunology, and #3 in microbiology, neuroscience, and clinical medicine.
Top 5 Majors at UC San Francisco
1. Medicine 2. Pharmacy 3. Dentistry 4. Nursing MS 5. Biomedical Science While the fields of study at UC San Francisco are very focused, the city is also home to
San Francisco State University
and the
University of San Francisco
, which offer a wide set of undergraduate majors to consider.
University of California - Santa Barbara
UC Santa Barbara
is a large school with more than 25,000 students. Admission is selective with 32 percent of applicants being accepted in the fall of 2018. There are many notable faculty including Nobel Prize winners, Academy and Emmy Award winners, a recipient of the IEEE Medal of Honor, and a Fields Medal winner.
Top 5 Majors at UC Santa Barbara
1. Biological Sciences 2. Economics 3. Psychological and Brain Sciences 4. Communication 5. Sociology
Popular majors
include the sciences, social sciences, and economics. However, students in all degree programs have the option of taking some of the school's
easy classes
to boost their GPA, some
awesome classes
to make college more interesting, and classes from the school's
top professors
.
University of California - Santa Cruz
The 18,000+ students at
UC Santa Cruz
are seeking a degree from one of the 63 undergraduate majors. While the school offers many
concept courses
and interdisciplinary programs such as Computational Media, Digital Arts, and the History of Consciousness, among others, the school's
most popular majors
cover traditional areas of study such as social science, technology, biology, and economics.
Top 5 Majors at UC Santa Cruz
1. Computer Science 2. Molecular, Cell, and Developmental Biology 3. Psychology 4. Economics 5. Ecology and Evolutionary Biology While several reasons exist why you might want to
skip class at UCSC
, a few strategies can keep your GPA up so you can keep enjoying the college experience. Try adding some easy classes into your schedule, and start using the 2,000+ pages of online notes and study guides that your classmates have posted to OneClass.
Find out how using OneClass is helping University of California students improve their grades and save study time.
---
Suggested Articles in OneClass Featured