Back to OneClass Featured Blogs
Do You Know What College Students Really Think About Textbooks?
College students overwhelmingly report that the biggest problem with textbooks is their cost. Whereas tuition costs are a built-in budgeted expense, the cost of textbooks is added on at the beginning of each semester. Our survey of hundreds of college students looked at perceptions about textbooks, buying habits, and what students pay each semester.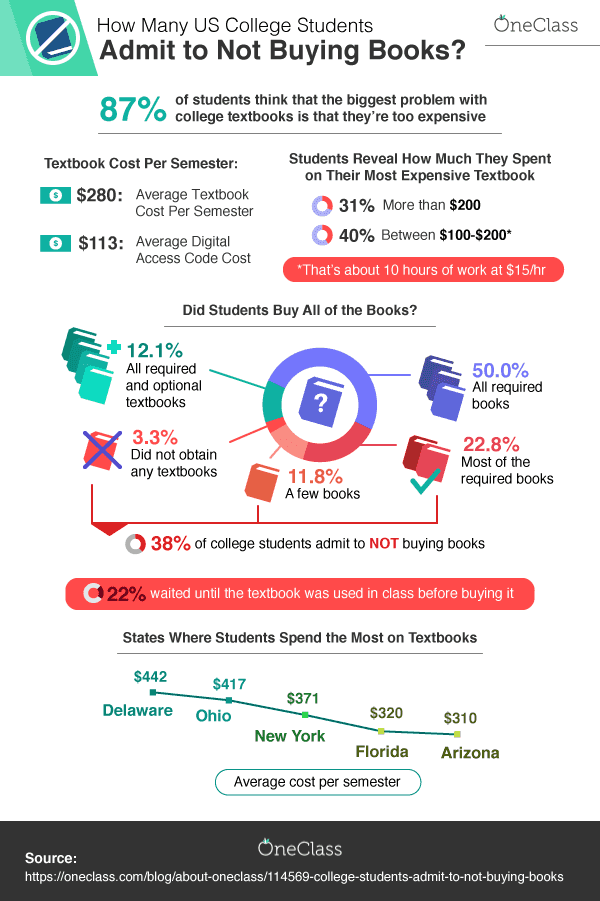 Share this Image on Your Site! An oft-cited report from textbook publisher McKinsey & Company,
The Future of Textbooks
, says that even though students may be seeking low-cost ways to access books, "the larger opportunity for publishers lies in the creation of dynamic digital-learning resources." This includes interactive content, video, and online simulations. The report explains that today's students are digital natives, so pushing toward more online tools is said to create higher engagement, aid learning, and reduce college dropout rates. However, in our 2018 survey of hundreds of college students, we found that students aren't seeking increased digitization or more interactive content. Instead, they're overwhelmingly looking for textbook options that cost less.
What's the biggest problem with college textbooks today?
Too expensive 86.7% Digital access codes are required 3.9% Not useful/informative 3.3% Forced to buy at campus bookstore 3.3% Too difficult 1.5% Outdated 0.8% Too low tech 0.3% Too high tech 0.2% With 87 percent of students saying that cost is the biggest problem with textbooks, there seems to be little doubt of the significant impact of textbook price tags.
How Much Do Textbooks Cost?
With students calling out cost as a major problem, we were curious about how much they're spending each semester. While there's a wide range among U.S. college students,
the average spending on textbooks per semester is $280
. However, it can be as high as $1,330 per semester. These spending figures include all textbook acquisition types, including new books, used texts, rentals, and e-books. This means that over four years, students would spend an average of $2,240 on textbooks. Comparatively, the wider public spends an average of
$29.57 per person
each year on books. That's just 5 percent of a student's average annual spending.
Textbook Prices Are Rising Sharply
An analysis published in
AEI
by Mark Perry,
University of Michigan
's professor of economics and finance, shows that since 1978, the
price of college textbooks has increased 812 percent
. That's more than three times the increase of the Consumer Price Index, which shows that the average cost for goods and services increased 250 percent during the same period. Even as the 2009 housing bubble corrected prices on new homes, educational books saw even steeper price increases over the last decade.
Added Cost of Digital Access Codes
On top of textbook costs, there can be additional fees for limited use passes to online textbook materials. Our student survey revealed that students spend an average of
$113 per semester on digital access codes
. These digital access codes can actually compound the problem of high-cost textbooks because when new books are sold with access codes as a bundle, the textbook then loses its value on the resale market. Instead of buying used, next semester's students will need to buy new textbooks to get the access code. For example,
Harvard University's Economics 10a
class implemented a requirement that each student purchase a
$132 digital access code
that lasts only 12 months and provides access to the textbook, test preparation materials, problem sets, and quizzes. This digital access code is required in order to submit assignments and quizzes. In other words, your grade depends upon it. In this case, the course professor is also the textbook author. With about 650 students taking the class each semester, this pricing model limits the otherwise thriving resale market. After facing much criticism, the professor/author made an adjustment just one year after implementing the requirement, announcing that he will donate
royalties
for the class' materials to charity.
High-ticket Textbooks Can Break the Bank
The average textbook cost per semester is already significant. Yet, a single top-priced textbook can have a staggering price tag. In fact, the majority of students say that their most expensive textbook costs more than $100.
How much did your most expensive textbook cost?
More than $200 31% Between $100 and $200 40% Under $100 29% To put that into context, a $150 textbook would be 10 hours of work at $15 per hour. For students working part-time, that could be half a week's pay.
Students Admit to Not Buying All Their Textbooks
Across all student preferences including new textbooks, e-books, textbook rentals, and used books, our survey revealed that
38 percent of college students admit to not obtaining all their textbooks
.
Did you get all the textbooks for your courses?
Did not obtain any textbooks 3.3% A few books 11.8% Most of the required books 22.8% All required books 50.0% All required and optional textbooks 12.1% Additionally, students who participated in our survey commented about their frustration when they get textbooks only to find out that the professor rarely assigns readings from it, or doesn't refer to the book at all. In these cases, even though the book was required, the students studied from
class notes
rather than from textbook chapters. Thoughtful students want to make sure the book will be used before getting it. Rather than getting their textbooks at the beginning of the semester, 22 percent waited until the book was used in class.
Geographic Variation in Costs
Our survey results also show that students in some states spend more on books than students elsewhere do. This could be a result of local economic factors, such as a college culture where it's common to require many high-value textbooks.
States Where the Average Textbook Spending per Semester Is Highest
Delaware $442 Ohio $417 New York $371 Florida $320 Arizona $310 College students in Delaware are spending the most on textbooks, averaging $442 per semester compared to the national average of $280. Students in Ohio are also spending more than $400 each semester, on average.
Low-cost Educational Resources
More than 2.2 million students have used
OneClass
' online
class notes
and
study guides
to get better grades. In fact, over 90 percent of OneClass users have improved by
at least one letter grade
. OneClass' 24 Hour Notes are available within 24 hours of each lecture, and are posted by top students who are well qualified Notetakers. The cost for an
Unlimited Access subscription
starts at just $9.98 per month. This provides access to all shared class notes and study guides. Using these materials, students are filling in any knowledge gaps from lectures and saving time by studying more efficiently. Enterprising students are also using OneClass to get paid for going to class. By uploading class materials,
student note-takers
earn site currency that can be used to download materials for other classes, and it can even be exchanged for gift cards. This means that the money earned by uploading class notes this semester can help pay for next semester's textbooks.
Find out how OneClass can help you get better grades now.
---
Suggested Articles in OneClass Featured