Back to OneClass Featured Blogs
Read Faster And Smarter: 5 Essential Steps And Tools
Reading - the core, fundamental tenet of any education, hardly ever gets any strategizing when it comes to exams. There are hundreds of articles on speed reading floating on the web. Most people who use or read these articles are avid readers trying to belt in more books for either research purposes or for personal learning. However, even college students can imbibe this valuable skill of fast reading while preparing for their exams. 
If you're wondering how to learn to read faster and more efficiently through effective reading strategies, you're in the right place. There is a strong connection between fast reading and
learning smarter
that students can use to their benefit when it comes to maximizing learning within a limited time.
For the purpose of this article, we will steer away from speed reading techniques because it may not be the best format when it comes to preparing for exams.
Instead, we'll focus on some methods for faster reading with an active mindset that will help with exam specific study materials.
It's important to understand that reading can have different styles, just like writing. It's different to read a novel for pleasure, a business book for information, a news article for your dose of current affairs and course materials for exams. Let's be honest, when you are a 20-year college graduate, you won't be interested in reading Dante's Inferno on your vacation.
How To Read Faster: 5 Step Process To Improve Reading Skills  
Step 1: Mind Mapping Reading Strategy
a) Start by skim reading
Make a mental map of the length and structure of the content. This sets you up psychologically to read 10 pages vs. 2 pages, lists versus paragraphs, graphs vs. charts, etc.
b) First things first
Read the introduction and conclusion first - this will give you a fair understanding of what the author is trying to say.
c) Create a mind map using the following blocks
i) Setting Key Ideas
> What is the problem being addressed? > What are the supporting themes? > What is the author's background? > What is the biggest argument?
ii) Defining questions
> What's your primary question? > Is this supportive or argumentative evidence? > What's your hypothesis? > What's your Point of view (POV)?
iii) Active Reading
> Absorb what you read in relation to Step ii > Understand the author's direction > Validate your POV > Skip reading if it doesn't serve Step ii
iv) Framing Answers
> List all your opinions > Find evidence to support each one > Find evidence to refute your opinions > Pick the ones that stand the test of validation
v) Testing & Iterating
> Draft an answer > Evaluate its validity and strength > Seek a second opinion > Iterate and finalize [caption id="attachment_120721" align="aligncenter" width="550"]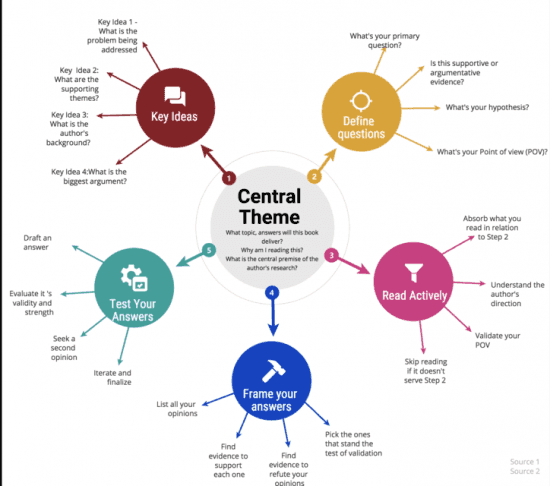 Mind maps on how to read faster and be more organized[/caption]
d. Timed Reading
After mental mapping, set yourself up for a time limit to complete reading. Don't worry about how many words per minute you're reading. Focus on finishing the entire text in a stipulated period of time and check the time you take only after you're done. The idea is not to force you to rush through the reading but to help you focus better. 
---
Step 2:  Ward off all forms of distractions
[caption id="attachment_120198" align="aligncenter" width="525"]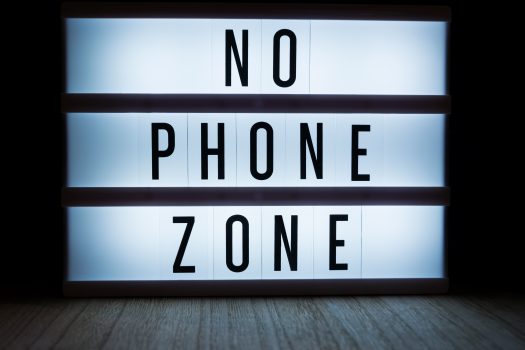 The first reading technique you need to try; no distractions[/caption]
a) No distraction time
As one of the most important reading techniques, this should be taken seriously. During this time, keep any distractions away - especially your phone. If you are reading online, close all other tabs and pages and your notifications. Reading time should not have regular interference from cell phones. It's alarming how much time teens spend on their mobile phones. In a study by the Pew Research Centre, 54% of U.S. teens and their parents felt that they spent too much time on their phones. Imagine how much of that time you could use to just read more books or articles of your interest. 
Distractions are powerful drains on the brain's ability to focus. In order to focus better and get the most out of your brain, make your reading time uninterrupted by technology or any other distraction include family or friends. 
b) Don't write while reading
Refrain from taking notes when you're reading the first time. The first reading is for the sake of reading only - absorb as much as you can without any other supporting stimuli.
---
Step 3: Brain and Reading Training
[caption id="attachment_120794" align="aligncenter" width="333"]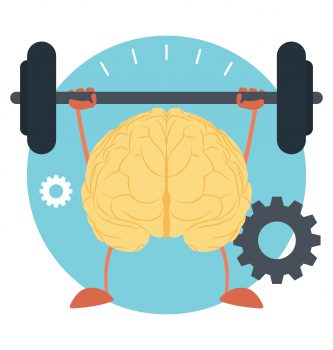 Train your brain to read faster[/caption]
a) Read read read
 A lot of studies argue that
speed reading reduces comprehension
. Active reading is more important than
reading more than the average of 300-400 words/minute - the known reading speed of most of the college-educated population.
Active reading involves subvocalizing what you're reading, comprehending the context and then moving onto the next page. 
If you're not a regular reader, it's best to start with material that is easy and interesting to you and then move to material that is more difficult to read. Some novels to read (for example): -Sherlock Holmes Series -Harry Potter Series -Brave New World -Train to Pakistan
b) Smart and Effective Reading
When it comes to exams, it's all about strategy. Depending on how much time you have and how long before exams you start studying, you'll have to choose carefully what to read and what to skip. A good idea is to go through questions of past exams to get an understanding of what answers you need to prepare. This is the last minute technique and should not be used if you are starting early. In an ideal scenario, you should have read your course materials at least once during your semester
---
Step 4:  Supporting Reading Techniques
[caption id="attachment_120202" align="aligncenter" width="622"]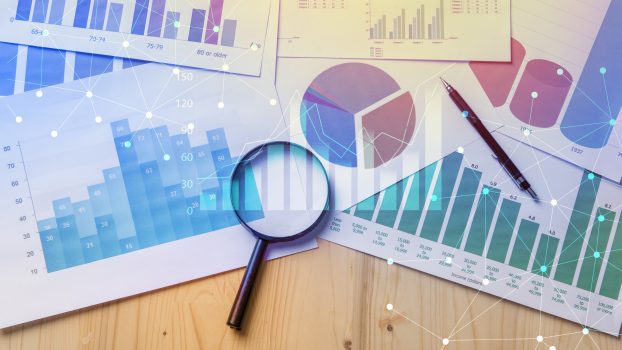 Tools and smaller reading techniques to help you read faster[/caption]
a) Mark and highlight
Read with a pen or marker in hand and keep underlining things you would like to read again or note later on
Skip the shortcuts: Refrain from reading summaries unless you absolutely have no time remaining for the exams.
b) Avoid regression
While reading for the first time, if you get distracted, don't go back and read the paragraph again. Consider it a self-inflicted punishment for getting distracted and try not to let that happen again. Come back to the missed paragraph once you've completed the entire reading
c) Don't over-read
 It's a no-brainer. Sometimes your brain will refuse to process what you're reading. Instead of pushing yourself to read at that moment, leave it and come back to it later on. Like writer's block, reader's block is the state when you can read but can't comprehend, words start moving out of focus when you're looking too long
d) Take a break
Don't read for longer than 40-45 minutes in a go. Take a break. Look away from books and get some fresh air. Break doesn't mean reading random other stuff online. You should use the break to look away from anything that needs your eyes to focus, especially screens, texts, images, etc.
e) Read every day and build a habit
Make a habit of reading something every day - by something, we don't mean Instagram posts. Pick a well written, editorial piece that holds some authority on a subject and read it entirely in a go. This reading piece could be a newspaper article, magazine feature or a blog piece. Building a reading habit can go a long way in making you a faster reader
---
Step 5: The Reading Set and The Reading Setting
[caption id="attachment_120245" align="aligncenter" width="525"]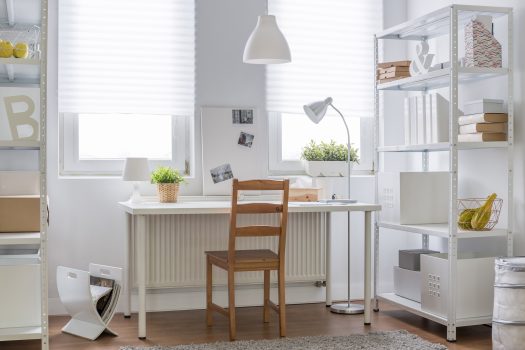 Make sure you're studying in an organized setting to read faster and more effectively[/caption]
a) Set up a reading space
Get off that couch or armchair that you cozy up in with a book. Those spaces are for holiday evenings. While preparing exam readings, set yourself an area that lets you focus physically and mentally. A chair to make you sit straight, preferably in an isolated room works best. Keep this space clutter free. The right space is an essential element of focusing and reading effectively and efficiently.
b) Stick to one reading material format
Try to stick to one kind of document format while preparing your exam materials. If you like reading online, choose one between the desktop, laptop or iPad - not all the three interchangeably. If you prefer books, try to grab yourself a copy of the book from the library rather than getting photocopied papers. When you train your mind to read a certain kind of document, you will read faster in that format.
---
Now that you're armed with reading techniques, take a look at some
SMART Writing Techniques To Ace Your Finals. 
Also, if you like reading on a screen more than physical text, check out these great
free reading apps
so you can read on the go.
---
Connect with us at
OneClass
to get access to a tonne of exam resources: Study guides, past exam solutions, and class notes.
---
Suggested Articles in OneClass Featured