Back to OneClass Featured Blogs
What is FAFSA and How to Get Financial Aid
Each year, about 12 million FAFSA applications are submitted. Are you wondering what the FAFSA is, and whether you should apply? Let's break down everything you need to know.
What Exactly Is FAFSA?
The federal government form known as FAFSA is short for
Free Application for Federal Student Aid
. The FAFSA form is your first step to getting student aid for college. The process is administered by the U.S. Department of Education, which provides more than $120 billion each year to college students.
What Type of Financial Aid Can You Get?
A strong financial aid package is a key way to
hack college debt
. Submitting a FAFSA application for each academic year of school you attend provides the federal government with the needed information to calculate your financial aid eligibility. Behind the scenes, the calculations consider many data points, including your household's finances and the cost of education. On a federal level, your application makes you eligible for federal student loans, Pell Grants, scholarships, and work-study programs. The resources to pay for college don't end there. The single application can also make you eligible for financial resources at the state and college levels. Because your application lets you indicate which colleges you're considering, the information feeds into each school's financial aid department so you can receive customized aid packages, pending college acceptance, of course. In addition to these types of aid, students may seek out additional education funding, including private scholarships or student loans administered directly by a bank or lending agency.
Who Should Apply for Financial Aid?
The FAFSA application is a general application that covers a wide range of educational situations. Basic eligibility criteria apply. For example, you must be a U.S. citizen or eligible non-citizen, have a high school diploma or GED, and be enrolled or accepted into an eligible degree program. It's inaccurate to assume that the FAFSA is only for traditional Bachelor's degree students. The data from the Department of Education shows that while Bachelor's degree applicants are the most numerous, applicants also include students pursuing certificate programs, occupational degrees, associated degrees, and graduate degrees.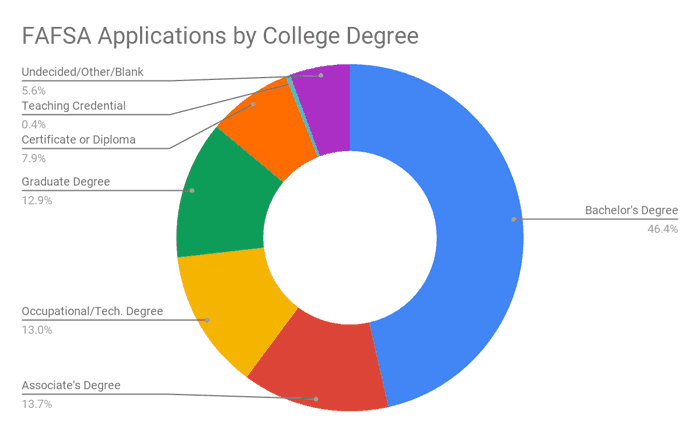 Is the FAFSA Free?
It doesn't cost anything to submit the FAFSA. This means that you're not risking anything to find out how much financial aid you can get for your higher education. Remember that each circumstance is calculated differently, so even if a sibling didn't receive financial aid, you may still be eligible.
How Do I Apply for Financial Aid?
Your FAFSA application starts at the
Federal Student Aid website
. Applications go live on October 1 of each year, and you have about a year and a half to submit information for a single tax year. While it's possible to submit a FAFSA via a paper form or by phone, 99 percent of students complete their FAFSA online. Gathering the information you need may be the most time-consuming part of the application. Dependent students will need information for themselves and their parents, whereas independent students will only be reporting about themselves. Required information may vary based on your situation, but it'll likely include:
Social security number or other ID number
Earnings information, including W2s and federal tax forms
Financial information, including bank statements and investment holdings
The first time you fill out the FAFSA application will be the most difficult, as the process and the form will be new. In subsequent years, you may be eligible to apply using the FAFSA Renewal, which will pre-fill some of the data. As seen in the chart below, the largest percentage of FAFSA applicants are Freshmen.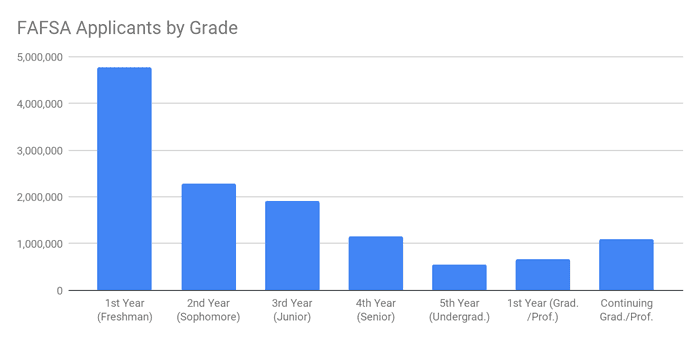 How Do You Avoid FAFSA Fails?
When applying for federal student aid, FAFSA mistakes can cause delays and frustration. To help you avoid common errors,
improve your productivity
during the application process, and get it right the first time, follow these recommended tips:
Timing
Apply early: Some financial aid is first come, first serve, so applying early could give you the most aid possible. Complete your application soon after this year's form becomes available.
Don't miss the deadline: The FAFSA deadlines are different for each state and school. To get the most financial aid, get your application in before your earliest deadline. Check your school for their deadline or search for the info via FAFSA's Student Aid Deadline directory.
Getting an FSA ID takes time: It can take up to three days to get this required username and password that you'll need to log in. If you're considered a dependent, both you and your parents will need your own FSA ID.
Application
Go to the source: Avoid third party websites and apply at the official site, fafsa.gov. Did we mention that it's free?!
Use your FSA ID to create your application: Even a small difference between your application's information and your FSA ID information can cause application delays.
Get your terms right: Read the application and term definitions carefully to ensure you provide the right answers.
Automate your financials: By linking your FAFSA application directly to your IRS data, financial data will be automatically input into your application. This IRS data retrieval tool is a great way to save time and ensure accuracy.
Don't forget to sign it
: This is one of the most common mistakes. It's an easy thing to miss, but a missing signature means your application is incomplete.
What Happens After You Apply?
After you submit the FAFSA on the web, the information will be analyzed with a resulting Student Aid Report (SAR) being sent by email or postal mail. Review the SAR results carefully and check for errors. The key figure will be your Expected Family Contribution (EFC), which will be used to determine the level of aid for each school. Because each school works a little differently, you may need to submit additional paperwork or information directly to the school's financial aid office.
Find out how OneClass has helped more than 2.2 million students improve their grades to make the most of their education.
image attribution: terovesalainen - stock.adobe.com
---
Suggested Articles in OneClass Featured