Back to OneClass Featured Blogs
Easiest Job to Get After College? Teach English Abroad
Although there are other jobs that claim to be the easiest job to get after college, there aren't many that offer as high of a salary and as many benefits as teaching abroad.
With the average college graduate taking 7.4 months to find a job and 83% leaving school without lining up their first job, finding a well-paying job, and quickly, is what college graduates are trying to do.
Otherwise, they'll end up losing $29,600 (based on an average salary of $4000/month), which is 3/4 of the Class of 2018's student loans.
Therefore, teaching English abroad in a foreign language country is one of the easiest jobs to get where you'll have enough to earn, save, and travel the world; all at the same time.
Hear us out.
---
Talk to our interactive bot to find out everything you need to know about teaching in Japan, China, and South Korea!



---
Here's Why It's the Easiest Job to Get

The job market for English teachers is in high, high demand across the globe.

Any bachelor degree is acceptable.

No teaching experience is required.

Here's Why You Should Do It
High paying job: Your average salary will be ~$25,000 USD - $35,000 USD/year.
Accommodations and lodging is usually paid for.

Medical insurance is provided.

You work 25-35 hours a week.

Last but not least, you can travel the world.

Does all of this sound too good to be true? It's not. There are approximately 250,000 native English speakers teaching English as a second language around the world doing this as we speak.

---
What You're Likely Facing after Graduating College

On average, you will owe $37,172 in student loans according to CNBC.

You need to begin repaying your student loans six months after you graduate, averaging $393 in monthly payments.

It takes approximately 6 months to find a job after graduating.

This is what the situation many other ESL (English as a second language) teachers abroad faced before taking on the job.

With a working salary and accommodations and expenses paid for, English teachers were able to quickly pay off their student loans within one to two years.

---
"Easiest Job to Get" But, What's the Catch?

There are only two:

(1) You have to earn a certificate to teach English abroad, which means chalking up ~$1200 to take a course (online or in-person);

(2) Not all countries will provide English teachers with full accommodations, meaning you save less while covering those expenses.

You'll need this guide to know more about these two catches.

We're going to show you which countries will offer benefits (like accommodations, flights, etc.), what the pay range is, cost of living, etc. We're also going to get you started on searching for the right teaching certificate for you.
We also have a friendly bot that will answer all of your questions under each country below.
We're going to help you get started so you can cut down on those student loans fast and pad your savings as much as possible while you're overseas.

---
The Three Best Places to Teach English Abroad

Japan

---
Japan is one of the safest places to teach. The bright neon lights, eclectic fashion and eye-catching oddities make places like Tokyo a wildly fun city to teach in. Whether you teach in the city center, or on the fringes, the mix of historic Japan with all its shrines and buddhist heritage and modern in-your-face pop culture is enough to keep your weekends adventurous and fun.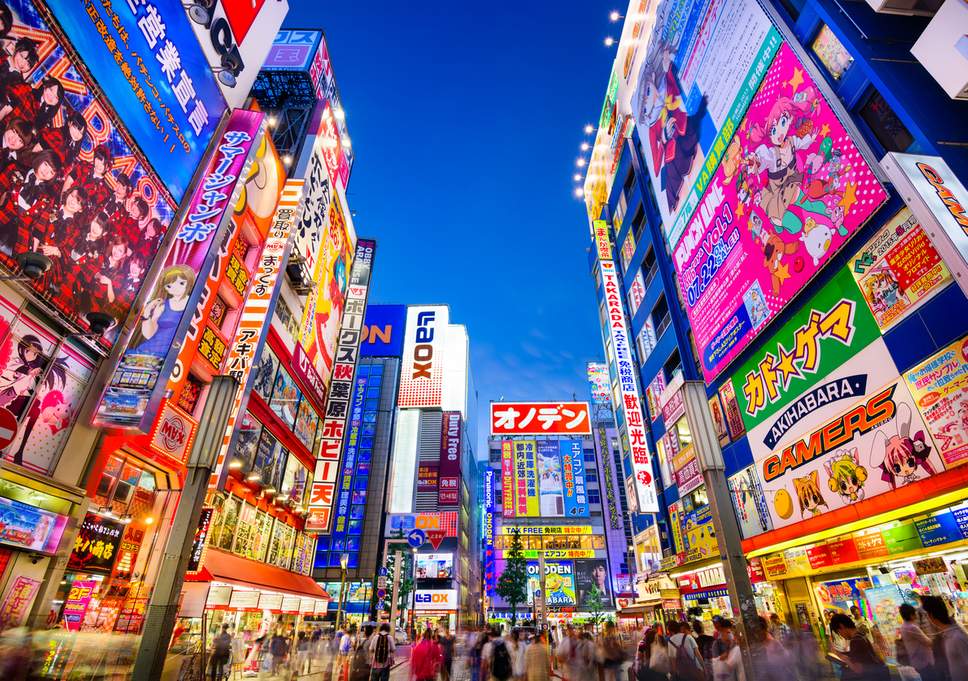 ---
When it comes to accommodations, Japan tends to subsidize housing rather than provide free lodging. In spite of that, Japan offers some of the best salaries in the overseas teaching industry. For the most part, airfare is free and completion bonuses are given out.
Curious about what you can earn in Japan, and how to start?
Our travel guide's got you covered.

---
China

---
China has so much to offer. The country is teeming with sights and activities to be seen and done. You could work in a city where there the climate is tropical and beaches surround you (Haikou), or in the city center of Shanghai and cozy up with expats, or where the scenic beauty of lakes and Buddhist temples enrapture your soul (Hangzhou). Anywhere you teach in China, you'll be immersed in a way that only 2,000 years of rich cultural heritage could allow.

---
It is here in China that the world's largest job market for TEFL-qualified teachers teach. Generous with their accommodations, pay and benefits, China is the prime market to find English teaching jobs.

In general, English teaching salaries in China provide a comfortable lifestyle. The cost of living is low and many teachers save money while they are there.

Curious about what you can earn in China, and how to start?
Our travel guide's got you covered.

---
South Korea

---
If the innumerable mountains, sightly ancient Buddhist temples and sacred shrines don't draw you in, South Korea's rich cuisine, vibrant cities and bustling nightlife will surely make a dent in a young traveller's memory. The endless coast and clear-water beaches South Korea has to offer is only made more idyllic by the boundless forests that enwraps this beautiful country.

---
What makes South Korea the perfect option is the low costs of living and generous benefits: airfare, fully furnished lodging and paid holidays are standard in these packages. Coupled with a competitive salary, South Korea has become a haven for English teachers fresh out of college looking for the right balance between adventure and debt repayment.
Curious about what you can earn in South Korea, and how to start?
Our travel guide's got you covered.

---
Country Comparison
---
Places that are Challenging to Earn In
Europe & South America
If you're looking to save money, we wouldn't recommend venturing to either of these regions of the world. There are available English teaching positions, but they offer lower paying salaries, less benefits, and general job dissatisfaction is moderately high.

Middle East
Teaching English abroad is one of the easiest jobs to get after college but not so much in the Middle East.
You can earn the most money in the Middle East, but there's a catch: they tend to only hire teachers with an education degree and have some experience or related qualifications. The salary ranges from $1,500 - $4,000/month with generous benefits, such as housing, paid vacation, airfare, health insurance. The attractive salary offered in the Middle East has made acquiring a position teaching English here very competitive.

---
How do I Start?
1. Select an online TEFL course [see below]
2. Register for the program
3. Undergo a 120-hour course either in-class, online or through correspondence
4. Search your program's job bank/portal for job listings
What do I have to Know?
There are three primary courses: TESOL, TEFL and TESL. They mean different things.
The one you want is TEFL: "Teaching English as a Foreign Language". This is for teaching English in non-native English speaking countries (i.e. Japan, China, etc.)

We recommend selecting an online TEFL course. It's 50% cheaper than in-class. So long as you have an accredited TEFL certificate, you'll be able to proceed.

An important thing to note for online courses is that even though if the course is a "120 hour course", it does not mean it will take 120 hours to complete. One individual actually finished a 150 hour course in approximately 20 hours. Since it's online, you can go at your own pace and the average pace is considerably quicker than what the TEFL programs state.

Of course it depends how much time you'll be dedicating to it (whether you're going to be doing it full time or part time) but just keep in mind that a 120 hour course will not take 120 hours; meaning you'll be able to get TEFL certified and teaching English in a foreign country A LOT sooner than you expect.
Since you can get accredited so quickly, teaching english abroad really is one of the easiest jobs to get after college.
There are hundreds of providers of TEFL courses out there, so we're here to help you wade through the mud. We narrowed it down to 3 great TEFL courses to choose from:
---
How to make the Most out of Your Experience

Travel and teach some more.

The destination of where you teach will open you up to cheap flights to nearby countries. It's uncommon not to go to another country for travel, given the generous long paid vacations permitted at most schools.

We've compiled a list of some destinations we recommend traveling to:
---
If you find that you have extra time and energy after your days of teaching (which is likely given the light workload of 25-35 hours/week), why not make even more money to chip away at those student loans?

Many teachers abroad do private tutoring on the side after building a network from speaking with locals, teaching at their agency/schools, etc. The demand for private tutoring is incredibly high in many locations and in some markets, it's the most common way for teachers to find work.

The rate you can charge is much higher than the wage you get from your agency/school but of course it's not as stable. So we recommend private tutoring to earn money on the side while maintaining that steady flow of income from your school.

You'll be student debt-free in no time.

---
Tips
-Don't travel to a country without obtaining a work visa beforehand
-Rent out your room on AirBnB when you travel
-Build your network of students to teach after class for private lessons for extra income.
-Get in touch with local private English tutors to gain insights and tips on how to start it yourself
-Offer a free private tutoring class for a referral
-Travel whenever you can! You may not have this type of flexibility in your schedule again, so take advantage of it while you can.
-Use this budget template to help you keep track of your finances while you're abroad, it gives you tips based on your spending habits (just like your very on financial advisor) (here's the guide on how to use it)
---
Teaching Experiences Abroad
If you didn't guess by now, we think teaching English abroad is an amazing experience that's worth the move and commitment and something that every college grad should consider.
But don't take it from us, take it from those who did it or are doing it right now.
What's a piece of advice you'd give to others considering teaching English in South Korea?

"One thing to realize is that you're not being paid to just stand there and speak English, it's actually a lot more than that. You actually have to plan your lessons and work out strategies on how to teach. You do get evaluated every semester, and it was fulfilling because it motivated me to really teach these kids well. But overall, it was great. I went from a recent grad who didn't know anything about the real world and going to Korea definitely shaped me into a teacher and now I'm applying to teacher's college so I can teach in Canada."

-Tom Lee, Recent Grad.
Taught in South Korea for 2 years (2016-2018).
Earned $2500USD/month.
---
If you've graduated and are stuck wondering what's next, don't be afraid.
It's something almost everyone goes through and just know that the difficulty of finding a job in your field immediately after graduation isn't an easy task by any means.
What's important is that you're graduated now and the world is your oyster.
Travel, teach abroad and earn money to pay off those loans. Take advantage of your youth and experience things you haven't before.
It may be the best decision you ever make.
---
TL;DR
Teaching English abroad is the easiest job you can get after college that will let you earn a lot, save a lot, and travel a lot, all at the same time.
For everything you need to know about teaching English in Japan, China, and South Korea and to learn how to start, our friendly teaching bot has got you covered, just click the country below.



---
Learn More
Facebook Groups
https://www.facebook.com/groups/esljobs/
https://www.facebook.com/tefljobs/
https://www.facebook.com/groups/teflcommunity/
Other Free Resources
FREE Brochure: Info on the latest details about salaries, hiring seasons, degree requirements, visas, saving opportunities & more!
FREE Asia Teach Abroad Webcast: Detailed 1-hour webcast on everything you need to know on teaching English abroad in Asia.
$50 Off Online TEFL Course tuition: Discount Code: ONECLASS
---
*Don't forget to share this with friends who need to know about teaching English abroad!
---
Check out some more interesting reads for recent grads:
57.5% of College Graduates Don't Work in Their Field of Study
Step-by-Step Guide on How to Become a Pharmacist, Lawyer, Nurse, Doctor, and More...
Hacking College Debt: 4 Steps to Save Years of Financial Problems
The Future of Jobs: Most Employable Skills and Majors
---
Author – Daniel Je: daniel @ oneclass . com

---
Suggested Articles in OneClass Featured