Back to OneClass Featured Blogs
Top 5 Best Jobs for Economics Majors
Do you love analyzing behaviours of people and how society functions when it comes to using resources and decision-making?
Do you get excited by the thought of analyzing trends, being able to predict future events, and explain social phonemena?
If yes, an economics degree might very well be the field of study for you.
After spending four years studying economics, you might be wondering, what can I do with my economics degree?
Luckily, career choices for economics majors are plentiful and you have a lot of options when it comes to choosing your ideal career path.
Here are 5 great career choices if you're an economics major.
---
Top 5 Careers in Economics
Whether it's an economics professor, an economic consultant, an actuary, a policy analyst, or a compensation and benefits manager, there is high job demand for any of these roles and the salary reflects this demand.
Just know that as an economics major, you will be compensated well since it's not a job just anyone can do.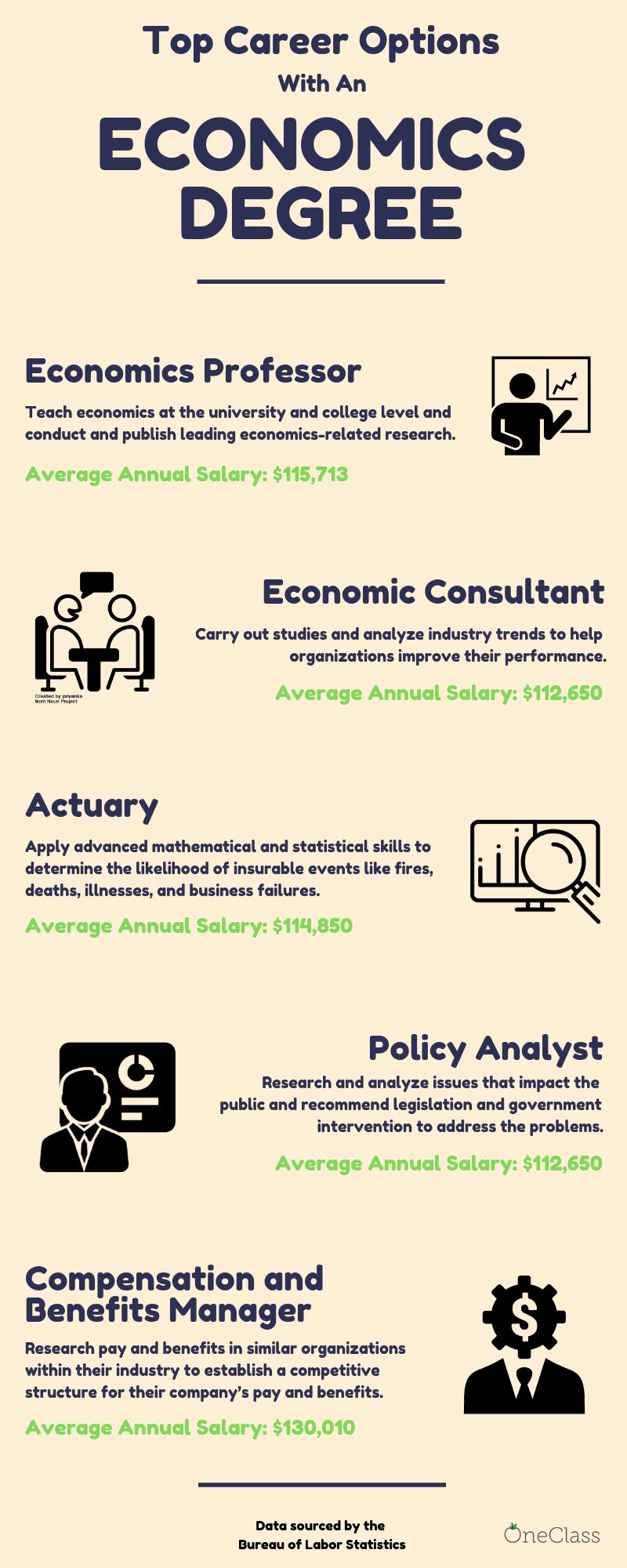 Share this Infographic! (copy and paste code to your site)
---
These are some great career choices to get your career research started.
But, to start thinking about careers, you first need to get through school and actually obtain that economics degree.
Luckily for you, we can help with that.
You can check out the notes and study material we have for economics courses based on your school here.
Also, if you need help with any economics problems, shoot a question to our economics homework help. Our expert tutors got you covered.
Now, since you should be well-equipped with what you need, it's time to pass those courses, receive that economics degree, and get your dream job.
Good luck!
---
While you're here, check out some other useful pieces:
The Future of Jobs: Most Employable Skills and Majors
Free College Student Budget Template
---
Author: daniel @ oneclass . com
---
Suggested Articles in OneClass Featured