Back to OneClass Featured Blogs
Which College Majors Have the Highest Salaries?
Deciding what to study in college can ultimately determine your career path, how much you'll earn during your career, and your ability to pay off student loan debt. While choosing you major does involve other considerations such as interests and aptitude, the earning potential of your future career can be a significant factor.
To understand how college majors translate into career earnings, we looked to PayScale's College Salary Report for earnings information gathered from 3.2 million college graduates. The data reveals interesting results that can help you choose the best major.
For example, if you're deciding between studying Biomedical Engineering and Molecular Biology, note that students graduating with a Biomedical Engineering degree can earn $19,100 more at the beginning of their career and $29,800 more at mid career.
These median career earnings provide a strong benchmark for comparing fields of study. Because salary isn't the only form of compensation, the data also shows the rate of graduates who feel that their work is meaningful.
From the 400+ majors in the PayScale study, we've selected 150 majors for our analysis. Find out which majors have the most earning potential, which provide the most meaning, and how job projections compare.
Which STEM Majors Earn Top Salaries?
Students who study science, technology, engineering, and mathematics typically command high salaries. When combined with the strong job prospects of STEM jobs, these majors can be a popular choice for college students. For example, 47 percent of the most popular majors at the University of California campuses are in STEM fields.
Within STEM, there's still a wider variety of earnings potential, with many engineering majors seeing large paychecks at mid career. Across the STEM majors studied, average earnings at mid career were $103,048, compared to an average of $114,670 for engineering majors. Notably, at mid career, petroleum engineers earn $183,600 and chemical engineers earn $126,900.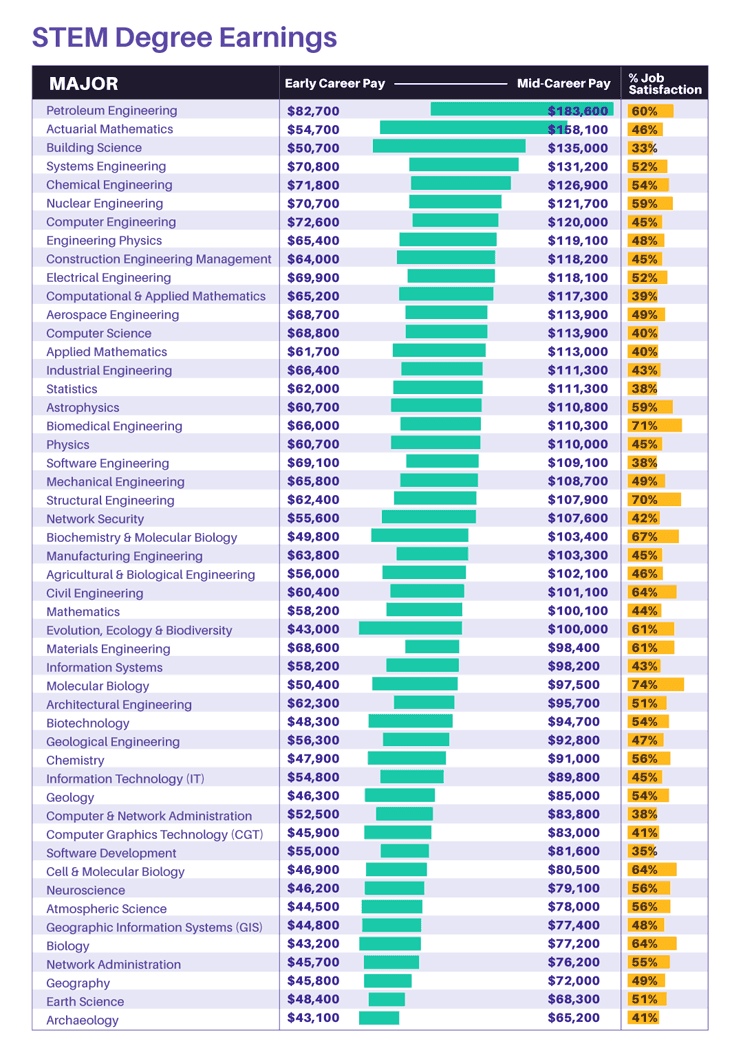 Which Business Degrees Pay the Most?
The earning potential for business majors is also strong, but based on the majors analyzed, mid-career salaries for business majors average 13 percent lower than STEM majors. Yet, despite that lower average, some business majors surpass the earnings of STEM majors.
In particular, Business Analytics majors achieve a median mid-career salary of $129,800, which is 45 percent higher than the other business majors looked at. However, early career salaries for Business Analytics majors are less impressive, earning only 6 percent higher than other business majors.
While economics and finance majors typically had higher earnings than management majors, the chart below shows the wide variety of potential earnings based on field of study.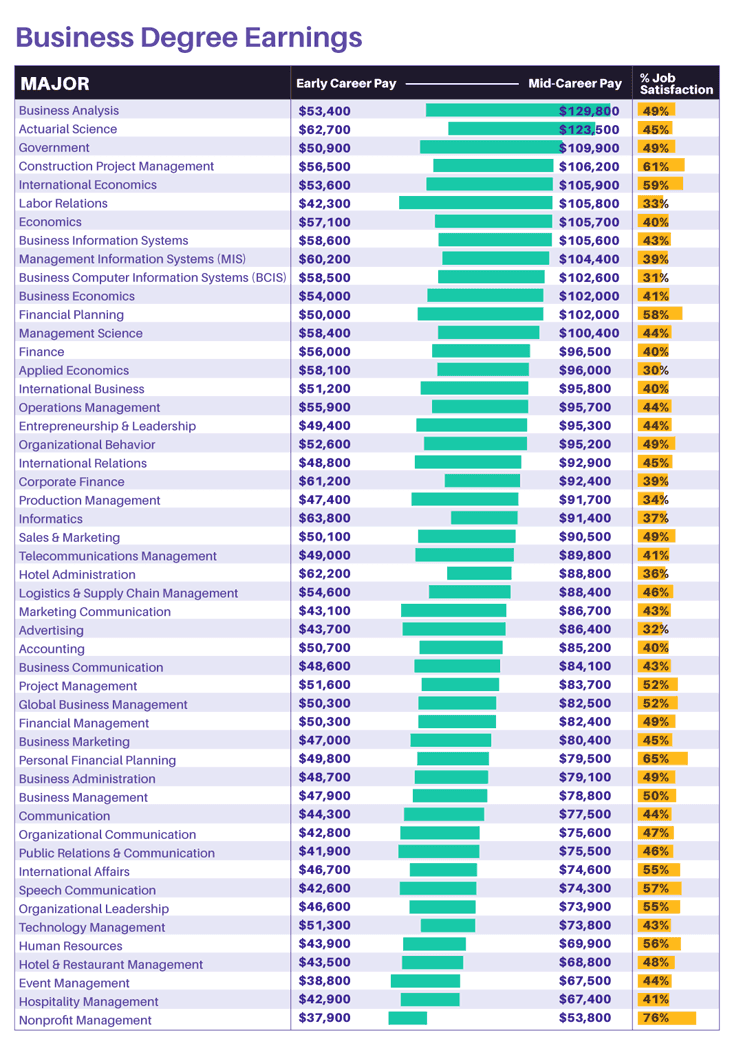 Which Humanities Grads Get High Paying Jobs?
Overall, students graduating in the humanities field see lower overall earnings than business or STEM majors. Moreover, the average rate of grads who find meaning in their work isn't any higher than in the other two categories. For the 50 humanities majors listed below, the rate of those who see their work as meaningful is 46 percent. Comparatively, 46 percent of business majors and 51 percent of STEM majors found meaning in their work.
Notably, educators had the most dramatic disparity between earnings and meaningful work. For these careers, mid-career pay rates were some of the lowest analyzed, but the rate of those who find their work to be meaningful is among the highest.
Yet, even though humanities majors have less earnings potential, these college degrees remain important for new iPhone designs, thought leadership, and more. As in the case of the language and linguistic degrees studied, we'll certainly need these experts to teach the machine learning algorithms that STEM majors develop. Or, in the case of the movie Arrival, we'll need language experts to save the human race by communicating with extraterrestrials.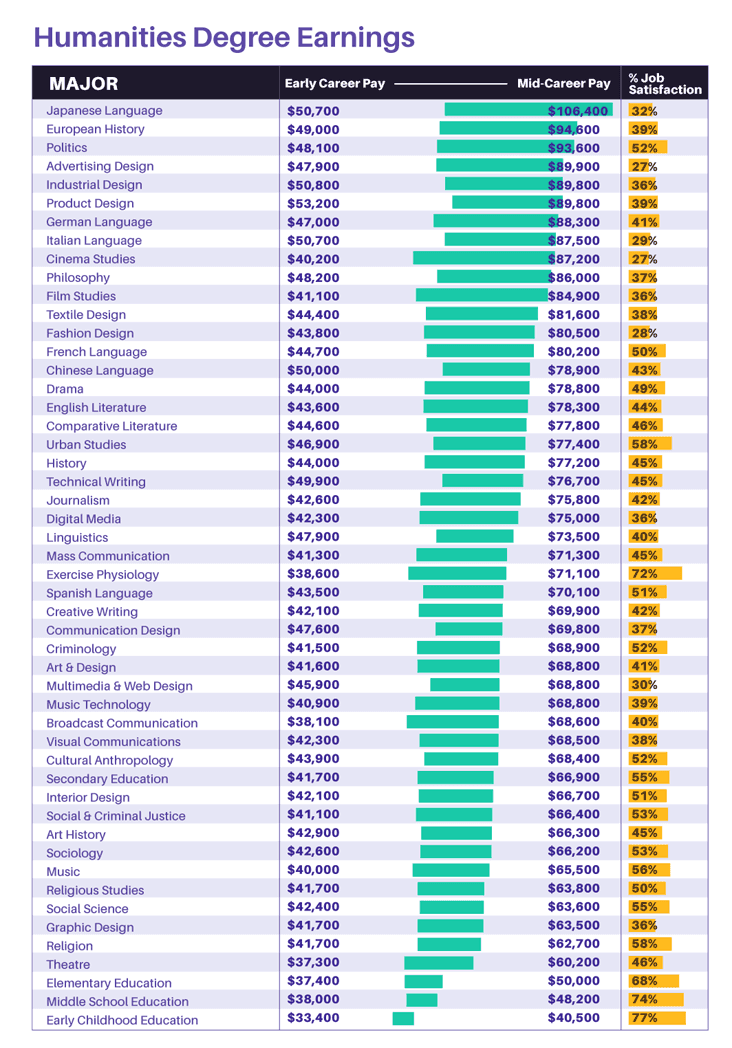 What College Majors Are in Demand?
Financial earnings data is an important criteria for deciding your college major and future career. However, job markets can be affected by supply and demand principles. Which is to say, if the number of graduates entering a field outpaces the recruiting demand, there's a reduced likelihood that you'll command top earnings. Conversely, graduates in high-demand fields are more likely to have a higher number of job opportunities to consider and can see increased earnings as a result.
According to the most recent data from the National Association of Colleges and Employers, STEM majors weren't uniformly recruited after college. In the survey of over a half million graduates, top STEM disciplines for achieving full-time employment after earning a bachelor's degree include engineering technology and computer sciences. On the other hand, the worst STEM majors for immediate full-time employment are biology and physical sciences.
Outside of the STEM majors, business majors have high employment rates after graduation, and majors that are in low demand include history and philosophy.
What Occupations Have Strong Growth Projections?
As markets and economies change, job prospects follow suit, such as in the case of there being little demand for workers to develop camera film. Thus, choosing to study a field that's projected to have strong job growth can help you lessen the risk of your profession being phased out.
The Bureau of Labor Statistics has insight into how industry changes will affect job growth. Between 2016 and 2026, the overall job growth is expected to be 7.4 percent. However, very strong growth is expected in both health and tech. Consider some of the fastest growing occupations that also have high salaries.
Strong Projected Job Growth for Health Majors
| | | |
| --- | --- | --- |
| Major | Predicted Job Growth | Median Annual Wage |
| Physician Assistants | 37% | $104,860 |
| Nurse Practitioners | 36% | $103,880 |
| Physical Therapists | 28% | $86,850 |
| Health Specialties Teachers | 26% | $97,870 |
Strong Projected Job Growth in STEM Majors
| | | |
| --- | --- | --- |
| Major | Predicted Job Growth | Median Annual Wage |
| Statisticians | 34% | $84,060 |
| Software Developers | 31% | $101,790 |
| Mathematicians | 30% | $103,010 |
| Information Security Analysts | 29% | $95,510 |
No matter what you decide to study, a good career starts with a good education. Find out how OneClass has helped 90 percent of users improve by at least one letter grade.
Image attribution: leszekglasner - stock.adobe.com
---
Suggested Articles in OneClass Featured