Back to OneClass Featured Blogs
Is Your College Sweetheart Cheating on You?
If your partner still has dating and social apps on his phone, there's a one in four chance they're flirting with someone else on one of those platforms.
It gets worse.
There's a one in ten chance they've met up.

Share this Image on Your Site!
Simply copy and paste the code below and you can share this infographic on your site:

SnapChat is by far the most popular social app used by coupled college students to secretly flirt and meet up with others without their partner knowing. After SnapChat is Instagram, followed by Facebook.
From the 3500 college students we surveyed, we were able to see what apps couples should be wary of their partner using in college.
Then we take it further by spotlighting the student segments most likely to engage in unfaithful behavior.
Finally, we take a look at college singles who flirt with people in relationships on these apps.
Here's what we found.
1 in 5 students are very comfortable with flirting with someone on a dating app without their partner knowing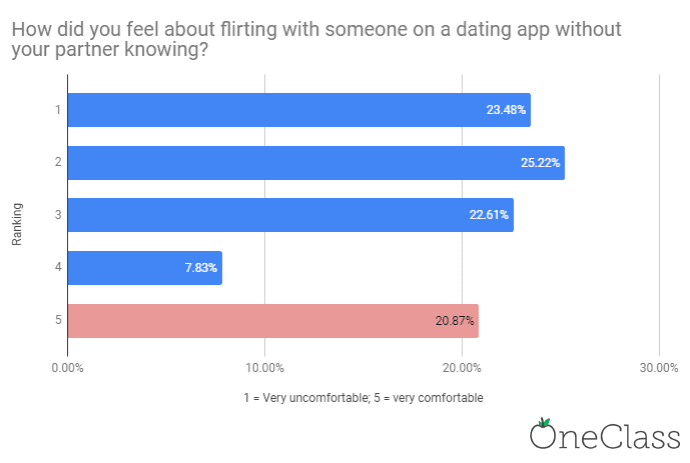 Guilt is a diametric opposite feeling for 20% of college students who secretly flirt with others without their partner knowing.

If you were to group those who said they felt indifferent (3), comfortable (4) and very comfortable (5) into the same pool, you would have 51% who are OK with flirting with others on dating apps while in a relationship.

The endless supply of options on dating apps make meeting up significantly easier to do, but it doesn't explain why so many feel comfortable with engaging in extracurricular affairs without their partner being privy.

One explanation might be they leverage their partner's misguided trust.

When asked, 91% say they don't suspect their current partners of secretly using dating apps to flirt talk to others and only 4% have ever caught their partner messaging someone on a dating app.

When trust is on your side, maneuvering in unsuspecting ways becomes considerably easier in relationships.

Surprisingly, the feelings change on social apps.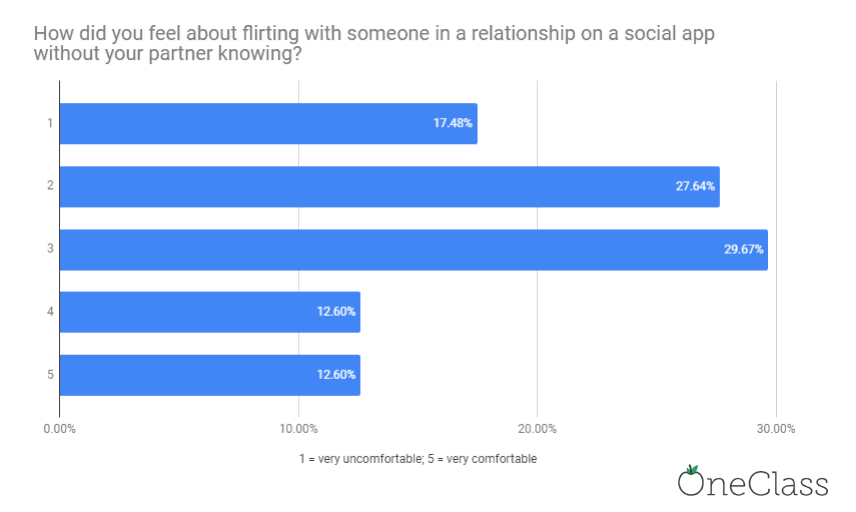 College students in relationships feel less comfortable flirting with people that aren't their partner on social apps than when they're on dating apps.

Looking at how social apps work gives clues as to why they're more distressing to use.

For many of these social apps (Facebook, SnapChat, Instagram, etc.), the activities performed on these platforms are more public. That is, people within your social network are notified of your engagement with others.

For example, on Facebook and Instagram, likes and comments are publicly visible. This adds a layer of exposure that doesn't favor those seeing others behind their partner's back relationships as they can be a cause for suspicion.

Engaging too much with people on these social platforms will make these people appear more frequently on your newsfeed, leading to more suspicion.

On SnapChat, there are cues that can alert people on how frequently you snap others. Such as a direct count of snaps sent to visual badges that attach to a name you snap with.

For just about every popular social app, traces can be left behind.
Most popular apps used to cheat in relationships

Even though social apps are more uncomfortable to use for secret meetups, they're still used most often for this purpose.

SnapChat is used as frequently as one in every five instances, while the Instagram and Tinder are at half the pace of SnapChat.

That's because Snapchat's design is highly conducive for affairs. Private messages and photos are erased after they're seen and the ephemeral nature of the content leaves you wanting more.

Nonetheless, among those using SnapChat to meet up, the most likely to do so are second-year males. On Instagram, it's third-year males; and on Tinder, again, it's second-year males.

A curious trend appears - do men disproportionately see someone outside of their relationship more than women in college?

The answer is an astounding yes.

By comparing the percentage of men and women who said they met up with someone outside of their relationship on an app, we found men to be 2.4x more likely to meet up with someone outside of their relationship than women in college.

Which leads us to ask why.

Once again, we look at how they feel about meeting up with people without their partners knowing.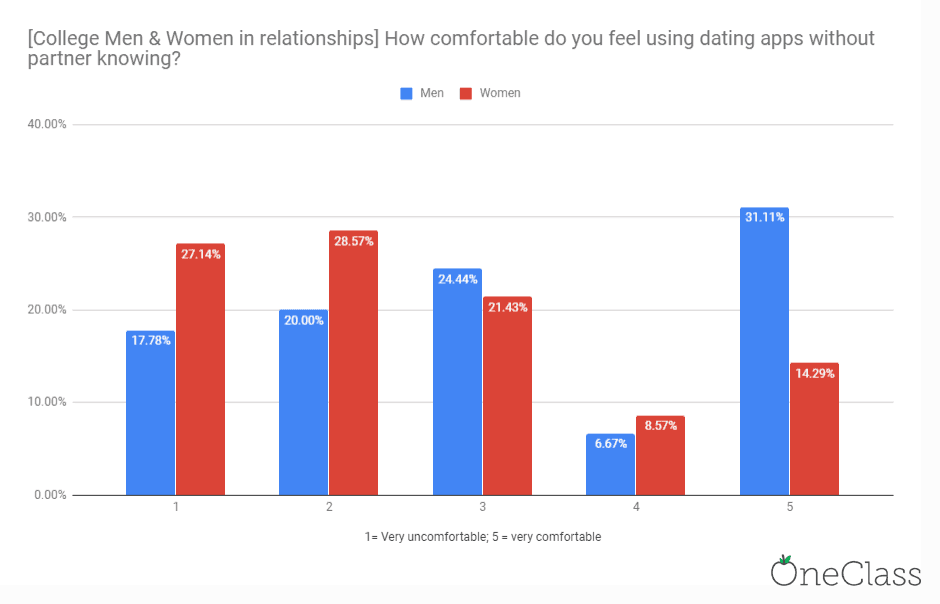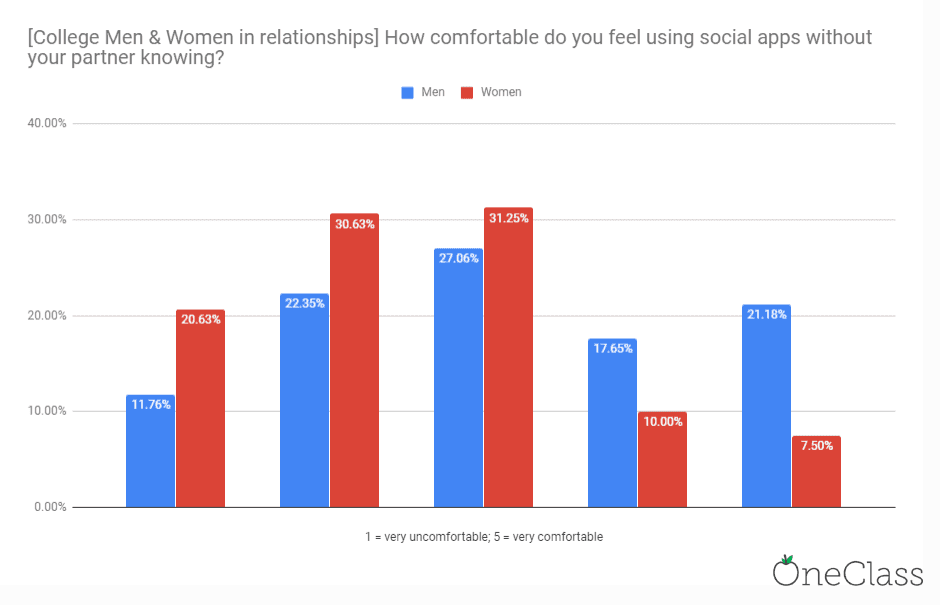 Comparatively, men are more comfortable meeting with someone outside of their relationship through dating or social apps than women.

There's a clear difference in behavior between men and women, but why there is unclear.

Using dating apps without partner knowing

Only 5 percent of college students in relationships have said they used a dating app to meet up with someone without their partners knowing. This leaves social apps as the leading medium for taken college students to escape for a tryst.

Appearing on a dating app alerts friends and the general public that you're available- a risky move when news travels fast in a tight-knit campus bubble.

But for their purposes, there aren't quicker means of connecting two interested people together.
Dating apps like Tinder and Bumble are where the college singles search for love and lust. It's no surprise that these two apps are where students in relationships seek out additional partners the most.
Seeking Arrangement, however, comes in third. For the uninitiated, Seeking Arrangement is a sugar daddy dating website. Hundreds of thousands of college students use this site to match with sugar daddies with deep pockets.
While student tuition continues to outpace inflation year-over-year, some students look to older men for extra funds in exchange for sex, their presence, or both in order to stave off financial burdens while in college.
Students in relationships can fall into this group just as much as anyone.
One in four college singles have flirted with someone who they know are in a relationship on social apps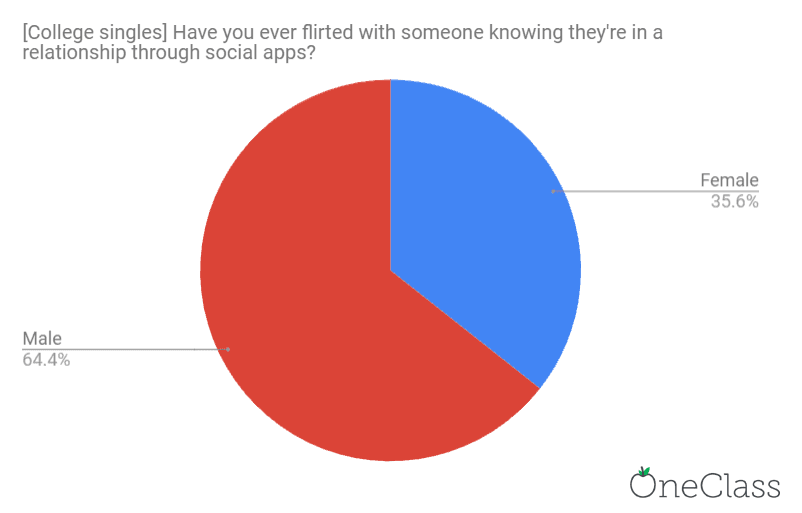 More than one in every four college singles disregard someone's relationship status when selecting who they chase after.

According to those surveyed, taken college students account for 40 percent of the student population. Of this 40 percent, 17 percent use social apps to flirt with people outside of their relationship, which means it's possible for college singles to find some success by dipping into the pool of the taken.

Single men are 80 percent more likely than single women to try.

Most college singles generally feel indifferent when flirting with those who are taken. But, for the most part, there are more who feel comfortable doing it than those who don't.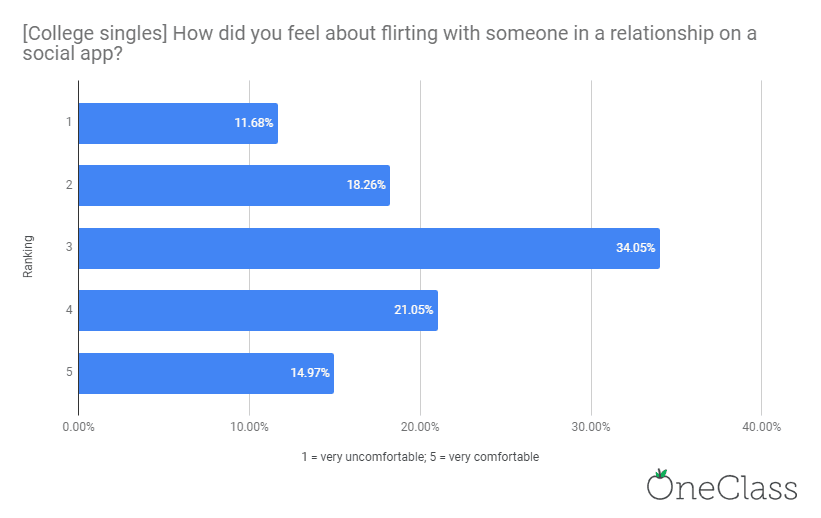 For the ones who feel comfortable flirting with people who are taken, it's likely they don't believe they're the ones who are behaving without a moral compass. On the other hand, some draw the line with people who are taken out of respect for the other person's relationship.

Unsurprisingly, the social apps college singles use to flirt with those in relationships match the ones said to be used by taken students. First Snapchat, followed by Instagram and, then, Facebook.
Conclusion
Students are, for the most part, comfortable meeting up with someone without their partners knowing depending on how well the app can help them serve that purpose.

Social apps like SnapChat and Instagram serve as innocuous covers for students looking for affairs unbeknownst to their partners.

While students who are single know it's a numbers game and happily dive into the pool of the taken because, to them, they are still seen as prospects - and some are right.

There's plenty of fish, and they're biting.

---
Methodology
Based on survey data collected from 3558 North American college students. 1247 males and 2311 females participated in the survey. There were 2142 students who identified as single, while 1418 said they're in a relationship. Students were engaged on social platforms. 2863 identified as first-year students, 437 as second-year, 162 as third-year, 71 as fourth-year and 25 as 5th year or grad. This survey was conducted from March 18th to March 22nd.
---
See more surveys we've done:
Should Higher-Ed Admissions Be Federally Regulated?
What Conservative Students Face On Your Campus
57.4% Will Opt-Out of College Student Newspaper Fee in Ontario
---
Suggested Articles in OneClass Featured