Back to OneClass Featured Blogs
What GPA Do You Need for Grad School Applications?
What GPA Do You Need for Grad School Applications?

Your undergraduate grade point average is an important metric when applying to graduate programs. However, GPA recommendations will vary based upon the field of study, school, and circumstance.

Find out how your GPA will affect your graduate school application and what grade you need.
What's a Good GPA for Grad School Applications?

Typically, students should have a GPA of 3.0 when applying for grad school. That's a B average.

Each school that you apply to will specify a minimum GPA cutoff, which usually ranges between 2.5 and 3.5. However, meeting the minimum doesn't necessarily mean that you'll be accepted. You can also use a school's average GPA for accepted students to see how your grades compare to that of an incoming class.

Keep in mind that your GPA doesn't exist in a vacuum. Graduate admissions officers will also consider the intensity of your degree program, and they'll review your transcript to assess how rigorous your course schedule was.

For example, a student with a slightly lower GPA across a difficult set of courses could potentially be seen as a more favorable applicant than the reverse.

What Fields Need the Highest GPA?

Your chosen field of study can impact the competition you'll face when applying and how high your undergraduate GPA needs to be for acceptance.

Overall, med school and law school applicants face the strictest GPA scrutiny.

For example, the Association of American Medical Colleges reports that medical school applicants had an average GPA of 3.56. For students who went on to attend med school, grades were even higher with an average GPA of 3.72.

There's even a difference in grades based upon bachelor's degree field. Non-science majors had average GPAs that are 0.15 points higher, earning a 3.80 GPA compared to the 3.65 GPA for science majors.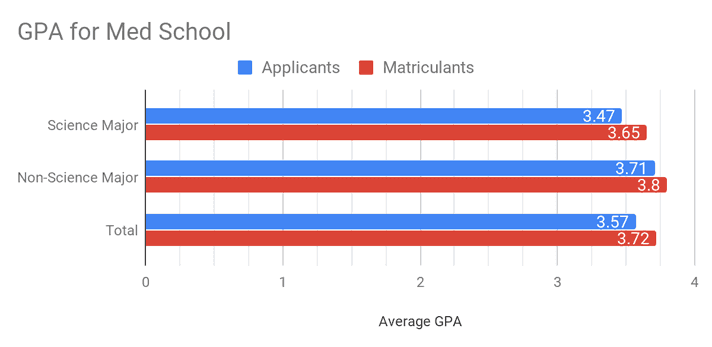 Medical schools with the highest average GPA of 3.92 include Johns Hopkins University, Harvard, and University of Texas. Med schools with the lowest averages include Howard University at 3.42, Meharry Medical College at 3.52, and California Northstate University at 3.58.

How Much Do GPA Requirements Vary by School?

Not all schools require equally high GPAs, and your GPA could be a key indicator of whether a school is within reach.

For example, incoming law school students pursuing their J.D. degree at the top 10 schools had a median GPA of 3.8. Schools in the bottom 10 were nearly a full point lower with a median GPA of 2.95.


The average incoming law student GPA for schools in the middle of the pack is 3.4; however, top law schools accept students with top GPAs. Yale Law School and the University of Chicago Law School have averages that are at least 3.9.

How Much Does Your GPA Matter to Your Application?

The weight of your GPA on your college application will vary based upon both the school and program to which you're applying.

In particular, MBA programs typically place less weight on an applicant's GPA and instead seek "candidates who demonstrate the originality, charisma, initiative and grit necessary to become business titans," reports a survey of MBA admissions officers by U.S. News and World Report.

The average GPA for incoming students attending MBA programs ranges from 3.53 for top-tier programs to 3.37 for other ranked programs. Students who don't have a stellar GPA can compensate on their application by demonstrating leadership skills, professional accomplishments, a strong network of connections, math and analytical skills, and a long-term commitment to goals.

Which Grad School Programs Are Within Reach?

Some master's programs are known as being accessible to students with low GPAs. These schools include Full Sail University, which requires a 2.5 GPA; Grand Canyon University, which requires a 2.8 GPA; Colorado State University, which offers provisional admission for students who don't meet the 3.0 requirement; and Benedictine University, which has no minimum GPA.

Whether you're interested in a Master's Degree or a Doctoral Program, apps such as GradTrek allow you to search for schools that match your GPA. If you're concerned about your GPA, plan to apply to a safety school or one that doesn't weight GPA as heavily.

How Can You Improve Your GPA to Be a Stronger Applicant?

A high GPA is typically seen as both an indicator of your classroom success as well as how hard you're willing to work to get good grades.

College students are increasingly discovering how online tools can help them outsmart their grades and work smarter rather than work harder. For example, millions of college students are using OneClass' high-quality online resources to stay on top of classwork and to study more efficiently. In fact, more than 90 percent of OneClass users have improved by at least one letter grade.

The collaborative platform can give you access to shared lecture notes, study guides, on-demand homework help, practice tests, and more. Simply search for your school to see what material is available to help you improve your GPA.

Can You Still Get into a Good Grad School with a Low GPA?

Remember that GPA is only one aspect of your application, and it may be possible to gain acceptance into a great graduate school even if your GPA is lower than you'd like.

The key to building a strong application is leveraging other aspects that can supplement or offset your grades. For example, you can use your statement of purpose to add context about why your GPA may be low. Offering an explanation helps the admissions officer understand your situation while demonstrating that you're a thoughtful and committed student.

Admissions committees can also be impressed by applications that have strengths beyond the classroom. High standardized test scores can demonstrate your aptitude for success. A meaningful recommendation letter can highlight your strong work ethic. You can also offset a low GPA with an entrepreneurial venture, stellar internships, or impressive work experience.

Learn how OneClass has helped millions of college students improve their GPA.

image attribution: dusanpetkovic1 - stock.adobe.com

---
Suggested Articles in OneClass Featured