Back to OneClass Featured Blogs
Students say Ford's performance-based funding is misguided
Ontario post-secondary schools will see a shake-up soon as future provincial funding for Ontario colleges and universities will depend on how well they perform on ten metrics outlined by the Ford government, as CBC News has learned.

That means Ontario colleges and universities will have to find ways to secure provincial funding by reshaping their programs in order to produce desirable outcomes as seen fit by Ford's government.

The report says provincial funding will be increasingly linked to the performance of a school on ten metrics. Six of which are related to student outcomes.

These six student outcomes metrics are:
Graduate earnings
Number and proportions of graduates in programs with experiential learning
Skills and competencies
Proportion of graduates employed full-time in a related or partially-related field
Proportion of students in identified area of strength
Graduation rate
Additionally, the rate at which these metrics will become a greater factor in determining provincial funding will grow incrementally by 10 per cent year-after-year until 2024-2025.

Critics of Ford's post-secondary funding model believe they will threaten academic quality for students, endanger smaller post-secondary institutions and leave various university staff with uncertain futures.

Ford's funding model advocates argue that this is a way for post-secondary institutions to become more transparent and accountable to taxpayers, increase student graduation per school, and improve the chances of a graduate being able to get a job after graduation.

These sweeping changes led by Ford's government will directly affect students, so we wanted to see what they thought of them.

How do students feel about their prospects post-graduation?
We wanted to learn if the concerns of Doug Ford aligned with those of the students by asking them basic questions about what they think a post-secondary education will do for them.

First we asked: which of these two reasons did you favour more when you decided to go to university?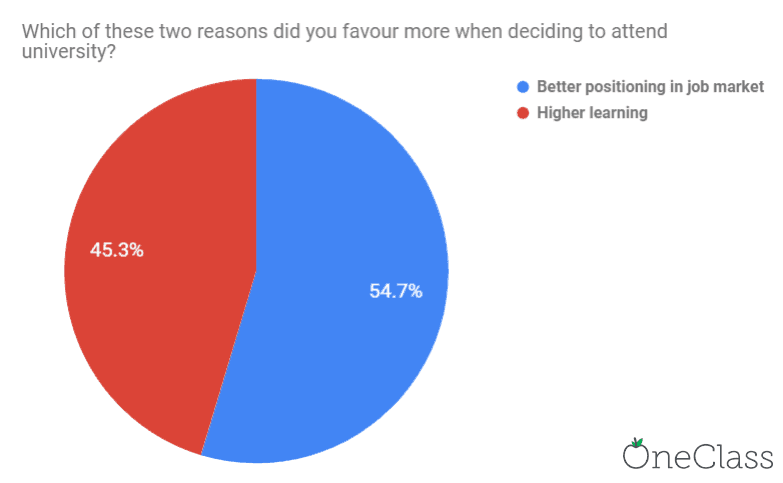 By a slight majority, 55 per cent of students said that their reason for attending university is to position themselves better in the job market over attaining higher learning.

Given the concerns of Ford's government about how well students do in the workforce after graduation, we asked students if they feel confident that their university education will position them well for the job market.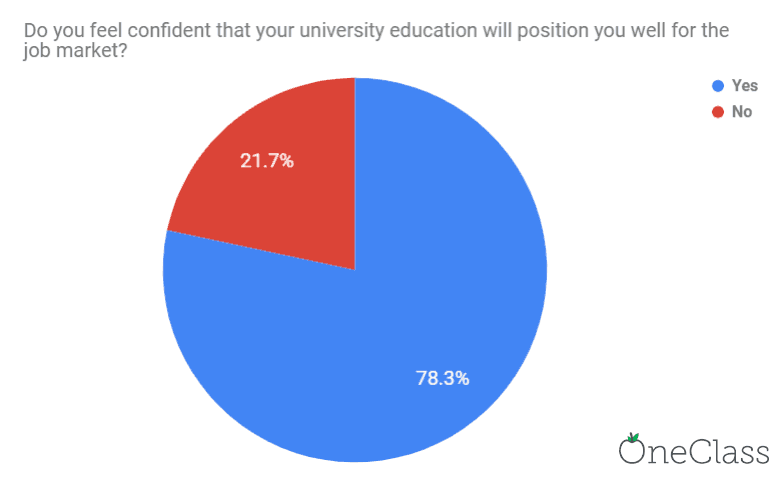 One-fifth of the students felt insecure about how well their university education would fare in the labor market. There's clearly an issue worth addressing here.

Digging deeper, we asked them how confident they felt about their university education providing them with access to full-time employment in their field of study within a year of graduation.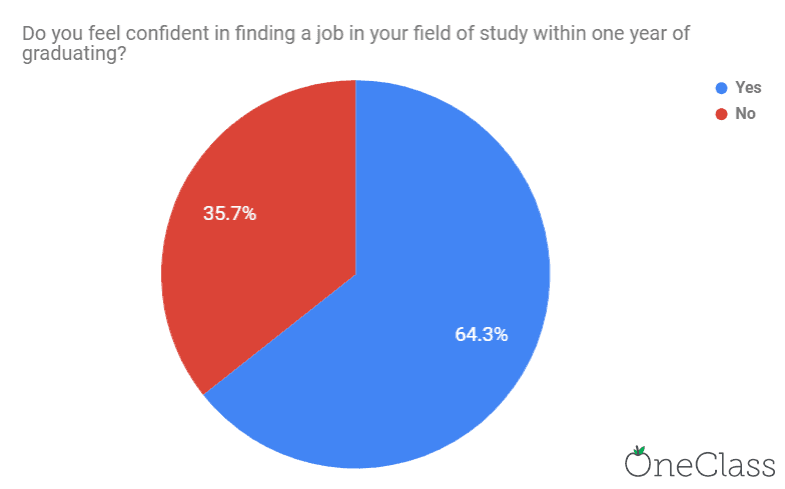 Comparatively, students were significantly less confident in finding a job in their field of study within one year of graduating. More than one-third of students felt this way.
Based on a previous survey we conducted, we learned 57.5 per cent of college graduates do not end up working in their field of study.
Meanwhile, a quarter of the students did not feel confident about graduating on time.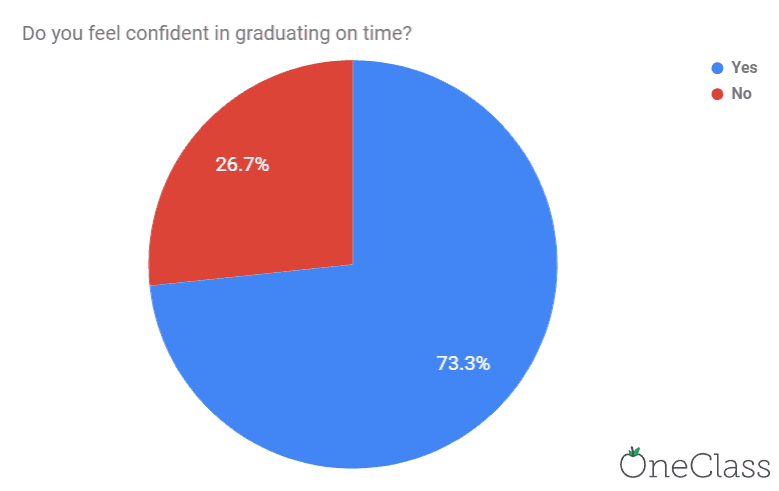 A significant fraction of students indicated that they are worried about how well their university education will serve them in the workforce after graduation on all of these issues.

By these numbers, there are tough questions that need to be asked about the ability of universities and colleges to outfit their students with adequate and employable skills.

How do students feel about the funding model from Doug Ford?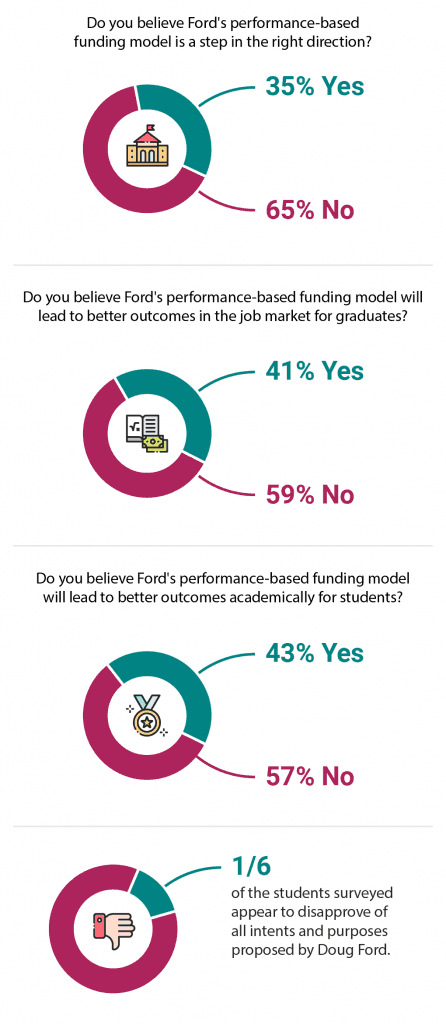 Our survey suggests that students look disfavourably towards Ford's performance-based funding model.
Only 35 per cent of students believed that the performance-based funding model Ford set out was a step in the right direction.
Meanwhile, the number of students who believed Ford's performance-based funding model would encourage their school to better position them for the job market was 41 per cent.

Whereas 43 per cent believed it will incentivize their school to help them perform better academically.

Part of the reason why students hesitated here is that some believed second-order effects will manifest from schools vying for funding that's tied to performance metrics.

One student mentioned performance metrics can encourage schools to inflate grades, offer less academically rigorous courses and make it more difficult for students from vulnerable backgrounds to be enrolled.

Three of the six student outcomes were found agreeable by students on a case-by-case basis.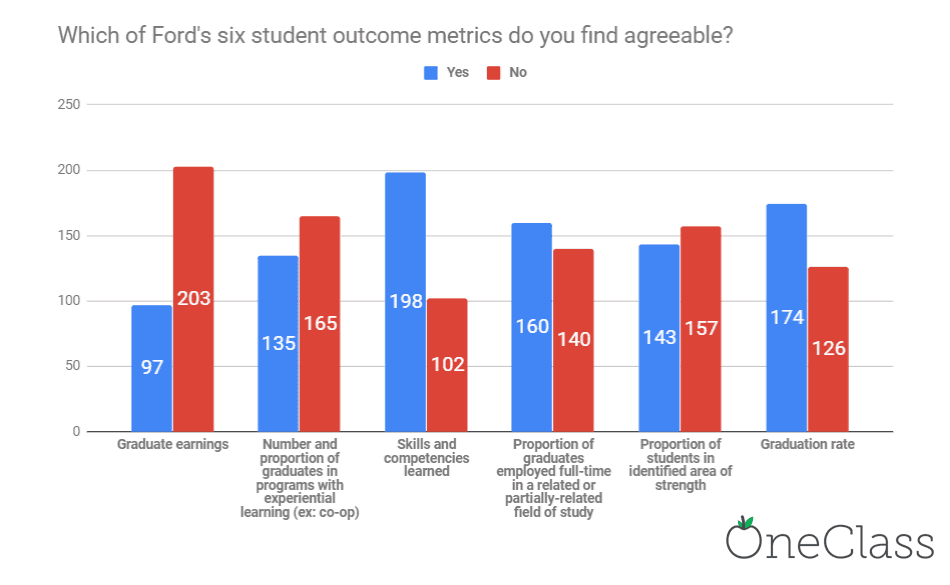 The most agreeable metric was students ' skills and competencies after graduating.

It's a prudent desire, considering that only 41 per cent of employers believe universities in their own provinces are doing a good job of preparing graduates to address the needs of employers, according to a poll by Modus Research.

Coming in last was graduate's earnings.

Some students believe that schools will begin to favour more STEM-related programs and neglect other programs that have historically produced lower earnings for graduates.

One student saw Ford's performance-based initiative in a more positive light: "[Doug Ford] is saving our taxpayer money by cutting unnecessary costs".

"If a program has a low graduation rate/ little to no job opportunities post graduation, leading the graduate to not even work in a related field of study afterwards, then what is the point of further funding for that program?"

It's a fair point. The majority of students want to see a positive return on investment from the time and money that goes into paying for college.

55 per cent of students said the primary reason for attending university is to position themselves in the job market better. The other half said that is was for higher learning.

Some students simply don't have the luxury of seeing higher learning as merely an end to itself.

How performance-based schools performed in the States
A study by Third Way looked at 28 states that implemented performance-based funding policies on post-secondary institutions and concluded that performance funding didn't improve degree completion and graduation rates.

However, they did find that it appeared to be the catalyst for positive institutional practices.

From increasing supplementary instruction to developing strategies for intercepting students who were most at-risk for dropping out, outcomes-based initiatives foster student-first actions from the school.

However, despite their best efforts, some schools failed to meet these goals and consequently lost out on funding. It is entirely possible that in the first place these schools did not have the conditions for producing suitable results.

In any case, by evaluating schools on the outcomes they produce, performance-based policies necessitate better data collection and tracking efforts. As a result, it becomes much easier to see which schools perform well on these metrics and which do not.
This side effect can also bring positive benefits: incoming college students will be better able to identify schools that are underperforming in outcome-based metrics that they consider important to them.

As we know, 55 per cent of students find it important to graduate from a school that positions them well in the job market after graduating.

Can Doug Ford's government do better?
For Doug Ford to ring in success for his education funding policies, it will rely on desirable outcomes set out by his government. That is, by 2024-2025 better graduation rates, better postgraduate income, more graduates working in their field of study, etc.

Ford only has to look south to our neighbors to see how they fared with outcome-based initiatives to get a clearer idea of how it will be played out. But research has shown that a substantial fraction of these 28 states fell short of showing improvements.

It takes some degree of optimism and confidence for someone to believe they can do better than the average.

This leaves us with one question: how are we going to rank Doug Ford's ability to realize an effective result-based initiative compared to the various states in the U.S. that have tried?

---
Methodology
Based on survey data collected from 300 Ontario incoming and current college students. Of those surveyed, 4 identified as incoming freshman, 99 as 1st year students, 124 as second-years students, 57 as third-years
students, 12 as fourth-years students, 4 as fourth or higher year student. Students were engaged on social platforms. This survey was conducted from May 14th to May 15th, 2019

Related articles:
57.4% Will Opt-Out of College Student Newspaper Fee in Ontario
Queen's University by the Numbers: An Intuitive Financial Analysis For Students
---
Suggested Articles in OneClass Featured